Apple Watch: 13 Things I Learned After 1 Hour
After spending an hour trying on the Apple Watch and Apple Watch Sport and playing with Apple Watch demo devices this morning allowed me to use the controls, customize the Apple Watch and play with the settings I came away with a better feel for the Apple Watch and a list of new things I learned.
When you go in and schedule an Apple Watch trade-in at an Apple Store you can try on multiple Apple Watches for about 15 minutes and the Apple Watch is designed to loop through a demo that highlights a variety of features including the Taptic feedback engine that delivers vibrations to alert you to messages and other alerts.
In addition to this experience there are some Apple Watch demo units that allow you to test out various features and options. While the Apple Watch demo devices don't let users try out every single feature, they deliver more options and actual use than the Apple Watch try-on experience does.
Here's what I learned after spending an hour with the Apple Watch and the Apple Watch Sport.
Apple Watch Customization
https://youtu.be/N6ezjg6-0hU
There are only a limited number of Apple Watch faces, but there is a lot of customization that you can do with the Apple Watch face to customize it. When you choose the Apple Watch face that you want you can then choose the amount of information that displays on screen and other details.
I do wish that Apple did include faces, but with a few options you can change the look enough to fit your style or needs. Complications are the small pieces of information like the date, sunrise and sunset, weather, next appointment and more.
Read: 7 Things The Apple Watch Can Do Without an iPhone
Tapping on any of these takes you into the associated app. Apple lists the Apple Watch customizations on the Apple Watch site, but after using them, it is clear that they are more than just a small detail to look at.
Apple Watch Interface and Use
It is not immediately intuitive to use the Apple Watch. I wanted to tap on the screen when I should scroll with the Digital Crown and the side button only serves one function — to pull up your circle of contacts. You can tap on an app on the screen, but if you tap on an app that is near the edge it is tough to hit the right app. Instead you can move it to the middle and then tap or use the Digital Crown to open the app with a zoom in.
Read: Apple Watch Etiquette
After the first 30 mistakes it started to click, and I feel confident that after a few days of real world use I will quickly adapt to the right way to use the Apple Watch.
Force Touch
Force Touch is an awesome way to interact with a small screen. The ability to pull up a secondary function or menu by pressing the Apple Watch screen is awesome.
This removes the need for many taps or swipes to get to secondary functions and I am hopeful that this type of technology will make it to the next iPhone-like iPhone 6s rumors suggest.
Sketches, Emoji, Taps & Heartbeat
On stage I did not understand the appeal of the heartbeat sharing and the other Apple Watch features that you can send to your inner circle of friends who own an Apple Watch. I still am not sure I will use these features often, but after hearing what others think about these options it is clear Apple has many users in mind.
Sketching is easier and even if most of my use will be sophomoric sketches I will probably use this the most. With the uptick in Emoji on iOS 8.3 there is a demand for Apple Watch Emoji, but you cannot yet change the skin tone of emoji on the Apple Watch. The taps may be a way to quickly annoy someone.
I could feel the heartbeat in the try-on section of the experience, but could not share my own. I'm not sure I will use this, but again others seem interested.
Taptic Feedback
During the Apple Watch try-on experience the Apple Watch loops through a demo that includes Taptic feedback for notifications.
This feels like a smarter vibration notification and while it is not earth shattering it is less jarring than a big vibration on your wrist.
Apple Watch Do Not Disturb
The Apple Watch includes its own Do Not Disturb mode that allow you to control when you get notifications and when you won't get interrupted.
I still don't know if this can sync up to your iPhone Do Not Disturb options, but a standalone setting is a must and I am glad Apple included this on the first version.
Digital Crown is Your Apple Watch Home Button
After pressing the wrong button over and over I was able to start to figure out the controls when it became clear that the Apple Watch's Digital Crown is the home button.
Read: Apple Watch Stands & Docks
You can press this to go home, and a double tap on the home button switches between the clock and your most recent app. It's simple and it's a handy way to figure out how this works.
Clock Adjustments
If you are habitually late you can set the Apple Watch time ahead up to an hour. This is not a feature that I will use, but it is a great option for users that rely on this trick to make sure they get to meetings at the right time. Plus, the Apple Watch is accurate so it will stay ahead when you need it.
Apple Watch Accessibility
The Apple Watch screens are small, but you can change the Apple Watch font size and make text bold if it is hard to read. This is a useful option that will work across other Apple Watch apps if they support this. You can also dial the text size down so that you can see more on the screen at once.
Apple Watch Calls and Texts on WiFi
https://youtu.be/_Zj5KisMVv8
As long as your Apple Watch and iPhone are on the same WiFi network you can get messages and phone calls on the watch even if you are out of Bluetooth range. I could not test the call quality of this, but it is handy for those times when I walk around my house and my iPhone is charging. WiFi reaches farther with better consistency than Bluetooth.
Apple Sport Band Feels Amazing
Plastic watch bands often suck. They are hard plastic that chips and feels like something you got in a gumball machine. The fluoroelastomer band feels incredible. It is strong but soft and it almost feels like velvet when you brush against it.
I'll probably buy another Apple Watch band to dress up my 42mm Space Gray Apple Watch Sport, but for now I like this combination. The Sport Band is a little challenging to close at first, so make sure you try it on over the table.
Fast Access to Music Source
When you are using the Apple Watch to play music you can quickly choose the source as your watch or your iPhone.
You can pair Bluetooth headphones to the Apple Watch, which is where the music will play when you choose watch. A small option, but a handy one.
Apple Watch Band Sizing is Important
After trying on the Apple Watch and watching someone with big hands and small wrists try on watch it is more evident that you will need to use the right size Apple Watch band.
The Apple Watch Sport comes with bands to handle multiple sizes, but it is not two full bands according to the store employees. The Apple Watch bands for the stainless steel model requires more specific sizing and if you choose the wrong size you will end up with a watch you cannot wear or one that is way too lose.
65 Exciting Things You Can Do With the Apple Watch
Answer Calls on the Apple Watch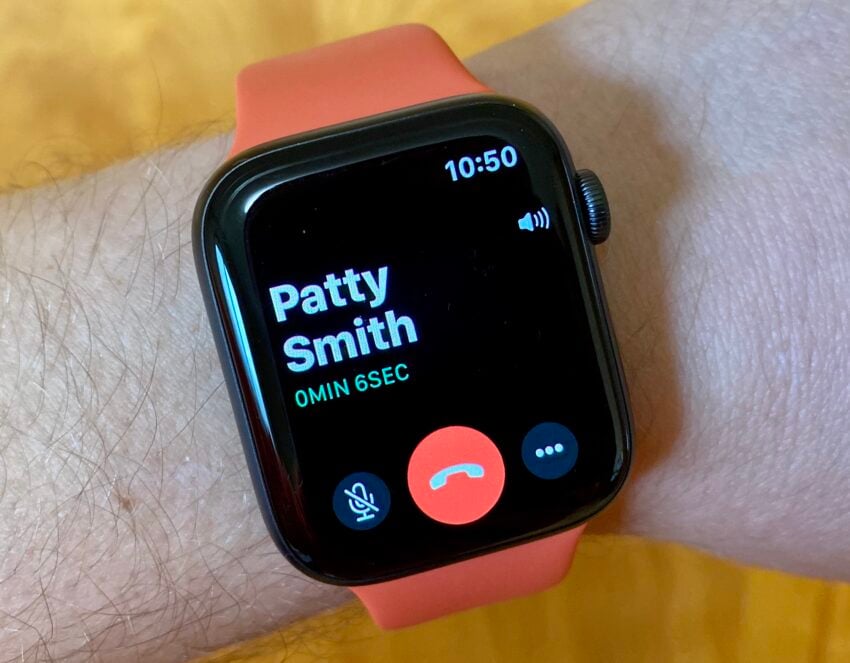 You can answer a call on your Apple Watch using it as a small Bluetooth speakerphone. You only want to use this for shorter calls because the audio quality isn't as good as when you are talking on speakerphone on your iPhone.
The Apple Watch only allows you to answer your calls on Speakerphone, so you won't want to use this all the time. It is very handy when you are working on a project or busy with your hands. Definitely be conscious of where you are taking calls. If you wouldn't talk on speakerphone, you shouldn't talk on your Apple Watch.
If you buy the new Apple Watch with LTE, you can even make calls on the Apple Watch without your iPhone nearby. This requires adding the watch to your plan for $10 a month. You cannot answer a FaceTime video call on the Apple Watch.