Apple Watch Band Trading Service Launches
A new service is up and running to help Apple Watch Sport buyers trade for a second band in their preferred size and color.
The Apple Watch release date arrives on April 24th, but we are already seeing interest in alternate Apple Watch bands and this new website aims to help Apple Watch Sport users trade the second Apple Watch band that comes in the box for another color and size.
Apple announced the Apple Watch prices on March 9th, revealing the $249 and $399 entry-level prices, but the company didn't mention on stage that this comes with a second Apple Watch Band valued at $49.
The Strap Swap service helps you find someone who wants to trade Apple Watch bands with you. The service is empty at the moment, but as people decide on the Apple Watch size and color that they want to buy we expect to see it grow.
When you look at what comes in the Apple Watch Sport box Apple lists two bands. The company only lists one band for the Apple Watch and Apple Watch Edition. The Apple Watch Sport features a Sport Band in one of  five colors with additional bands priced at $49 in the Apple Store.
Read: The Do's and Don'ts of Apple Watch Etiquette
Users who want a second color can trade the second Apple Watch band that comes in this box for the right size in a different color. This will help users add to their Apple Watch band collection without spending extra cash.
The Apple Watch size guide confirms that Apple is talking about two Apple Watch bands in the box, not just a left and a right. When you buy a Sport Apple Watch band separately Apple also includes two bands in the package. The individual listing for a new Apple Watch Sport Band also lists what's in the box as,
Two bands: one Small–Medium band, one Medium–Large band
This is the only model that includes multiple bands for one price. In the box or package you will find a S/M and a M/L band for the 38mm or 42mm watch that you purchase. The sizes are listed below.
38mm S/M – 130 – 180mm wrists
38mm M/L – 150 – 200mm wrists
42mm S/M – 140 – 185mm wrists
 42mm M/L – 160 – 210mm wrists
In the Strap Swap service users can search by color, Apple Watch size, band size, location and price to find one that works for their needs. Users in large cities may be able to meet up and swap bands in person, while others may decide to ship the Apple Watch bands in trade.
The Apple Watch band trading service is free to sign up for and to use. On Reddit the creator writes a short summary of the service,
"That's what the site is about, it's totally free to use so if you like the idea, sign up and when you get your watch post the size that you do not need on the page, and let's get a good community going on this. The more people who join and post their unwanted straps the better."
You can read more about what you can do with the Apple Watch in the slides below that detail 25 exciting Apple Watch features.
65 Exciting Things You Can Do With the Apple Watch
Answer Calls on the Apple Watch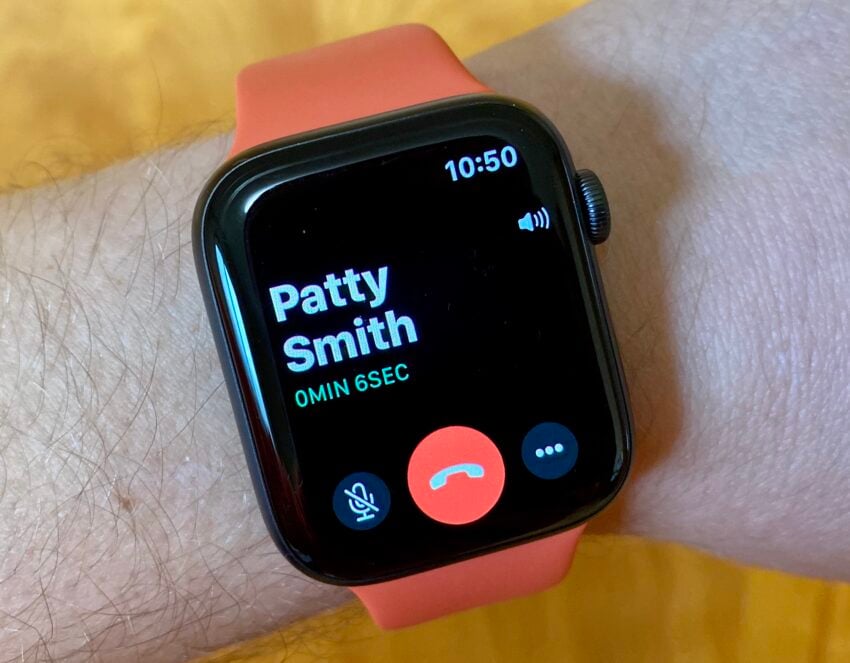 You can answer a call on your Apple Watch using it as a small Bluetooth speakerphone. You only want to use this for shorter calls because the audio quality isn't as good as when you are talking on speakerphone on your iPhone.
The Apple Watch only allows you to answer your calls on Speakerphone, so you won't want to use this all the time. It is very handy when you are working on a project or busy with your hands. Definitely be conscious of where you are taking calls. If you wouldn't talk on speakerphone, you shouldn't talk on your Apple Watch.
If you buy the new Apple Watch with LTE, you can even make calls on the Apple Watch without your iPhone nearby. This requires adding the watch to your plan for $10 a month. You cannot answer a FaceTime video call on the Apple Watch.