Apple Watch Nike+ Band Alternative Review
You cannot buy the Apple Watch Nike+ band direct from Apple, but there are many alternatives that allow you to buy a knock off Apple Watch Nike band that looks and feels very similar. This will not unlock the special Nike+ Apple Watch faces, but if you just want a band that looks like the Nike+ Apple Watch then you are in luck.
The OULUOQI Nike+ watch band on Amazon is under $20 and after using it for over a month it's clearly an amazing Apple Watch Nike+ band replacement option.
For $18.99 you can turn your Apple Watch into a Nike+ Apple Watch lookalike. This band works with the Apple Watch, Apple Watch series 1 and Apple Watch series 2. It is available in 38mm and 42mm sizes. OULUOQI offers black and yellow (volt) and black and grey.
The OULUOQI black and volt color option looks almost identical to the official Apple Watch Nike+ band. When people see my watch, most think that it is the Nike+ version of the watch.
Typically Apple Watch band alternatives, especially those that attempt to replicate the look of an official band, fail the test of time. The little things that make a band comfortable might not be there and the fit and feel of the band can degrade quickly.
That's not the case with the OULUOQI Nike+ Apple Watch band replacement. This band is made of soft silicon and after a month of use the band feels just as good as it did on day one. Although available at a fraction of the cost of an official Apple Watch band, this is as soft and pliable as the official Apple Silicon sports bands.
It uses the same sport band style clasp, and even with taking the watch on and off close to 100 times during this review period the clasp stays securely in place and the watch band opening is the same size. The ventilation openings are a nice touch and I prefer this to the standard Apple Watch Sport band.
[letsreview]
Another positive is that this band doesn't warp to the curves of your wrist like the official Apple Watch bands do. There is also no discoloration to the bright yellow (volt) color after heavy use. By far this is my favorite Apple Watch band, and it's the best Apple Watch Nike+ watch band for the money.
65 Exciting Things You Can Do With the Apple Watch
Answer Calls on the Apple Watch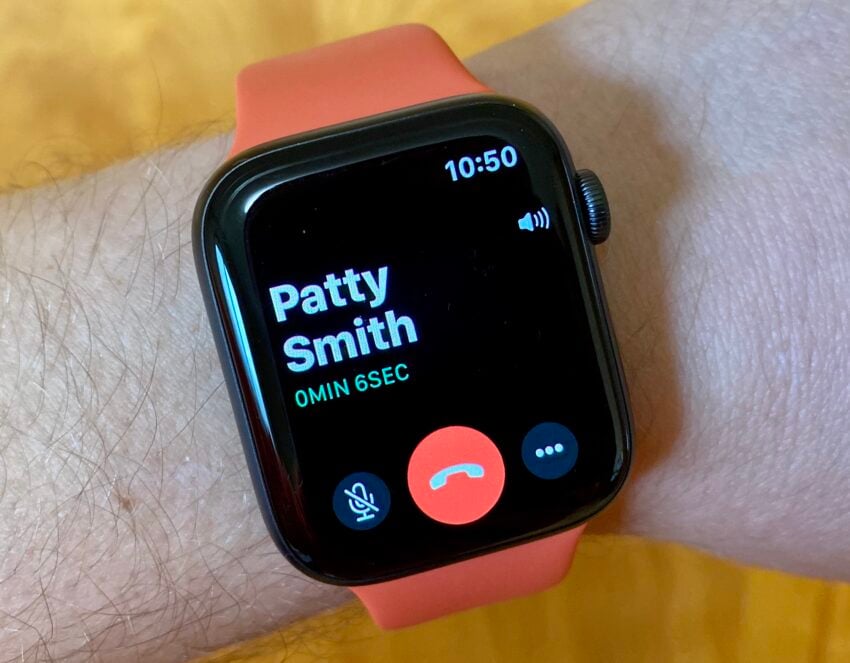 You can answer a call on your Apple Watch using it as a small Bluetooth speakerphone. You only want to use this for shorter calls because the audio quality isn't as good as when you are talking on speakerphone on your iPhone.
The Apple Watch only allows you to answer your calls on Speakerphone, so you won't want to use this all the time. It is very handy when you are working on a project or busy with your hands. Definitely be conscious of where you are taking calls. If you wouldn't talk on speakerphone, you shouldn't talk on your Apple Watch.
If you buy the new Apple Watch with LTE, you can even make calls on the Apple Watch without your iPhone nearby. This requires adding the watch to your plan for $10 a month. You cannot answer a FaceTime video call on the Apple Watch.