Apple Watch vs Moto 360: Features & Price
Most consumers will be comparing the Apple Watch vs Moto 360 this spring if they want to buy a smart watch. Apple and Motorola make what are arguably two of the most intriguing smart watches on the market, or that will soon be on the market.
There are many things that the Apple Watch and the Moto 360 can both do, but there are important design and feature differences that may sway users to buy one of over the other. Of course there is also the pesky compatibility issue that limits that watch you buy to the phone that you own, but with faster upgrades we might even see some users switching to a new phone to get the smart watch they want.
Here is a comparison of the Moto 360 vs Apple Watch that takes a closer look at the price, features and other important details that you need to know. The Apple Watch release date is on April 24th and pre-orders start on April 10th. The [easyazon_link asin="B00NC8PMUK" locale="US" new_window="default" nofollow="default" tag="gbm-ea-20″ add_to_cart="default" cloaking="default" localization="default" popups="default"]Moto 360[/easyazon_link] is on sale now.
Apple Watch vs Moto 360 Design
The Moto 360 is a round smart watch, while Apple sticks with a rectangular design for the Apple Watch. This one small difference may be a deciding factor for some users who lust after a round screen on their wrist.
Motorola only offers one size for the Moto 360 with a 46mm face and a body that is 11.5mm thick. The Apple Watch is available in two sizes; 38mm and 42mm. Both of the Apple Watch models are 10.5mm thick. The larger Apple Watch is $50 more expensive on the Sport version and there are other price differences in the other models.
You can buy three versions of the Moto 360. The basic model includes a leather band and is available in a light finish or a dark finish with a stainless steel case and a leather band. The metal Moto 360 includes the same watch case, but a 23mm metal watch band in matching light and dark finishes. A more expensive Slim Metal Moto 360 offers a slimmer champagne gold finish on the case and a matching band and a light finish option as well. Users can buy new bands direct from Motorola and other watch bands may also buy third-party Moto 360 watch bands.
Apple offers three versions of the Apple Watch with more variations than Motorola. Each of these designs is available in 38mm and 42mm sizes. There is the Apple Watch Sport, Apple Watch and Apple Watch Edition. The Apple Watch Sport includes an aluminum finish in silver or space gray with a fluoroelastomer watch band in one of five colors. When you buy this model Apple includes two size bands in the box.
The Apple Watch features a stainless steel case and a variety of band options from a sport band up to metal and leather. The Apple Watch case is available in silver and space gray. This model also features a Sapphire screen instead of the Ion-X glass found on the Apple Watch Sport. At the ultimate high-end is the Apple Watch Limited with 18-Karat gold in yellow and rose and luxurious straps.
Apple sells alternate Apple Watch bands starting at $49 and ranging up to $449. There is an adapter that a third-party plans to sell to let you connect other watch bands to the Apple Watch, but it is not on sale yet.
Apple Watch vs Moto 360 Display and Controls
The Apple Watch features two display sizes to match the overall watch size. Apple didn't clarify the exact screen size, but the body is 38mm and 42mm while the Moto 360's round body is 46mm with a 1.56-inch display.
While using the Moto 360 you tap and swipe on the screen and use a button on the right side as well as your voice for controlling it. There is a sensor that turns the display on when you lift the watch to your face and an option to keep the display partially on so you can always see the time, but this impacts battery life. The Moto 360 can vibrate to alert users.
The Apple Watch display comes on when you look at it as well. Apple includes more buttons to control the watch and a touch screen that can detect different types of taps. There is also a special vibration tool inside that Apple calls a Taptic Engine. This can deliver a variety of alerts and notifications.
There are two controls on the right side of the Apple Watch, a button and a Digital Crown. The Digital Crown is how users move through various screens and navigate in some areas as there is no pinch to zoom. The button below the crown to access friends that you add to the watch.
Moto 360 vs Apple Watch Features
The Apple Watch and the Moto 360 are both smart watches that do more than a traditional fitness band, but there are features that stand out on each device.
The Moto 360 and Apple Watch will both tell you what time it is, show you calendar information and notifications from your phone. You control the apps for each from your phone. You can install a variety of watch faces on each watch that give a different look. Apple Watch faces are limited to those Apple provides and you can information to the screen. The Moto 360 includes many watch faces and there are a number of third-party options. You can look at photos on the Apple Watch, but this feature is not built-in to the Moto 360. You can also store music on the Apple Watch to play back on Bluetooth headphones when the phone is not connected.
If you need to get somewhere you can get directions on your wrist with alerts when you need to turn and when you need to leave to make an appointment.
The Apple Watch delivers access to friends with the tap of a button and a twist of the digital crown. You can also sketch, tap or send your heartbeat to a friend with an Apple Watch. The Moto 360 doesn't offer these options.
On both watches you can reply to messages with your voice, read and reply to emails on your wrist and handle other notifications. The iPhone lets you send a voice message or dictates your voice to text, while the Moto 360 only supports dictation.
With the Apple Watch you can take a call right on the watch. This is not something you can do on the Moto 360. You can also transfer a call to your iPhone if it lasts longer than you want to hold the Apple Watch up to your face.
Siri and Google Now are key ways to use the Apple Watch and Moto 360. With the screen on say OK Google to issue a command on the Moto 360. On the Apple Watch you can say ,"Hey Siri" to start a command.
The Apple Watch supports Apple Pay so you can make payments at a store using your watch instead of getting your phone out. This is not something you can do on the Moto 360.
Motorola and Android support Smart Lock, which keeps your phone unlocked when the Moto 360 is nearby and connected and your device is from Motorola or running Android 5.0 or higher. Apple did not announce this feature.
Motorola and Apple both offer a variety of fitness tracking and support in the Moto 360 and Apple Watch. On the Moto 360 users can use Google Fit or Moto Body to track heart rate and heart activity, steps and distance, calories burned and get guidance. If you install Runkeeper you can track your workouts in more detail and track cycling.
The Apple Watch will give you reminders to move through the day, track how long you stand, steps and activity. The Apple Watch includes a workout app that includes activities like running, walking and biking. The heart rate monitor tracks your heart rate throughout the day. Apple builds in a number of reward items including progress indicators and alerts to tell you good job throughout the day.
The Apple Watch and the Moto 360 are both water-resistant so you can sweat on them and wear them in the rain, but you cannot swim with them.
Moto 360 Apple Watch Price
The Moto 360 is $249 for the basic leather option, $299 with a steel band and $329 with the slim metal bands. You can buy additional metal bands for $29 to $79 in leather and metal.
Apple Watch prices range from $349 to $17,000. The 42mm option is $50 more at the base level and there are big price jumps for the higher end metal bands. Apple Watch bands are $49 to $449. Read more about the Apple Watch price.
Compatibility
Ultimately you need a smart watch that works with your phone. The Apple Watch only works with the iPhone and while Apple did open up the iPhone to Windows computers don't count on an option to use the Apple Watch with Android any time soon. This is an iPhone companion so you can't use it as a standalone device. There is no Apple Watch iPad compatibility.
Read: 5 Apple Watch Alternatives for Android Users
The Moto 360 connects to Android phones running Android 4.3 or higher. This means the Moto 360 works with more potential phones, but you can't use the Moto 360 with the iPhone at this time. Google is reportedly working on an Android Wear app for iPhone, but there is no official announcement at this time.
Battery Life
The Moto 360 battery life lasts two days of regular use and sometimes slightly longer during our months of use. Motorola delivered a major boost to battery life with a software update after the release last year.
Apple Watch battery life is listed at 18 hours of mixed use. This amounts to one day of use so you will need to charge it at night. Apple details specific use times for the Apple Watch. Talking will use the most power limiting to just three hours of use. There is a Power Reserve mode that can keep showing you the time when power is low. The larger 42mm Apple Watch will see slightly better battery life.
65 Exciting Things You Can Do With the Apple Watch
Answer Calls on the Apple Watch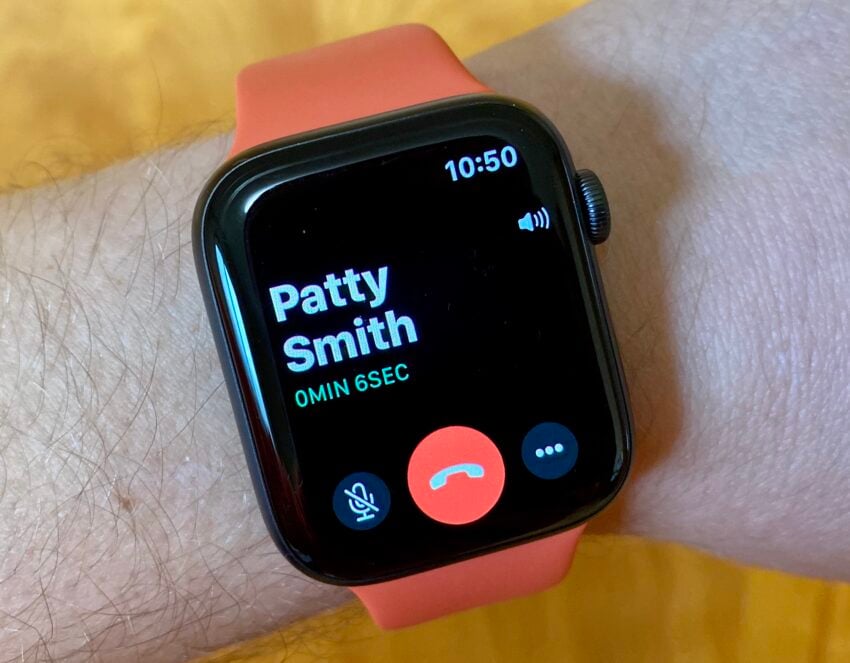 You can answer a call on your Apple Watch using it as a small Bluetooth speakerphone. You only want to use this for shorter calls because the audio quality isn't as good as when you are talking on speakerphone on your iPhone.
The Apple Watch only allows you to answer your calls on Speakerphone, so you won't want to use this all the time. It is very handy when you are working on a project or busy with your hands. Definitely be conscious of where you are taking calls. If you wouldn't talk on speakerphone, you shouldn't talk on your Apple Watch.
If you buy the new Apple Watch with LTE, you can even make calls on the Apple Watch without your iPhone nearby. This requires adding the watch to your plan for $10 a month. You cannot answer a FaceTime video call on the Apple Watch.