What the Apple Watch Can Do Without the iPhone
The Apple Watch is a companion to the iPhone, but there are some things that the Apple Watch can do without the iPhone if you want to leave your phone at home or in your car and go mobile without carrying around an iPhone. This is even more practical with the Apple Watch 3 with LTE.
You can't do everything on the Apple Watch as you can do on the iPhone, but you can do a lot. With new LTE options, you can leave the Apple Watch at home and do a lot more than you used to be able to. If you buy the WiFi only Apple Watch, you will still be pretty limited with what you can do, but thanks to built-in GPS there are a few more things you can do without your iPhone on you.
The list of things the Apple Watch can do without taking your iPhone out of your pocket is much longer, but for the times you don't want to carry the iPhone with you, here is a look what the Apple Watch can do without the iPhone.
Play Music Without the iPhone
If you want to work in the yard or go for a run and listen to music on the Apple Watch you are in luck. The Apple Watch connects to Bluetooth headphones to play locally stored music. This only works with Apple Music, but you can also store some podcasts and your own music on the Apple Watch.
You have limited storage on the Apple Watch. You can stream Apple Music to the Apple Watch with WiFi or LTE on the Series 3.
The Apple Watch connects directly to Bluetooth headphones so you can work out with just the Apple Watch and a pair of Bluetooth headphones. You can control the music with your Apple Watch and likely with the buttons on most Bluetooth headphones.
Text and Talk On the Apple Watch
You can answer a call on the Apple Watch without your iPhone if you have the Series 3 LTE model. You can also answer a call when you are near your iPhone on WiFi only models, but it still needs to be pretty close for that. With the Apple Watch 3 LTE, you can also text and iMessage without your iPhone.
Time, Alarm & Clock Functions
It should come as no surprise that the Apple Watch will continue to function as a watch without the iPhone. Of course you will need to keep it charged up for this to work, but as long as you have battery life you can see what time it is, your alarms will work and you can use the clock functions like a timer or stop watch.
Track Runs With Distance
When you start using the Apple Watch for fitness you will need to carry the iPhone with you so that the Apple Watch learns how far you run. You can also track many other exercises and activities. With the Apple Watch 2 and Apple Watch 3, you get GPS. This will track your specific route and better track your workouts.
Show Photos
The Apple Watch display is small, but you can still use it as a tiny portable photo frame to show off photos.
The Apple Watch can hold a small number of photos that you can look at or you can share with a friend or coworker.
Just remember proper Apple Watch etiquette and keep your small vacation slideshows to a minimum.
That won't be a major problem as you can only store a limited amount of photos on the Apple Watch.
Calendar Reminders & Events
After you set up the Apple Watch and connect it to the iPhone the Apple Watch will remember your event and calendar information so that it can alert you to upcoming appointments.
This is especially handy if you forget to take your iPhone with you on a run or if you dash out of the office and leave your iPhone behind. It isn't clear if you will be able to add a new appointment to the Apple Watch without the iPhone present because Siri requires an Internet connection to work.
Use Apple Pay on Apple Watch Without iPhone
The Apple Watch supports Apple Pay, which lets you make mobile payments with a credit or debit card connected to your Passbook account. You need to set this up on the iPhone and you need a compatible Apple Pay bank and to be at a store that takes Apple Pay or NFC payments for this to work.
After this is set up, the Apple Watch should store a tokenized version of your Apple Pay credit or debit card so that you can move your hand near the credit card reader to make a payment. One important thing to remember about this is that if you take the Apple Watch off you will need to enter a passcode on the iPhone to unlock the Apple Watch.
Use Apple Wallet Passes
You can also use Apple Wallet passes on the Apple Watch without an iPhone connected. Assuming you already have your boarding pass or movie ticket on your Apple Watch you could go to the movies or board a plane without your iPhone. The latter sounds like a handy feature if you lose your iPhone, but not something we'll practice on purpose.
The Wallet can also hold a gift card to use in some stores, to hold your loyalty cards and other passes. You'll need to load them up on the iPhone first.
Use Apple Watch Apps on LTE or WiFi
If you leave your iPhone in the office or at home you can use your apps as long as the Apple Watch is connected to WiFi or you have the LTE model. This allows you to browse Instagram, check email, check the weather and use all kinds of Apple Watch apps without your iPhone in hand or in your pocket.
What Does the Apple Watch Do?
There are a good number of things the Apple Watch can do without the iPhone, but the list of things it can do when connected to your iPhone is much longer. You need an iPhone 5 or newer to use the Apple Watch and if you don't own an Apple Watch there aren't many things you can count on using it for.
Check out the slides below to see what the Apple Watch can do with an iPhone.
65 Exciting Things You Can Do With the Apple Watch
Answer Calls on the Apple Watch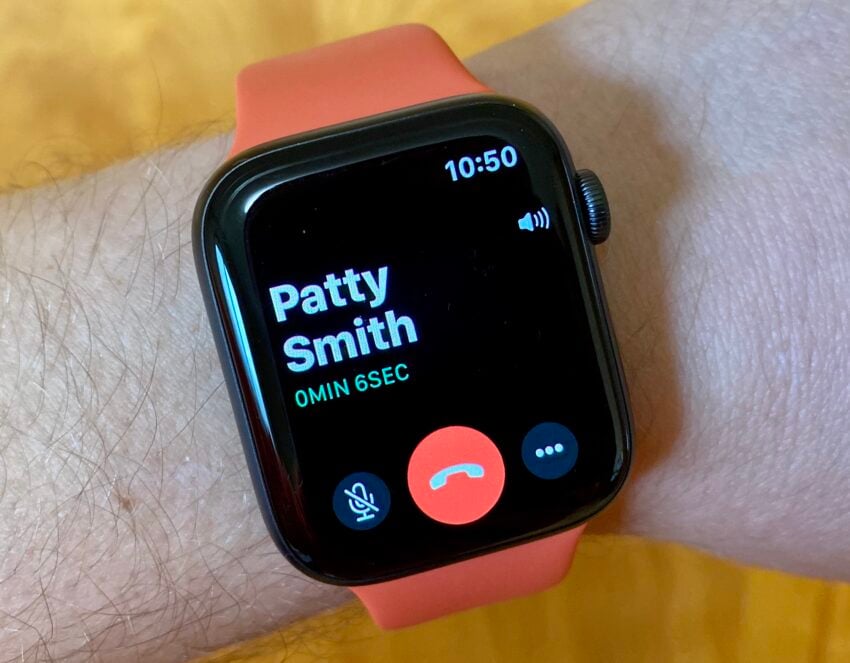 You can answer a call on your Apple Watch using it as a small Bluetooth speakerphone. You only want to use this for shorter calls because the audio quality isn't as good as when you are talking on speakerphone on your iPhone.
The Apple Watch only allows you to answer your calls on Speakerphone, so you won't want to use this all the time. It is very handy when you are working on a project or busy with your hands. Definitely be conscious of where you are taking calls. If you wouldn't talk on speakerphone, you shouldn't talk on your Apple Watch.
If you buy the new Apple Watch with LTE, you can even make calls on the Apple Watch without your iPhone nearby. This requires adding the watch to your plan for $10 a month. You cannot answer a FaceTime video call on the Apple Watch.

As an Amazon Associate I earn from qualifying purchases.