How Long Does watchOS 3.2 Update Take to Finish
The watchOS 3.2 update is finally here delivering better performance, new Apple Watch features including theater mode and better Siri support.
Apple now offers the watchOS 3.2 update on the Apple Watch as a free update to all users. You need to install iOS 10.3 on your iPhone before you can install watchOS 3.2 on your Apple Watch.
The iOS 10.3 update takes 20 minutes for most users, but the watchOS 10.3 update can take significantly longer.
Now that the watchOS update is out and many users already downloaded it you shouldn't need to wait for slow downloads, but it can still take a long time to install the new Apple Watch update.
How Long Does the watchOS Update Take?
You should plan on at least an hour to download and install the watchOS 3.2 update on your Apple Watch. This could take as long as two hours depending on your Internet connection and other factors.
How to Install watchOS Updates
Part of the reason the watchOS 3.2 update takes so long is because it first downloads to your iPhone and then is sent to your Apple Watch where it unpacks and installs. You need to have your Apple Watch on the charger and your phone must be connected to WiFi.
The table below outlines how long it takes to update to watchOS 3.2 on the Apple Watch and Apple Watch Sport.
| Task | Time |
| --- | --- |
| Backup Apple Watch (Optional) | 1-30 minutes (Automatic) |
| watchOS Download | 15 to 60 minutes |
| watchOS Update | 1-2 hours |
| Total watchOS Update Time | 1.5 hours to 2.5 hours |
In our tests it takes 1-2 hours to install watchOS 3.2 on average, which is what you should plan for even if you don't need to do all the steps listed above.
The best time to install watchOS 3.2 is when you are going to be sitting at your desk for a few hours or right before you go to bed.
The bulk of your time will not be downloading and preparing for the watchOS 3.2 update like it is for iOS 10. Instead, it is spent actually installing the new watchOS update on your Apple Watch.
65 Exciting Things You Can Do With the Apple Watch
Answer Calls on the Apple Watch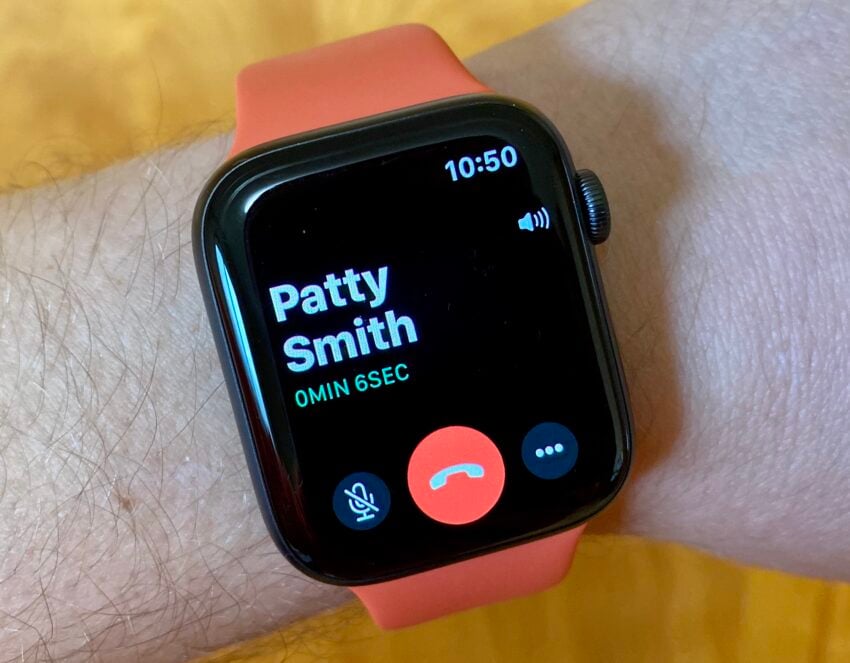 You can answer a call on your Apple Watch using it as a small Bluetooth speakerphone. You only want to use this for shorter calls because the audio quality isn't as good as when you are talking on speakerphone on your iPhone.
The Apple Watch only allows you to answer your calls on Speakerphone, so you won't want to use this all the time. It is very handy when you are working on a project or busy with your hands. Definitely be conscious of where you are taking calls. If you wouldn't talk on speakerphone, you shouldn't talk on your Apple Watch.
If you buy the new Apple Watch with LTE, you can even make calls on the Apple Watch without your iPhone nearby. This requires adding the watch to your plan for $10 a month. You cannot answer a FaceTime video call on the Apple Watch.

As an Amazon Associate I earn from qualifying purchases.