How to Install the watchOS 3.2 Apple Watch Update
We will show you how to update the Apple Watch software to the new watchOS 3.2 update that arrived alongside iOS 10. You can use this guide for future updates as well. As part of learning how to install the Apple Watch OS update, you will learn what is new in watchOS 3.2.
You may receive a notification about the Apple Watch update, but even if you don't see an alert, you can still download this update today.
This guide walks through how to download the Watch OS 3.2 update and how to install the Apple Watch update.
You do not need a computer, but there are some essential requirements that may require you waiting to install the update.
How to Install Apple Watch Updates
To install the Apple Watch update you need the Apple Watch charger, the Apple Watch battery charged to at least 50% and the iPhone must be in range. This is not a massive update, but you likely need a WiFi connection to download it.
Watch the video above for a guide to installing the Apple Watch software update on your Apple Watch, Apple Watch Sport or Apple Watch Edition. The Apple watchOS 3.2 update works on all of these devices, similar to how iPhone updates work.
Apple Watch Update Instructions
Below is a step by step guide to installing the Apple Watch update with screenshots so you know what will happen.
Before you update, you should keep in mind that the Apple Watch update installation takes at least 30 minutes, but could take as long as several hours depending on your internet connection speed and other factors.
Plug your Apple Watch charger into power and then set the Apple Watch on it. Make sure your iPhone is nearby.
On your iPhone, go to the Apple Watch app and open it. Tap on My Watch and then on General. In this menu, tap on Software Update.
The iPhone will check for an Apple Watch update. Within a minute, it should discover the Apple watchOS 3 update and allow you to tap on Learn More to see what is new in the Apple Watch update. When ready, tap on Download and Install to start the process. You will need to enter your iPhone passcode.
Wait while the iPhone downloads the Apple Watch software and then while it prepares the Apple Watch software. After several minutes, it will switch to installing on the Apple Watch and push a notification.
You can tap install now, or just wait 15 seconds for the Apple Watch to start installing the update on its own. The Apple Watch screen will go black and then show an Apple logo with a circle around it that gradually fills up with white dashes. You'll need to enter your Apple Watch passcode during part of this process. This process takes about 5 minutes. Don't worry if this takes a while or if it appears to freeze in the end.
Once this part of the Apple Watch update completes the screen will go black again, and the Apple Watch will once again show an Apple logo and a circle that needs to fill up. This time the process takes two to three minutes.
65 Exciting Things You Can Do With the Apple Watch
Answer Calls on the Apple Watch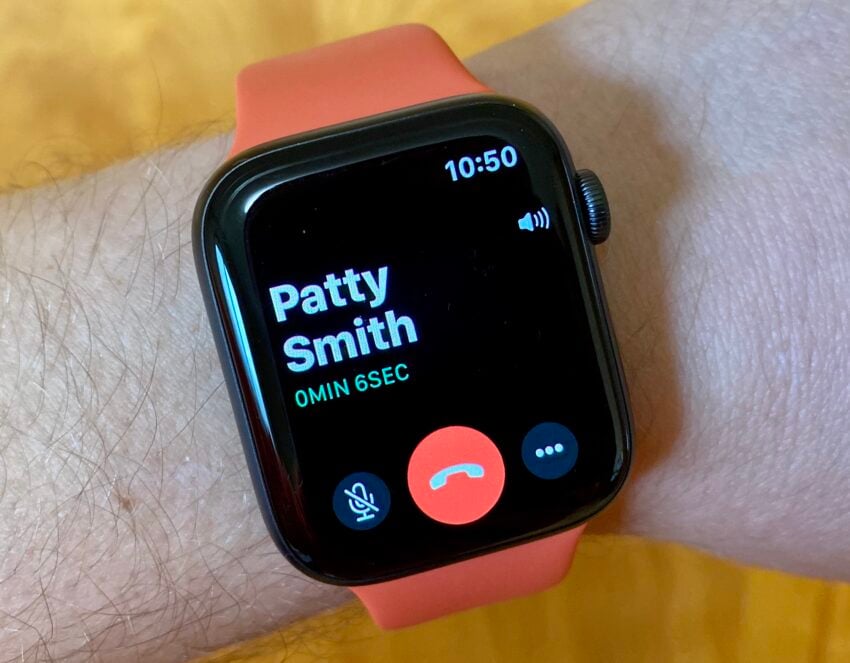 You can answer a call on your Apple Watch using it as a small Bluetooth speakerphone. You only want to use this for shorter calls because the audio quality isn't as good as when you are talking on speakerphone on your iPhone.
The Apple Watch only allows you to answer your calls on Speakerphone, so you won't want to use this all the time. It is very handy when you are working on a project or busy with your hands. Definitely be conscious of where you are taking calls. If you wouldn't talk on speakerphone, you shouldn't talk on your Apple Watch.
If you buy the new Apple Watch with LTE, you can even make calls on the Apple Watch without your iPhone nearby. This requires adding the watch to your plan for $10 a month. You cannot answer a FaceTime video call on the Apple Watch.