How to Fix Bad Apple Watch 5 Battery Life
Are you experiencing bad Apple Watch 5 battery life? If so, you aren't alone as many users complain about short Apple Watch Series 5 battery life, especially during the first week of use. This isn't the way things should be working, even with the Always-on Display. Here's a guide on how to fix battery life issues on the newest Apple Watch.
Apple says you should get all-day battery life on the Apple Watch Series 5, rating it up to 18 hours. This is the same as the older Apple Watch 3. If your Apple Watch is not lasting all-day, there are some things that you can do to help the issue.
Here's a look at seven of the things you can try to fix bad Apple Watch 5 battery life;
Restart Your Watch
Install Updates
Wait a Few Days
Un-Pair and Re-Pair
Set up as New
Turn off Apple Watch 5 Features
Install the WatchOS 6.1 Beta
Give these a try on your own, and then get in touch with Apple if this doesn't solve the problem.
Restart Your Watch
One of the easiest ways to fix battery life problems is to restart your Apple Watch and to restart your iPhone. This takes a minute or two and can solve issues pretty quickly.
Press and hold the side button on your Apple Watch 5, then slide to Power Off. Once the watch turns off, press the Digital Crown to turn it back on. While this is happening restart your iPhone. This can solve many issues, so start here.
Install Updates
Apple pushed out watchOS 6.0.1 already, and we expect new Apple Watch 5 updates over the coming months. These include bug fixes, which can deliver official battery life fixes.
Here's more on why you should install watchOS 6 updates. While it can be a good idea to wait a few days after a release to install an update, this is one of the best ways to fix Apple Watch battery life issues on the new model.
Wait a Few Days
We've also seen the Apple Watch 5 battery life improve after a few days or up to a week. This could be due to the watch finishing background tasks from restoring from the setup process, especially if you set it up from a backup.
It's annoying to deal with, but sometimes simply waiting and dealing with the battery life issues for 3-5 days can solve the issue.
Un-Pair and Re-Pair
As frustrating as this sounds, you can sometimes fix this by un-pairing the Apple Watch from your phone and then re-pairing it to the iPhone. This will take some time, but if your battery life is still bad, this is an important step to try.
On your, iPhone open the Watch app.
Tap on My Watch and tap Apple Watch.
Tap to Unpair Apple Watch.
Next, tap to confirm and if you have Activation Lock on, enter your Apple ID password to turn it off.
Once this finishes, restart your iPhone and then open the Apple Watch app to set up the watch and connect it to your phone.
Set Up as New Watch
After you un-pair the Apple Watch 5, you can try setting it up as a new watch instead of restoring from backup. This can leave problems from a backup behind. This is not a guaranteed fix, but if you are at the end of your rope, this is a good step to take.
Turn off New Apple Watch Features
Some users are turning off the Always-on Display and noise monitoring to see if that solves the issue. You can try this out, but keep in mind that most users don't find a major fix.
To turn off the Always=on Display;
Open Settings on your Apple Watch
Tap on Display & Brightness
Tap on Always On
Tap on the toggle to turn it off.
While this isn't a great permanent solution, it may help you get through this rough patch and then you can try turning it back on after watchOS 6.1 arrives.
To turn off noise notifications and monitoring, you need to use your iPhone.
Open the Apple Watch App.
Tap on the My Watch tab.
Tap on Noise.
Tap on Noise Threshold.
Tap on Off.
This could help you get better battery life, but it's hit or miss.
Install watchOS 6.1 Beta
While this isn't for everyone, you can install the watchOS 6.1 beta. We're hearing some reports that the watchOS 6.1 makes Apple Watch 5 battery life dramatically better.
Here's how to install the watchOS 6.1 beta even if you aren't a developer. There is no downgrade option, so you are stuck on watchOS 6.1 until Apple releases a new version, so don't install this lightly.
65 Exciting Things You Can Do With the Apple Watch
Answer Calls on the Apple Watch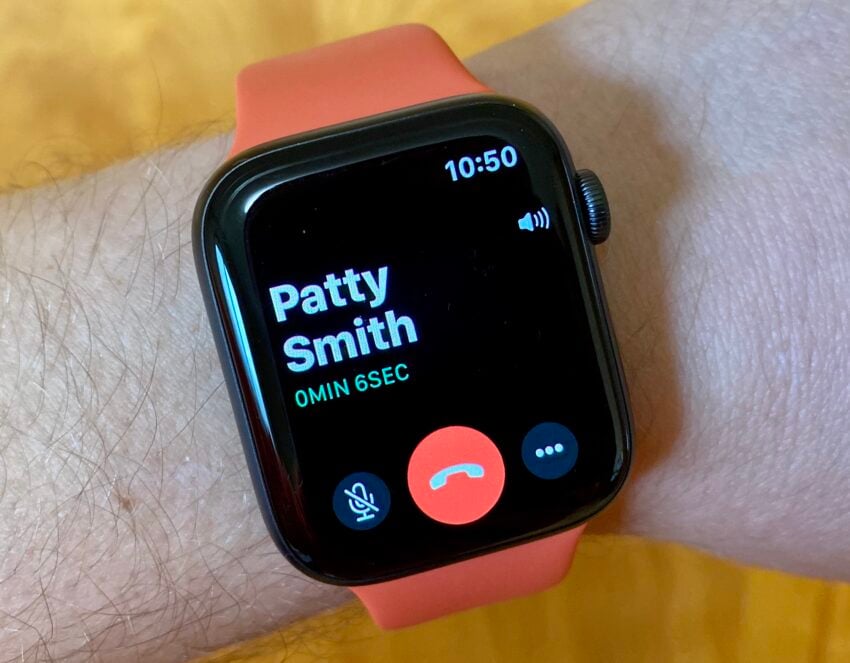 You can answer a call on your Apple Watch using it as a small Bluetooth speakerphone. You only want to use this for shorter calls because the audio quality isn't as good as when you are talking on speakerphone on your iPhone.
The Apple Watch only allows you to answer your calls on Speakerphone, so you won't want to use this all the time. It is very handy when you are working on a project or busy with your hands. Definitely be conscious of where you are taking calls. If you wouldn't talk on speakerphone, you shouldn't talk on your Apple Watch.
If you buy the new Apple Watch with LTE, you can even make calls on the Apple Watch without your iPhone nearby. This requires adding the watch to your plan for $10 a month. You cannot answer a FaceTime video call on the Apple Watch.