How to Install the WatchOS 7 Beta Right Now
You can install the watchOS 7 beta on your Apple Watch without a developer account. You need to install iOS 14 first, and then you need to install the watchOS 7 beta profile.
If you are a regular user, the best way to do this is with the watchOS 7 public beta that is out now. There is no way to downgrade from watchOS 7 to watchOS 6, so once you try out the beta you are stuck there.
Once you install the iOS 14 beta on your phone, you need to download the watchOS 7 beta profile and then you can download and install the beta to test watchOS 7 features early.
How to Download the watchOS 7 Beta Profile
Install the iOS 14 beta on your iPhone. You cannot do this without iOS 14. Follow these instructions to install the iOS 14 beta before you continue.
Download the watchOS 7 beta Configuration Profile the Apple Beta Software Program.
Tap on Apple Watch when prompted.
Tap on Install.
Enter your passcode.
Tap on Install.
Restart the Apple Watch when prompted.
This installs a small piece of software that tells Apple your Apple Watch is allowed to install this watchOS 7 beta. You only have to do this once. Afterward, it will install watchOS 7 beta updates just like a normal Apple Watch update.
How to Install the watchOS 7 Beta
After your Apple Watch restarts, grab your iPhone. You will need to use the Watch app to connect and install the update. You need to make sure that your Apple Watch is on the charger, that it has at least 50% battery life and you will need an Internet connection. You must keep your iPhone nearby while this happens.
Open the Apple Watch app on your iPhone.
Tap on My Watch.
Tap on General and Software Update.
When you See watchOS 7 beta tap on Download and Install.
Enter your iPhone passcode.
Agree to the Terms & Conditions.
With your Apple Watch on the charger tap on Install.
This starts the watchOS 7 beta installation process. This will take some time and once the install starts, you cannot use the Apple Watch until the update is complete. You can use your iPhone during this, but you will need to make sure that you keep it close to the Apple Watch.
65 Exciting Things You Can Do With the Apple Watch
Answer Calls on the Apple Watch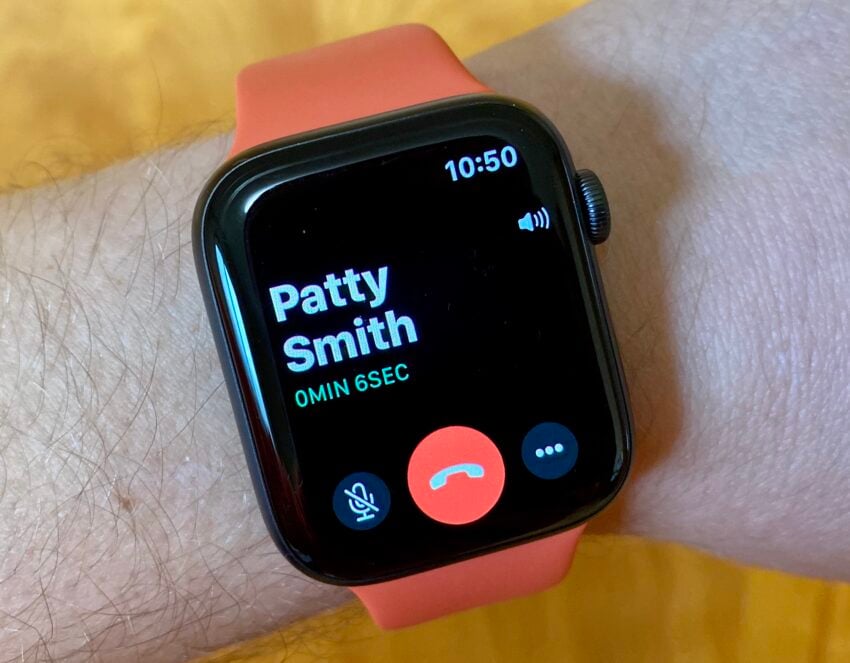 You can answer a call on your Apple Watch using it as a small Bluetooth speakerphone. You only want to use this for shorter calls because the audio quality isn't as good as when you are talking on speakerphone on your iPhone.
The Apple Watch only allows you to answer your calls on Speakerphone, so you won't want to use this all the time. It is very handy when you are working on a project or busy with your hands. Definitely be conscious of where you are taking calls. If you wouldn't talk on speakerphone, you shouldn't talk on your Apple Watch.
If you buy the new Apple Watch with LTE, you can even make calls on the Apple Watch without your iPhone nearby. This requires adding the watch to your plan for $10 a month. You cannot answer a FaceTime video call on the Apple Watch.