How to Make a Custom Watch Face for Your Apple Watch
You can't install third-party Apple Watch faces, but you can make your own custom Apple Watch face using complications and hand picking images that you can use to give your Apple Watch face a killer look.
We've already shown you how to change the Apple Watch face, and all of the current Apple Watch face options, but this will walk you through more of the customization and some of our favorite custom watch faces for the Apple Watch.
Read: Things the Apple Watch Can Do
This is what you need to know about making a custom Apple Watch face for your wrist.
How to Make an Animated Apple Watch Face
The office Slack mentioned a Pip-Boy watch face would be neat, so here you go, Internet! https://t.co/qbzsFPrxnn pic.twitter.com/VKjOdb5rFr

— Neven Mrgan (@mrgan) November 2, 2015
You can make an animated Apple Watch face using apps on your computer, the web or even your iPhone. This allows you to make any gif you want into an Apple Watch face.
There are some epic options here including a Fallout Pip Boy Apple Watch face and there are many other options. You can download this moving Fallout Pip Boy Apple Watch face here and install it using an app on your computer.
Or you can download this Fallout Pip Boy Apple Watch face that is static and then sync it to your Apple Watch. Most people can sync the photo to the Apple Watch by favoriting it, but if you already set up a special folder, you can try that.
You can make an Apple Watch face using the Watch app with a custom photo, or you can open the Photos app on the Apple Watch and Force Touch to set a static Apple Watch photo as your watch face. Here's a collection of Apple Watch wallpapers you can download to your Apple Watch to make a custom Apple Watch face.
You can also download the Facer app for the iPhone to make custom watch faces that easily sync to your Apple Watch. This is a free app, but there are in app purchases. Those unlock Apple Watch faces with Garfield, Popeye, Betty Boop, Ghostbusters, Star Trek, aPeriodic table and others
Using Complications
There are a handful of stock Complications, but to enable third-party Complications, you'll need to go into the Apple Watch app on your iPhone and tap on Complications. From there, add or remove any third-party Complication that you want.
Now, go to your Apple Watch and Force Touch your watch face to access the other watch faces. The watch faces that support Complications include Modular, Simple, Color, and Chronograph. Select one and then tap on Customize to begin customizing it.
To customize, you'll first start out with the accent color that you can change by spinning the Digital Crown. After that, swipe to the left to begin customizing the Complications. Tap on one of the Complication areas and spin the Digital Crown to choose a Complication to go into that slot.
When you're done customizing the Complications and the watch face, simply click the Digital Crown to finish and  begin using your new customized watch face.
65 Exciting Things You Can Do With the Apple Watch
Answer Calls on the Apple Watch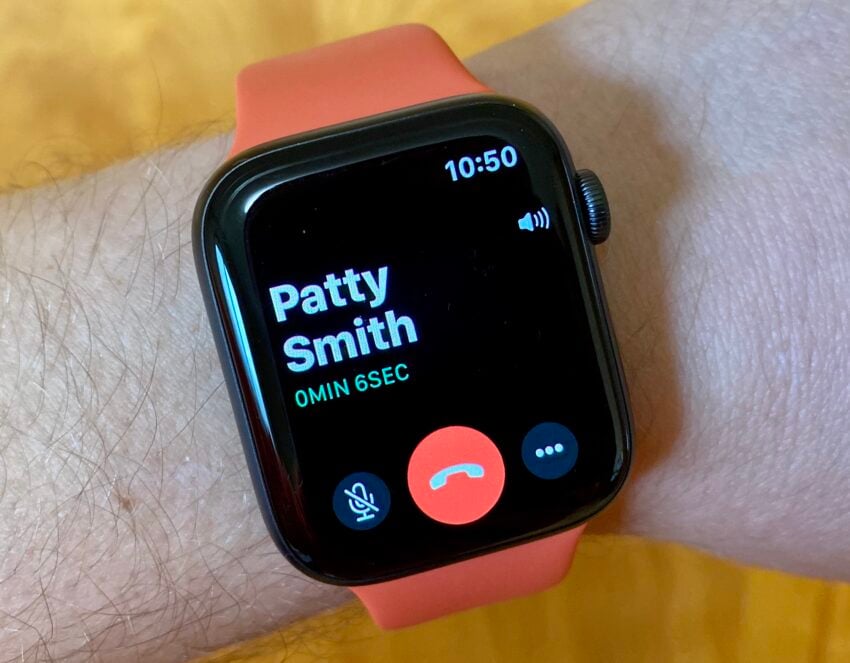 You can answer a call on your Apple Watch using it as a small Bluetooth speakerphone. You only want to use this for shorter calls because the audio quality isn't as good as when you are talking on speakerphone on your iPhone.
The Apple Watch only allows you to answer your calls on Speakerphone, so you won't want to use this all the time. It is very handy when you are working on a project or busy with your hands. Definitely be conscious of where you are taking calls. If you wouldn't talk on speakerphone, you shouldn't talk on your Apple Watch.
If you buy the new Apple Watch with LTE, you can even make calls on the Apple Watch without your iPhone nearby. This requires adding the watch to your plan for $10 a month. You cannot answer a FaceTime video call on the Apple Watch.