How to Change the Apple Watch Face
You can change the Apple Watch face and customize what you see on the Apple Watch when you look at it. This makes it easy to see the most important information at a glance, and it allows you to customize it with a new photo every time you look at your wrist.
There are still no third party Apple Watch faces, but you can change the Apple Watch faces quickly and you can customize the Apple Watch face color and the information you see on it, which are called complications. Change the face to match your style or your Apple Watch band.
It's easy to create a few Apple Watch faces that you use for work, relaxing or dressing up, and then to quickly switch between them. Apple offers a range of Apple Watch faces to choose from and we typically see new faces arrive each year.
How to Change the Apple Watch Face
You can change the Apple Watch faces very quickly once you have them set up by swiping from the right or left edge of the screen to quickly switch between your watch faces.
This is very helpful for switching between the Apple Watch faces that you've set up and use frequently.
To change an Apple Watch face and customize it, you need to follow these steps;
Press into the middle of the Apple Watch Screen (Force Touch).
Swipe to find the face you want to customize.
Tap Customize to change options.
Scroll up or down with the Digital Crown to change colors.
Swipe to the right to change Complications.
Tap on the Complication you want to change and then scroll up or down with the Digital Crown.
Repeat this for each of the complications until you are satisfied.
Press the Digital Crown twice to save this Apple Watch Face.
You can repeat this as necessary with the other Apple Watch faces. Once saved, you can switch between them by swiping left or right.
Another option is to swipe all the way to the right and tap on New to make a new Apple Watch face from scratch.
On the Apple Watch app on your iPhone, you can change the order of the faces and delete faces you don't want anymore. You cannot edit the watch faces on your iPhone.
The Apple Watch app also shows you the Complications you can use in the main section known as My Watch. Tap on Complications to see the options. Tap on Edit to remove any Complications you don't want.
The Apple Watch face options include;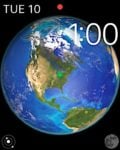 Astronomy 
This face shows the earth during the day and the moon. It shows you the day of the week and the date as well as the time. You can choose to see the earth, the moon or the solar system by tapping on the complications. Scroll with the Digital Crown to change the time and see it show on screen. You cannot customize the complications.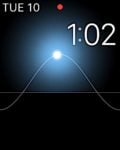 Solar
See the time of day and an indication of where the sun is in the sky. You can scroll with the Digital Crown to change the time and see when sunrise, high noon and sunset are.
You cannot customize this face with complications like you can on many other watch faces.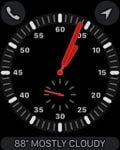 Explorer
This is a mock up of a watch face that you might see on an adventurer. You get an analog face, analog second hand and you can change the style of the analog watch face as well as the color of the hands. There are three complications you can choose to add to this; two small and one large.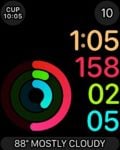 Activity Analog & Digital
The Activity watch face shows your rings front and center so you can track your Move Goal, Exercise and Standing. This is available in digital or analog, using separate watch faces. You can add three Apple Watch Complications. You can change the color of the time or the hands, depending on the face.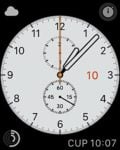 Chronograph
Change the dial details so you can track time precisely how you need to and then choose the face color. You can show four different Complications on this face, making it one of the most versatile faces. You are limited to only the smaller Complication style.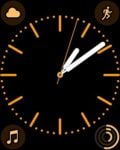 Color
This is a standard analog watch face that allows you to change the colors. You can choose the color of the face accents and you can add four complications to this face. You can also turn off all the Complications for another version of the simple watch face.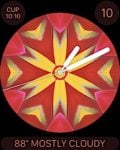 Kaleidoscope
This is a newer Apple Watch face that moves when you raise to wake your wrist and that you can change by scrolling the digital crown. Choose a color style and then a pattern in customization options and then you can customize three of the complications.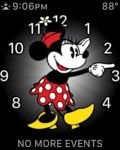 Mickey Mouse
Choose Mickey or Minnie Mouse for your watch face. Whichever mouse you choose will tap to the seconds and point to the time with arms.
You can use three Complications with this face, two small and one larger option. You cannot change the style or any options of Mickey or Minnie.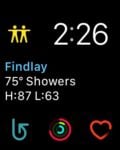 Modular
Modular is the Apple Watch face with the most customization thanks to support for five Complications.
If you want to do a lot of smartwatch things, and easily access apps and Apple Watch features, pick this face.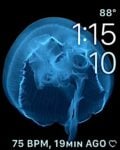 Motion
Motion is a flashy moving Apple Watch face with animations of flowers, jellyfish or butterflies. When you raise to wake, you will see a different item and small amounts of movement. You can choose the day and or date in the middle of the screen and choose two other complications.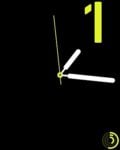 Numerals
Numerals shows you the current hour in a big number. You can change the font style and you can control the color. There are hands for the full time and a seconds hand.
You can only add one Complication to this minimalist Apple Watch face.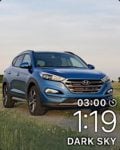 Photos
Choose Photos and you will see a different photo when you look at your Apple Watch. These are pulled from photos synced to your Apple Watch, and in most cases are your favorites. You can add two complications and choose to put the time at the top or the bottom of the screen.
Pride
This is a Pride celebration watch face that matches up with the Pride band Apple sells. When you raise to wake, the bands flutter before becoming solid lines.
You can use two Complications, a small one up top and a larger one at the bottom.
Simple
This is a minimalist Apple Watch face that you can adjust the style of and add a lot of options if you want them. You can keep it simple with only a color on the second hand, and choose how much dial detail you want. You can add up to four complications and the day/date, or keep it super simple.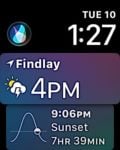 Siri
The Siri watch face shows you a collection of details that Siri thinks are important to you at this time. This includes the time, weather changes, upcoming meetings, news alerts and more. You can change two complications and you'll always see something new when you look at your watch.
This is a handy watch face if you like to see a lot of information and you don't mind scrolling, but for some users it hides the info they want at the bottom.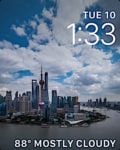 Timelapse
This cool watch face shows a fast time lapse when you raise to wake your Apple Watch, You can choose which scene to show and two complications.
This is a stunning option with timelapses of Mack Lake, New York, Hong Kong, London,Paris or Shanghai
Toy Story
Similar to the Micky Mouse watch face, this allows you to pick your favorite Toy Story character to show you the time and animate with funny motions. Pick from a mix or choose Buzz, Woody or Jessie. If you choose the Toy Box, you will see a variety of Toy Story characters. You can tap the screen to see various animations. Support for two Complications.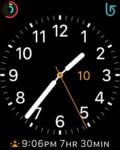 Utility
Utility is a simple Apple Watch face that lets you pick the style of the face, the color of the second hand and that comes with support for three complications.
It's a simple option, but one that many people love.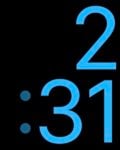 X-Large
This is a very large font Apple Watch face. This is great if you have trouble reading the Apple Watch and want to know the time at a quick glance. You can change the color, but you cannot add any complications.
Here's more about what the Apple Watch can do. If you want to customize your Apple Watch face even more, you can set the Apple Watch time ahead.
65 Exciting Things You Can Do With the Apple Watch
Answer Calls on the Apple Watch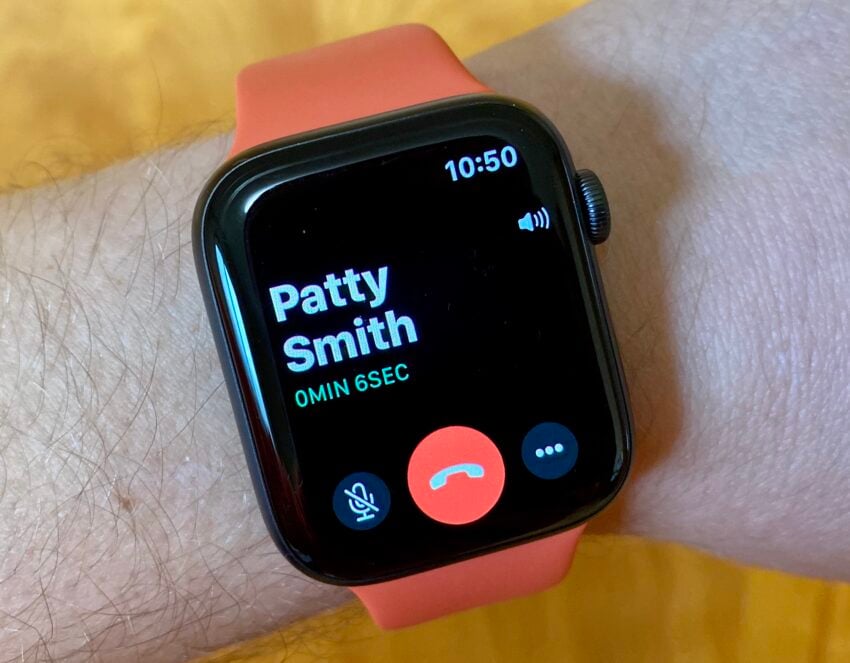 You can answer a call on your Apple Watch using it as a small Bluetooth speakerphone. You only want to use this for shorter calls because the audio quality isn't as good as when you are talking on speakerphone on your iPhone.
The Apple Watch only allows you to answer your calls on Speakerphone, so you won't want to use this all the time. It is very handy when you are working on a project or busy with your hands. Definitely be conscious of where you are taking calls. If you wouldn't talk on speakerphone, you shouldn't talk on your Apple Watch.
If you buy the new Apple Watch with LTE, you can even make calls on the Apple Watch without your iPhone nearby. This requires adding the watch to your plan for $10 a month. You cannot answer a FaceTime video call on the Apple Watch.

As an Amazon Associate I earn from qualifying purchases.