Moshi Apple Watch Travel Stand Review
The Moshi Travel Stand for Apple Watch is the best portable Apple Watch stand we've found. It includes easy to use cord management, an adjustable angle and it looks amazing.
At $34.95, the Apple Watch Travel Stand from Moshi is priced well within the budget of most Apple Watch users and it is also sturdy enough to serve as your main Apple Watch stand at home if you aren't a frequent traveler. This does not include an Apple Watch charger, so you will need to use your own.
Normally traveling with the Apple Watch means hauling an extra cord around and hoping your Apple Watch stays on it overnight. The biggest problem we've run into with just using a cable to charge the watch is that at least one day of your trip you will wake up to an Apple Watch that didn't charge for one reason or another.
With the Moshi Travel Stand for Apple Watch, this isn't an issue. There is a soft, but firm rubber cable keeper that allows you to wind up the Apple Watch charging cord for travel. With the charger secured in the top, and the cable wrapped up you have a small package that slides into your backpack or luggage easily.
[letsreview]
When you get to your destination, simply unspool enough cord to get plug the charger into a power source and you are good to go. No more long cable getting tangled up on your iPhone or your glasses overnight. While traveling the charger folds flat and when you get to your destination you can flip up the top of the charger so you can use the Apple Watch in Nightstand mode.
The Travel Stand is very well made, surviving a cramped backpack on a recent trip very easily and performing flawlessly. Moshi designed the stand with a clean look and a premium feel that is a bargain at $35. It is easily an Apple Watch stand that you can use at home and on the go if you only want to use a single cable.
You can use the Travel Stand with any version of the Apple Watch, Apple Watch Series 1 and Apple Watch Series 2 in 38mm and 42mm sizes. We tested the charger with multiple bands and had no trouble thanks to the raised charging platform that allows even always closed bands to work.
You can buy the Moshi Travel Stand for Apple Watch at Moshi and you can find Moshi products at the Apple Store, Best Buy, and other national retailers.
65 Exciting Things You Can Do With the Apple Watch
Answer Calls on the Apple Watch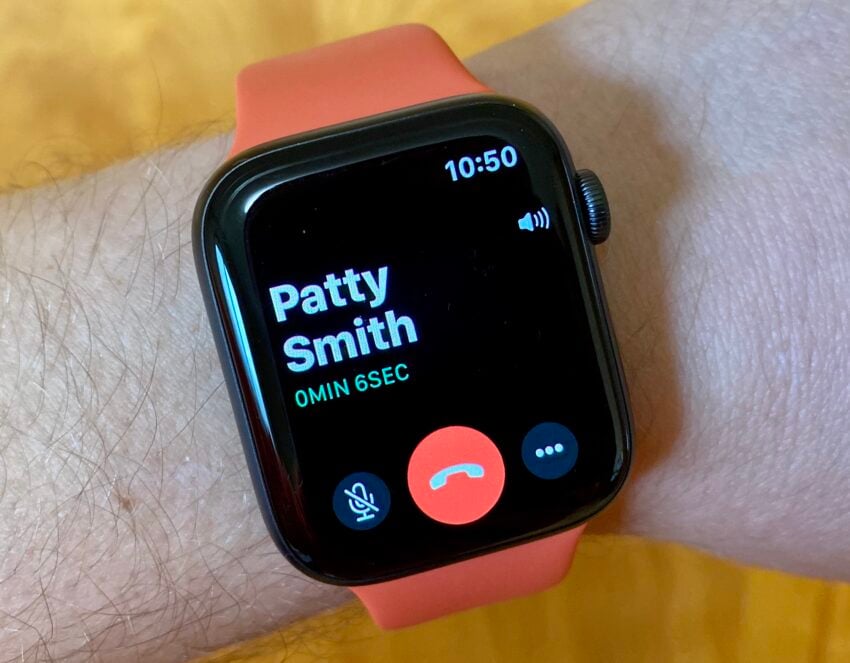 You can answer a call on your Apple Watch using it as a small Bluetooth speakerphone. You only want to use this for shorter calls because the audio quality isn't as good as when you are talking on speakerphone on your iPhone.
The Apple Watch only allows you to answer your calls on Speakerphone, so you won't want to use this all the time. It is very handy when you are working on a project or busy with your hands. Definitely be conscious of where you are taking calls. If you wouldn't talk on speakerphone, you shouldn't talk on your Apple Watch.
If you buy the new Apple Watch with LTE, you can even make calls on the Apple Watch without your iPhone nearby. This requires adding the watch to your plan for $10 a month. You cannot answer a FaceTime video call on the Apple Watch.

This article may contain affiliate links. Click here for more details.