Official Apple Watch Dock Release Rolling Out
If you've been waiting for Apple's own Apple Watch dock to release, it's your lucky day, as the official Apple Watch dock from the company is starting to appear in Apple Stores.
If you can believe it, Apple hasn't had an official Apple Watch dock available, but leaked photos began to appear just recently, and now it's starting to officially appear in some Apple Store locations.
This certainly isn't the first Apple Watch dock to release, as accessory makers have been taking advantage of the situation and releasing their own docks back when the smartwatch first released. There are a ton of different third-party options available with different styles to choose from in different price ranges. However, if you've been waiting for Apple's official Apple Watch dock to arrive, it looks like that day is today.
We've already covered a handful of Apple Watch stands and docks that are worth checking out and even reviewed Twelve South's HiRise Apple Watch stand, which has been one of the more popular options for Apple Watch owners.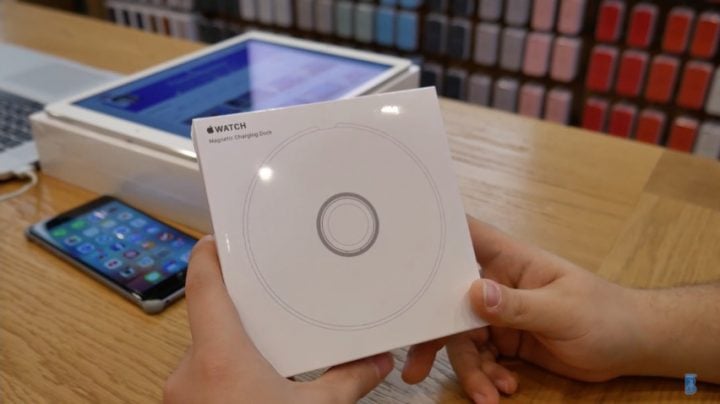 However, if you're not a huge fan of third-party accessories and would rather get them from the source, Apple's own Apple Watch dock is rolling out now.
Some Apple Stores in Germany already have the dock in stock and ready to buy right off the shelf. It appears that the price of the dock in Germany is €89, which is equal to about $98 in the US, but the official US price will actually be $79.
German YouTuber TouchBenny did a full unboxing and hands-on of the new Apple Watch dock (Apple is officially calling it the Apple Watch Magnetic Charging Dock) that gives us a better idea of what the dock looks like.
The new dock is round and is about the size of a CD. The magnetic charger is built into the center of the dock and you plug it in on the side where there's a Lightning port. With that, the dock comes with a rather long Lightning USB  cable to plug it in.
The whole dock looks to be covered in a soft felt-like material, but considering I don't speak fluent German and YouTube translations are useless, I'm not exactly sure what it's made out of.
The magnetic charger can lie flat or stand at a 90-degree angle so that you can use Nightstand Mode with the Apple Watch while it's charging, which is essentially just turning the smartwatch into a bedside clock that shows the time on its dimly-lit display.
Read: Apple Watch Review
It's certainly an Apple Watch dock unlike anything we've seen before, as it doesn't follow the traditional elevated stand-like features of third-party Apple Watch docks that we're used to. However, with it being Apple's official dock, we're guessing a lot of users will pick one of these up to use on their desks or bedside tables.
However, the price might turn some users down, as $90 for an Apple Watch dock certainly isn't cheap by any means. Before today, an expensive dock was considered to be $50, but Apple has broken that record. Then again, the official Apple Watch dock looks like a well-made product that looks extremely classy.
As for a release in the US, we're hearing that the dock is available in some Apple Stores in the US and available online, but it's not yet showing up on Apple's website for us (UPDATE: Now Available). The only dock that Apple sells online is the Elevation Lab NightStand. However, we should see online availability and a mass US rollout hit pretty quickly for Apple's own Apple Watch dock.
65 Exciting Things You Can Do With the Apple Watch
Answer Calls on the Apple Watch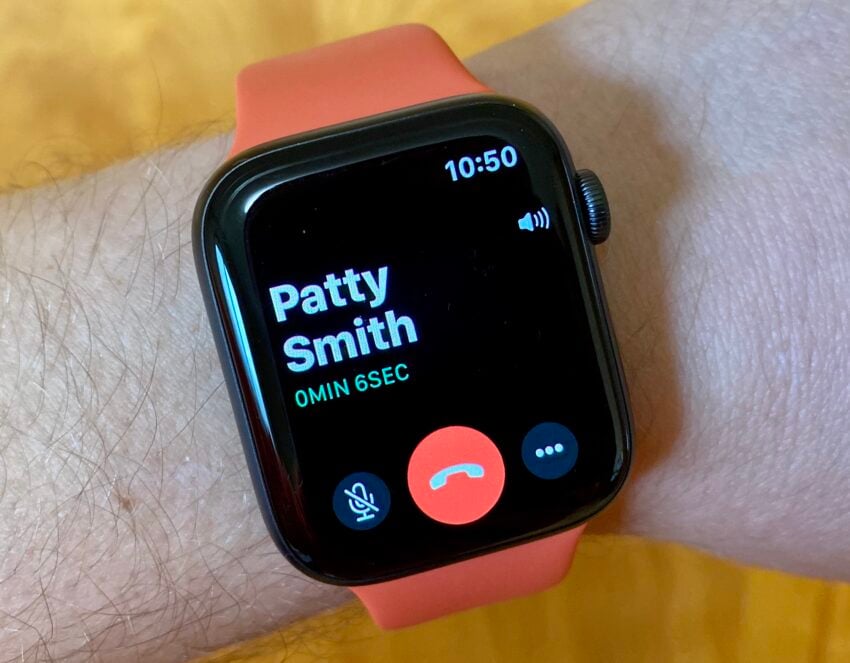 You can answer a call on your Apple Watch using it as a small Bluetooth speakerphone. You only want to use this for shorter calls because the audio quality isn't as good as when you are talking on speakerphone on your iPhone.
The Apple Watch only allows you to answer your calls on Speakerphone, so you won't want to use this all the time. It is very handy when you are working on a project or busy with your hands. Definitely be conscious of where you are taking calls. If you wouldn't talk on speakerphone, you shouldn't talk on your Apple Watch.
If you buy the new Apple Watch with LTE, you can even make calls on the Apple Watch without your iPhone nearby. This requires adding the watch to your plan for $10 a month. You cannot answer a FaceTime video call on the Apple Watch.

As an Amazon Associate I earn from qualifying purchases.