5 Reasons to Buy the Apple Watch SE & 3 Reasons Not To
Is the cheaper Apple Watch worth buying? The Apple Watch SE is cheaper than the Apple Watch 6, and it includes many of the essential Apple Watch features at a great price. This is a very tempting option that is a good fit for many buyers. If you are considering buying a new Apple Watch in 2020, you may want to go with the cheaper model instead of going big for features that you might not use.
The Apple Watch SE is a new 2020 model, that uses the same 40mm and 44mm screen sizes as the Series 6, but it does not include an always-on display. You don't get all the new Apple Watch 6 features, like the spO2 monitor, but it is a perfect option for some users.
This is a great alternative to the Apple Watch 3, especially this late in 2020. The newer model will get updates longer and it packs in some very important features that you won't find on the older model. Apple positions this model to take on the Fitbit and other Apple Watch alternatives.
The Apple Watch SE starts at $279 and you can get it at Apple, Amazon, Best Buy, B&H Photo, Walmart, Target, and other retailers. You can choose an LTE model and buy from Verizon, AT&T, or T-Mobile. Apple allows you to finance at Apple for $12 a month on the Apple Card.
Here are the reasons that you should buy the Apple Watch SE today;
Buy for a Bigger Screen
Buy for New Health Features
Buy for Fall Detection
Buy for a Cheap New Apple Watch
Buy if You Keep Your Apple Watch for a Long Time
Buy When You Find a Good Deal
There are also some good reasons not to buy the Apple Watch SE right now;
Don't Buy if You Need the Latest and Greatest
Don't Buy if You Love Your Current Watch
Read on in the sections below to learn more about each of these reasons and then you can decide if this is the best Apple Watch for you to buy this year.
Buy for a Bigger Screen
The Apple Watch SE offers a bigger screen than the Apple Watch Series 3. The two new models are 40mm and 44mm, which means you get access to newer Apple Watch faces and can see a little bit more on the screen. These aren't massive display size upgrades, but after using the 44mm Apple Watch for two years, it is nice.
There is no always-on display option, so if you are looking for that feature you need to go with Series 5 or Series 6.
Buy for New Health Features
The Apple Watch SE includes ECG support. This is a handy feature if you are concerned about your health. They are not found on the Apple Watch Series 3.
The ECG feature allows you to perform an on-demand ECG to check heart health. This can detect afib, and record your heart activity if you are feeling off, and then allow you to share it with a doctor.
Buy for Fall Detection
Apple now includes Fall Detection in the cheaper Apple Watch. This is excellent if you live alone, are elderly, or often do work at heights.
Fall Detection uses sensors to know if you fall and then asks if you are OK. If you don't respond in a timely fashion Apple can call emergency contacts or can call 911 or your local equivalent for you.
Buy for a Cheap New Apple Watch
If you are looking for a cheap Apple Watch, the Apple Watch SE is now the best option. You get a new model that is more affordable and that you can still get with LTE connectivity if you want it.
Instead of buying an older model or a used model, you are getting a new model with a warranty and you can add AppleCare+ on if you want to protect it from accidental damage.
Buy if You Keep Your Apple Watch for a Long Time
Are you going to keep your new Apple Watch for years? if so, this is a better option than the Series 3 or an older model. Why? Well in addition to the reasons mentioned above, you are going to get longer support for the Apple Watch SE in the form of updates and new features.
Apple offers a lot of support for Apple Watch models, but buying the new one will help you keep it longer and get more value long term.
Buy When You Find a Deal
This model is cheaper, which is great, but if you can save more money that is even better. We are already seeing Apple Watch SE deals for Black Friday with up to $20 off many of the models. While not as deep as the Apple Watch 6 Black Friday deals, this is a solid option and one of the best deals that you will likely see until February. B&H Photo also offers $10 off the Apple Watch SE.
If you are looking for the GPS + LTE model, you can look for deals at Verizon, AT&T and T-Mobile.
At AT&T if you buy one Apple Watch SE with LTE, you get $200 off the second one.
Don't Buy if You Need the Apple Watch 6
Do you want an always-on display, a spO2 reader, and other new features? If so, you should skip this model and go straight for the Apple Watch Series 6. This allows you to get the latest and greatest.
This plays into the reason above as well. If you aren't upgrading every year, it can make more sense to spend a little more to get the latest features so that you can enjoy them longer.
Don't Buy if You Love Your Current Watch
Is your current Apple Watch good enough for you? You might be lusting over a new gadget that you don't even need. If you think about how you use it and if you would actually use the new features, you might be surprised.
If your Apple Watch is good enough, especially with watchOS 7 then you may not need to upgrade. If battery life is an issue, you can replace your Apple Watch battery pretty affordably, and this gives your model a new life. Upgrade the style with a new Apple Watch band and you've saved money and made a more sustainable choice.
65 Exciting Things You Can Do With the Apple Watch
Answer Calls on the Apple Watch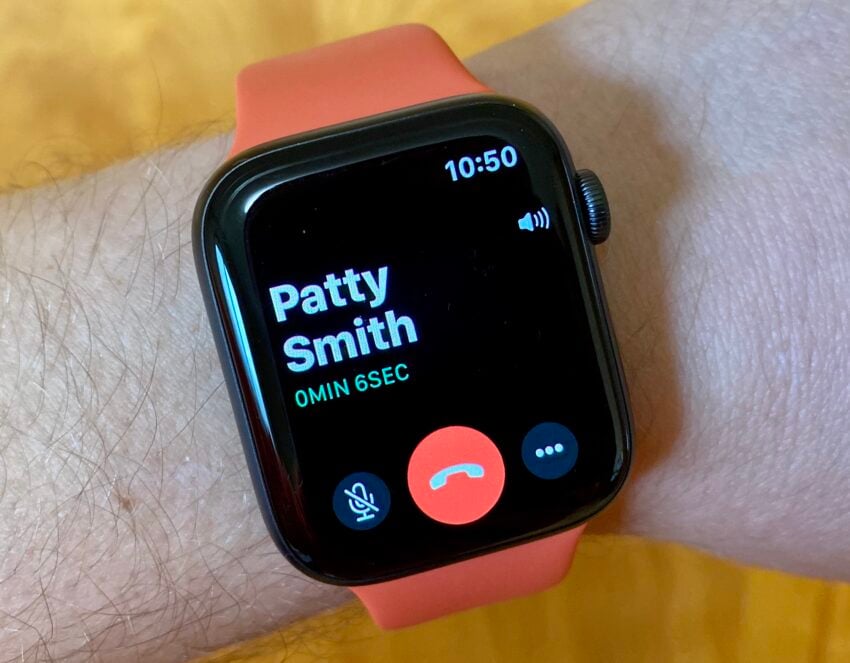 You can answer a call on your Apple Watch using it as a small Bluetooth speakerphone. You only want to use this for shorter calls because the audio quality isn't as good as when you are talking on speakerphone on your iPhone.
The Apple Watch only allows you to answer your calls on Speakerphone, so you won't want to use this all the time. It is very handy when you are working on a project or busy with your hands. Definitely be conscious of where you are taking calls. If you wouldn't talk on speakerphone, you shouldn't talk on your Apple Watch.
If you buy the new Apple Watch with LTE, you can even make calls on the Apple Watch without your iPhone nearby. This requires adding the watch to your plan for $10 a month. You cannot answer a FaceTime video call on the Apple Watch.
Last update on 2022-12-01. This post may contain affiliate links. Click here to read our disclosure policy for more details. Images via Amazon API