watchOS 3.2 Update: What's New and Why You Should Wait to Install It
Apple's latest watchOS update makes Siri more powerful and solves an annoying problem that can embarrass Apple Watch owners. The watchOS 3.2 update isn't something that most users will need to install immediately as it's a relatively minor update that builds upon watchOS 3. The watchOS 3.2 is available for all Apple Watch models now.
The biggest feature s 3.2 is Theater Mode, which makes the Apple Watch behave properly in theaters. Theater Mode mutes all sounds on the Apple Watch and makes it so the watch face stays dark when users move their hands around by disabling the Raise to Wake feature.  To activate Theater Mode, you just need to swipe up from the bottom of the Apple Watch's display and tap the comedy and tragedy masks icon.
Read: Apple Watch 2: Which One Should You Buy? 
The watchOS 3.2 update also includes SiriKit, which integrates third-party apps with Siri. SiriKit integrations have worked on iOS 10 since last summer, but this is the first time the same functionality's going to work on Apple Watches. With watchOS 3.2, users will now be able summon Uber and Lyft rides by simply speaking to their Apple Watches. Ultimately, SiriKit will help you do more with your Apple Watch if you're willing to speak more to your wrist.
The watchOS 3.2 update is also introduces a nice feature for those who speak Spanish, French and Italian. Scribble mode now supports those languages in addition to English, allowing Apple Watch users to write messages with their fingers instead of using their voices or canned responses. To switch between English and another language, all you need to do is tap firmly on the Scribble button in the Apple Watch Messages app.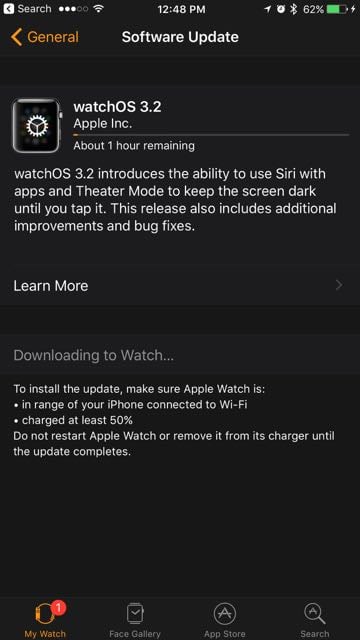 While these features may sound inciting, you shouldn't install the update in the middle of your work day. Before updating to watchOS 3.2, your Apple Watch needs to be charged to at least 50% and be placed on its charger. The update will only download to Apple Watch users' iPhones when connected on WiFi. To start the watch OS 3.2 update, you will have to update your iPhone to iOS 10.3. You should only perform the update when you have an hour or two to spare as watchOS updates are painfully slow. Apple warns not to interrupt the watchOS update process by disconnecting the watch from its charger. You'll need to keep the Apple Watch close to your iPhone.
65 Exciting Things You Can Do With the Apple Watch
Answer Calls on the Apple Watch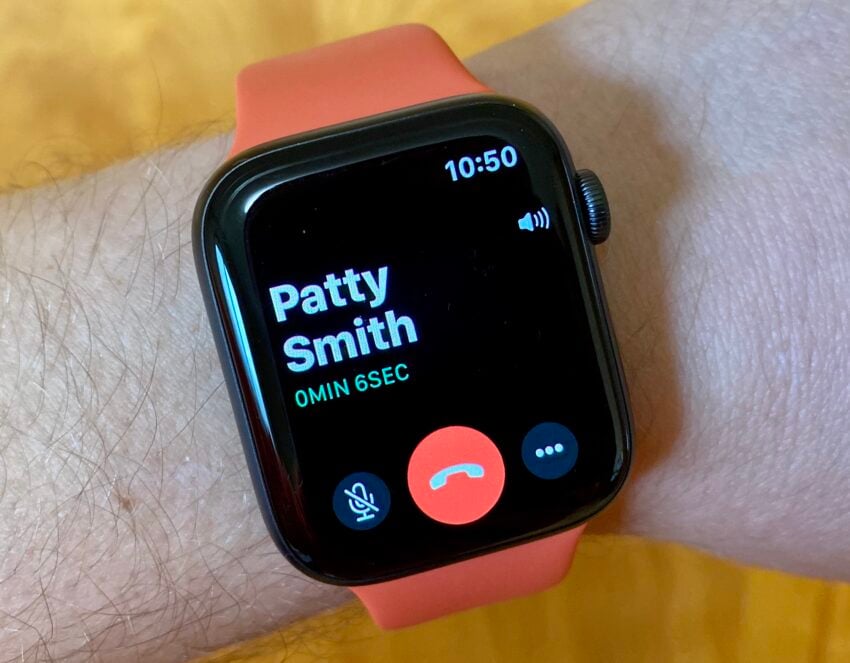 You can answer a call on your Apple Watch using it as a small Bluetooth speakerphone. You only want to use this for shorter calls because the audio quality isn't as good as when you are talking on speakerphone on your iPhone.
The Apple Watch only allows you to answer your calls on Speakerphone, so you won't want to use this all the time. It is very handy when you are working on a project or busy with your hands. Definitely be conscious of where you are taking calls. If you wouldn't talk on speakerphone, you shouldn't talk on your Apple Watch.
If you buy the new Apple Watch with LTE, you can even make calls on the Apple Watch without your iPhone nearby. This requires adding the watch to your plan for $10 a month. You cannot answer a FaceTime video call on the Apple Watch.

This article may contain affiliate links. Click here for more details.