5 Things to Know About the watchOS 6.1.2 Update Today
The watchOS 6.1.2 update is out now for the Apple Watch with bug fixes and important security updates. This likely fixes a number of watchOS bugs.
This update is available after you install iOS 13.3.1, and it does arrive alongside macOS 10.15.3, though you don't need to update macOS to use this new version.
Any Apple Watch running watchOS 6 will see this small update available today. The size and time it takes to download will vary based on what version of watchOS you are running and your connection.
This is a look at the important things you need to know about watchOS 6.1.2.
Our guide covers the watchOS 6.1.2 performance, any known problems with watchOS 6.1.2, the compatibility of the update, any known changes or new features and what's next for the Apple Watch.
watchOS 6.1.2 Reviews
I installed and am testing the watchOS 6.1.2 update on the Apple Watch 5. This is the GPS only model, but I am looking for feedback on the LTE model. This is an early review, right after installing, so I am testing basic features.
Connectivity
WiFi connected and working as expected.
Bluetooth connected to my iPhone 11 Pro Max after reboot.
AirPods connected and streamed as well as AirPods Pro.
GPS and Compass are working.
Apps
Third-party apps launch and work as expected including Spotify, Starbucks, Ecobee, Facebook Messenger and others.
Apple's apps like Apple Music, Messages, Calendar, and Podcasts are working.
Speed & Battery Life
The update performance is good so far, but this is the latest Apple Watch.
It is too early to offer any battery life performance.
watchOS 6.1.2 Problems
The watchOS 6.1.2 update is a relatively small bug fix update that focuses on solving problems and patching security issues.
Our team is looking at the update on our Apple Watch models as well as on social media to see if there are any specific watchOS 6.1.2 problems.
The good news is that our experience is good so far, and no major issues are popping up on social media.
watchOS 6.1.2 Update: What's New
There is no major change log of watchOS 6.1.2 features. Apple does say that this update is recommended for all users and that it includes important security updates.
We'll update if we find any new features hiding in the update.
watchOS 6.1.2 Compatibility
The watchOS 6.1.2 update is compatible with all Apple Watches that run watchOS 6. This includes the Series 1 through Series 5.
The only catch is that you need to install iOS 13.3.1 on your iPhone before you can install the watchOS update.
watchOS 6.1.2 Downgrade
If you do decide to install the watchOS 6.1.2 update, you are not able to downgrade back to the watchOS 6.1.1 software. Apple does not support any kind of watchOS downgrade.
65 Exciting Things You Can Do With the Apple Watch
Answer Calls on the Apple Watch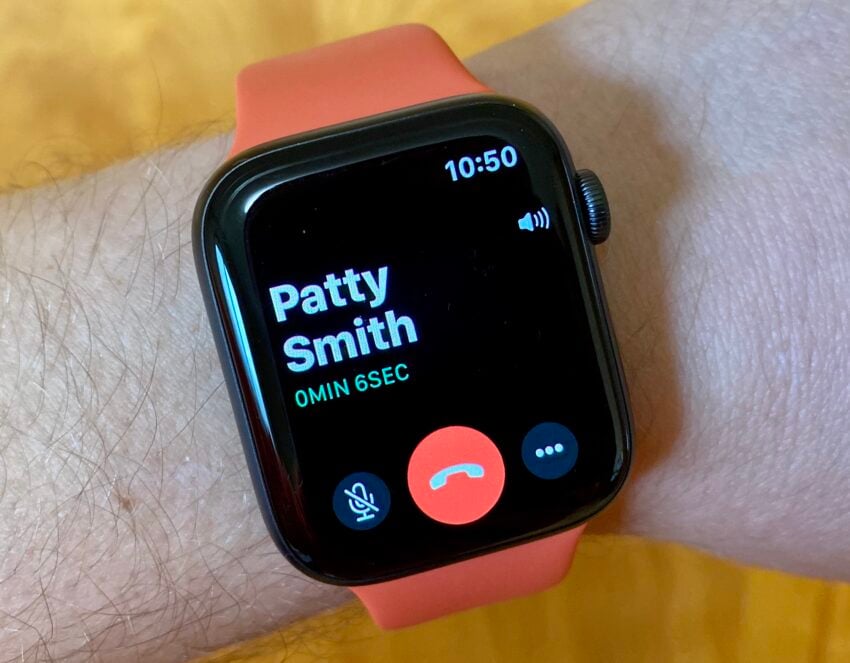 You can answer a call on your Apple Watch using it as a small Bluetooth speakerphone. You only want to use this for shorter calls because the audio quality isn't as good as when you are talking on speakerphone on your iPhone.
The Apple Watch only allows you to answer your calls on Speakerphone, so you won't want to use this all the time. It is very handy when you are working on a project or busy with your hands. Definitely be conscious of where you are taking calls. If you wouldn't talk on speakerphone, you shouldn't talk on your Apple Watch.
If you buy the new Apple Watch with LTE, you can even make calls on the Apple Watch without your iPhone nearby. This requires adding the watch to your plan for $10 a month. You cannot answer a FaceTime video call on the Apple Watch.