Best Apple Watch Black Friday Deals in 2019
Black Friday is the best time to by an Apple Watch for the holiday season, and likely the best time until February when Valentine's deals arrive. We're seeing Apple Watch 3 Black Friday deals get the most attention this year with a $129 option, but there are also plenty of Apple Watch 4 and Apple Watch 5 deals.
If this is your first Apple Watch, here's a look at all the things the Apple Watch can do. We also have a guide on which Apple Watch to buy in 2019 and a full look at if Apple Watch Series 3 is worth buying right now.
While the Apple Watch 5 is the newest model and offers some cool features I was talking with my mom about these deals and told her that the Apple Watch 3 at $129 is an incredible deal and a perfect first Apple Watch for her. Amazon's offered the Apple Watch 3 with LTE for $199 recently, which is a great option, but she doesn't think she needs LTE at this point.
Here are the best 2019 Apple Watch Black Friday deals, including some you can get right now.
Best Apple Watch 3 Black Friday Deals
The biggest Black Friday Apple Watch deals are on this model, which is the oldest Appel Watch that Apple and most retailers still sell. It's a great buy in 2019, especially at $129 and even at $169, which is the price at other stores. At this price, this is a great time to upgrade from an older model or this is a great option for your first Apple Watch.
The Walmart Apple Watch 3 at $129 is available online starting at 10 PM Eastern on November 27th and in-store on Thanksgiving Day at 6 PM local time. It is while supplies last and there are no rainchecks.
Best Apple Watch 4 Black Friday Deals
The Apple Watch 4 Black Friday deals aren't as deep, but it is a good model and it features the bigger display as well as the ECG and fall detection features. If those are important, you will want to look at this model.
You can find some of these deals, especially the Best Buy and Amazon ones as part of early Black Friday deals.
Best Apple Watch 5 Black Friday Deals
The Apple Watch 5 is the newest Apple Watch model that keeps the larger display, ECG and fall detection from the Series 4, but adds in an always-on-display so you can see the time and complications at a glance and it also includes a Compass.
Amazon and Best Buy Apple Watch 5 deals are live now, you can save with some of the deals already at Amazon and look for deals at carriers as well if you want an LTE version.
No products found.
65 Exciting Things You Can Do With the Apple Watch
Answer Calls on the Apple Watch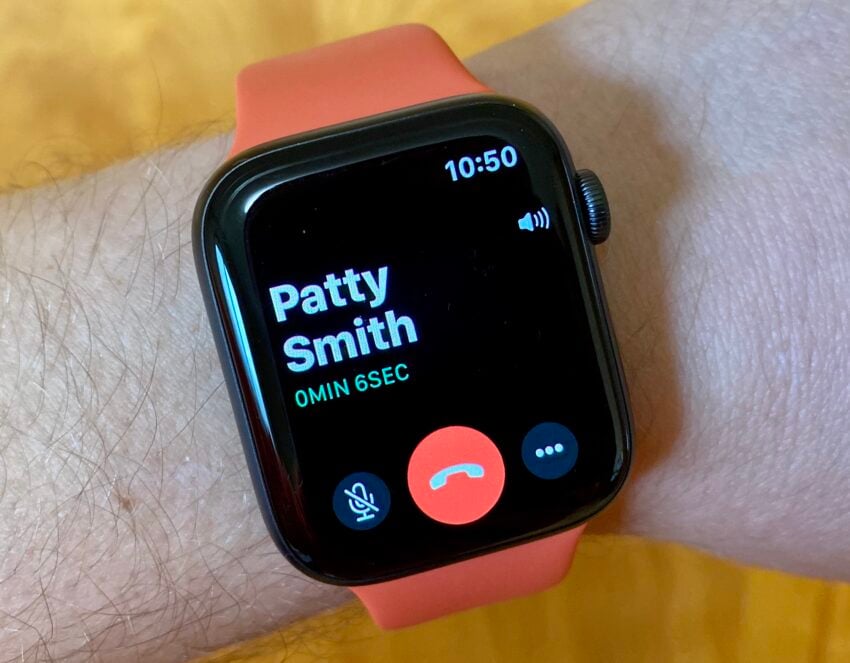 You can answer a call on your Apple Watch using it as a small Bluetooth speakerphone. You only want to use this for shorter calls because the audio quality isn't as good as when you are talking on speakerphone on your iPhone.
The Apple Watch only allows you to answer your calls on Speakerphone, so you won't want to use this all the time. It is very handy when you are working on a project or busy with your hands. Definitely be conscious of where you are taking calls. If you wouldn't talk on speakerphone, you shouldn't talk on your Apple Watch.
If you buy the new Apple Watch with LTE, you can even make calls on the Apple Watch without your iPhone nearby. This requires adding the watch to your plan for $10 a month. You cannot answer a FaceTime video call on the Apple Watch.
Last update on 2023-09-23. This post may contain affiliate links. Click here to read our disclosure policy for more details. Images via Amazon API

As an Amazon Associate I earn from qualifying purchases.