5 Reasons to Buy the Apple Watch 3 in 2021 & 3 Reasons Not To
Is the Apple Watch 3 worth buying in 2021?  The Apple Watch 3 may not be the latest Apple Watch, but it is a great value and will serve most users just fine. We've put together a list of reasons why you should still buy the Apple Watch Series 3 and a few reasons why you should skip it and go with the Apple Watch SE or Apple Watch 6.
Is it still a good time to buy the Apple Watch 3?  Yes, so long as you're fully aware of the Apple Watch 3's capabilities and limitations.   Simply put the Apple Watch 3 offers most of the same core experience and functionality as the most expensive models, but without breaking the bank.
The Apple Watch 3 offers the best things the Apple Watch can do and its price is more in line with other iPhone accessories, like headphones. The Apple Watch 3 starts at $199 on Apple's website, but it's easy enough to find deals that bring the price down to $169 or lower. You can check the latest Apple Watch 3 deals at Amazon, Best Buy, and Verizon.
Below are the reasons why you should (or shouldn't) buy the Apple Watch 3 in 2021, and why it will probably be a great device for the next couple of years:
Apple Watch 3 Price and Value
At $199, the Apple Watch 3 is a great value when compared to the $279 Apple Watch SE and $399 Apple Watch 6. With the standard Apple Watch 3 GPS model, you don't need to pay any additional carrier fees to use it in tandem with your iPhone. While Apple doesn't sell the Apple Watch 3 with Cellular model directly from its stores or sites anymore, it can be found at other retailers and on Apple's refurbished store. Adding the LTE model to most wireless plans costs only $10 or so, providing a cheap way to have a backup phone on your wrist.
It is easy to get roped into shopping for the latest and greatest Apple Watch, but before you splurge on the more expensive models you should really ask yourself why you're buying an Apple Watch in the first place. If it's because your doctor's told you to increase your activity and want to just count steps, the Apple Watch 3 will serve just fine. If you're a serious runner that's training for a race, then you'll likely be better off with the Apple Watch SE or Apple Watch 6.
For $199 you get an Apple Watch that packs in most of the features of the newer models and you save a ton of cash that you can use to pay for a new Apple Watch band or other Apple Watch accessories.
Apple Watch 3: Tons of Great Features
The Apple Watch Series 3 packs in all of the essential Apple Watch features and most of what you'd get with the Apple Watch SE and Apple Watch 6. The Apple Watch 3 can make calls, make Apple Pay payments, act as a remote control for your iPhone's camera, receive notifications, use Siri, track workouts, and much more. There's more than enough to justify the cost of the Apple Watch 3 as it serves as a fitness companion and a sort of wingman for your iPhone.
There are a few features on the newer Apple Watch models that are missing from the Apple Watch 3. The Apple Watch 3 does not have an Always On Display, Compass, ECG, Blood Oxygen detection, and Fall Detection. The new health features are essential for those with specific health concerns, but often go unused by younger and healthier Apple Watch users.
If you are comparing the Apple Watch 3 to fitness trackers, such as FitBit, you should consider how you'll use your smartwatch when you're not exercising. The Apple Watch 3 can be used for quite a variety of tasks throughout the day, while most fitness trackers are at their best when users are active.  You shouldn't underestimate the importance of the countless apps that can be installed on the Apple Watch 3 as most other fitness trackers are relatively rigid in terms of how you can track your activity.
Apple Watch 3: WatchOS 7 Support
The Apple Watch 3 runs watchOS 7, the same software that powers the Apple Watch SE and Apple Watch 6. While the Apple Watch 3 can't do a few tricks as its more expensive siblings due to hardware limitations, having WatchOS 7 support means it receives software updates and can run all current apps. Since Apple still sells the Apple Watch 3, we expect Apple to offer an WatchOS 8 upgrade for it later in 2021.
While it may be tempting to buy a watch older than the Apple Watch 3 used, refurbished, or from a third-party seller, we don't recommend doing so because they can't run WatchOS7. Keep in mind this is the underlying software that powers your Apple Watch and makes it work with your iPhone. While we certainly understand some users' desires to save money, you'll get much more out of your Apple Watch over the long haul if its compatible with Apple's updates and your current or future Apple products.
Apple Watch 3 w/Cellular is an Option
If you want to be able to use your Apple Watch without carrying your iPhone while out and about, then you'll want to get an Apple Watch with Cellular. The cheapest Apple Watch with Cellular that Apple sells is the Apple Watch SE with Cellular for $329, placing it above many people's budget. The Apple Watch 3 with Cellular is an alternative for those that must be able to use their Apple Watches while without their iPhones.
While Apple doesn't actively market it, the Apple Watch 3 Cellular model is available from third-party resellers and sometimes from Apple's own refurbished store. You can generally find the Apple Watch Series 3  with Cellular for about $209, just over what a new one straight from Apple costs. Amazon generally has a good supply of refurbished Apple Watch Series 3 with Cellular and you can check the latest prices at this link.
Apple and most carriers now sell the Apple Watch SE instead of the Apple Watch 3 with LTE, but you can find it used or at some retail stores occasionally.
Using the Apple Watch 3's cellular function costs $10 per month on most carriers.
Apple Watch 3 is a Swimproof Model
Even though this is an older model, you can still use it while swimming and not worry about water damage. When you start a swim workout the Apple Watch 3 locks the screen so that you can avoid accidental taps and then you can turn the digital crown to play a noise that expels any water from the watch. While the Series 2 also offers swim workouts and waterproof levels, it's not as good of a value as the Series 3.
Don't Buy the Apple Watch 3 If You Need ECG, Blood Oxygen or Fall Detection
If you're buying the Apple Watch for heart health or to give to someone who needs fall detection, you should look at newer Apple Watch deals on Amazon instead of buying a Series 3.
The Apple Watch 3 doesn't support Fall Detection or the ECG feature that can help detect aFib. It does include a heart rate monitor, but you can't take an ECG or turn on fall detection. It also does not include the new Blood Oxygen detection.
Don't Buy if You Want a Bigger or Always on Display
The Apple Watch 4, Apple Watch 5, Apple Watch SE, and Apple Watch 6 all offer bigger displays with some exclusive watch faces. If you want those bigger displays, you should look at either of those models. The Apple Watch 3's display is more than adequate for most users, but it's easy to appreciate the bigger displays on the newer models.
The Series 5 and Series 6 also pack in an Always-on-Display so you can see the time and the complications without flicking or raising your wrist. It's a cool feature and only on the Series 5 and Series 6, but only you can decide if it is worth paying nearly double the cost of the current Apple Watch 3 deals.
Don't Buy the Apple Watch Series 3 for Family Setup
Don't buy an Apple Watch Series 3 if the person using it doesn't have an iPhone of their own. Family Setup doesn't work with the Apple Watch Series 3.
Family Setup is a new feature in WatchOS 7 that allows you to setup an Apple Watch for a family member that's part of your iCloud Family Sharing. The most common reason to use Family Setup is for parents to setup Apple Watches for children who don't have their own iPhones.
If you want your child to be able to use an Apple Watch without an iPhone, then you need to buy a newer model such as the Apple Watch SE.
Don't Buy the Apple Watch Series 3 if You Plan on Selling It Soon
If you plan on buying the Apple Watch Series 3 as a temporary solution and or aren't sure if you're going to use it, you should think twice. Trade-in services don't offer very much for Apple Watch Series 3s already and prices will only get worse as Apple readies its next generation of smartwatches.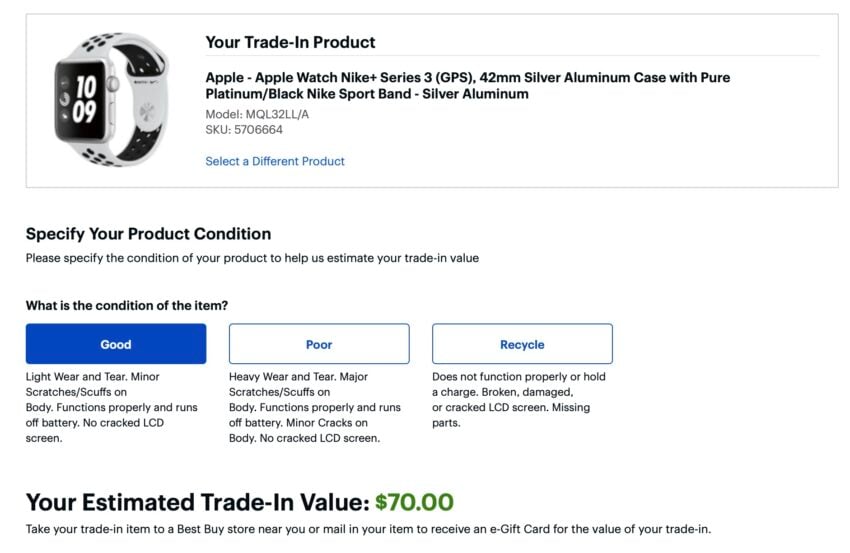 For example, the Apple Watch Series 3 model pictured above is only worth $70 in trade-in credit at Best Buy right now. That's less than a third of its retail price and it's worth even less if it's not in good condition.
If Apple phases out the Apple Watch Series 3 as it's done with older models, then the value of used copies will drop even further. Apple typically releases new Apple Watches each fall, which is only a few months away.  For reference, Best Buy will only give you $40 in credit for the Apple Watch Series 1.
Apple Watches have terrible resale value compared to iPhones and iPads. By nature, Apple Watches are more 'personal' than other devices. Some people simply don't like the idea of wearing something someone else has worn. There are a lot more choices involved when buying an Apple Watch  (color, size, watchband, cellular, edition, etc.) than when buying an iPhone or iPad, making it more difficult to match Apple Watch sellers with individual buyers.
65 Exciting Things You Can Do With the Apple Watch
Answer Calls on the Apple Watch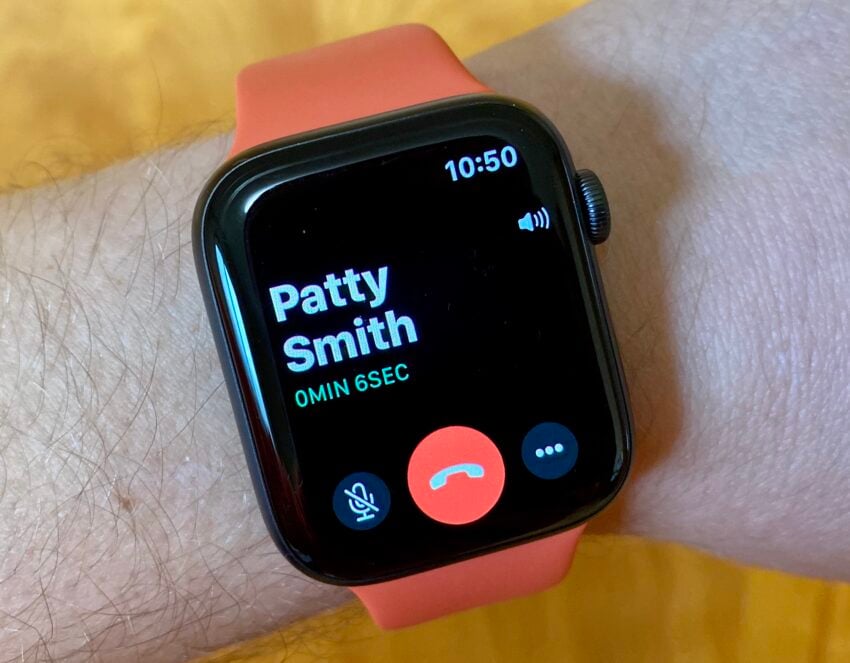 You can answer a call on your Apple Watch using it as a small Bluetooth speakerphone. You only want to use this for shorter calls because the audio quality isn't as good as when you are talking on speakerphone on your iPhone.
The Apple Watch only allows you to answer your calls on Speakerphone, so you won't want to use this all the time. It is very handy when you are working on a project or busy with your hands. Definitely be conscious of where you are taking calls. If you wouldn't talk on speakerphone, you shouldn't talk on your Apple Watch.
If you buy the new Apple Watch with LTE, you can even make calls on the Apple Watch without your iPhone nearby. This requires adding the watch to your plan for $10 a month. You cannot answer a FaceTime video call on the Apple Watch.
Last update on 2023-06-04. This post may contain affiliate links. Click here to read our disclosure policy for more details. Images via Amazon API