How to Turn off Now Playing on Apple Watch So You Can See Your Watch Face
The watchOS 4 update adds in a ton of cool features, but somewhere along the line Apple forgot that the Apple Watch is a watch and some people like to see their watch face when they look at their screen.
By default watchOS 4 will show you a now playing screen on your Apple Watch when you raise to wake if you are listening to something on your iPhone. Here's how to turn this awful feature off and see your watch face when you look at your watch instead of what you are listening to. This is also on by default on the new Apple Watch 3 with LTE.
When we look at our Apple watch we want to see our Activity Rings and the complications we set up specifically to see information at a quick glance. It's one of the reasons we can't use the new Siri personal assistant watch face and it's why we hate this watchOS 4.0 feature.
How to Turn Off Apple Watch Now Playing App
You cannot downgrade your Apple Watch to watchOS 3, but you can turn off this abomination of a feature and get back to seeing your Apple Watch face when you look at your watch. the downside to this is that you can no longer use the Digital Crown to control volume, but it's a very small price to pay to see your Apple Watch face.
Apple calls this feature Auto Launch, and you can turn it off in the Watch settings on your watch or on your phone using the Apple Watch app. The easiest way to do this is on the iPhone.
Open the Apple Watch App
Tap on General
Tap on Wake Screen
Toggle off Auto-launch Audio apps
Enjoy seeing your watch face
Once you turn this off you can now raise your wrist and see your Apple Watch instead of the music you are listening to. You may want to add a complication for you Now playing or add it to your dock so you can use the dial to control volume, but it's a small tradeoff to get rid of the most annoying Apple Watch feature we've seen in three years.
65 Exciting Things You Can Do With the Apple Watch
Answer Calls on the Apple Watch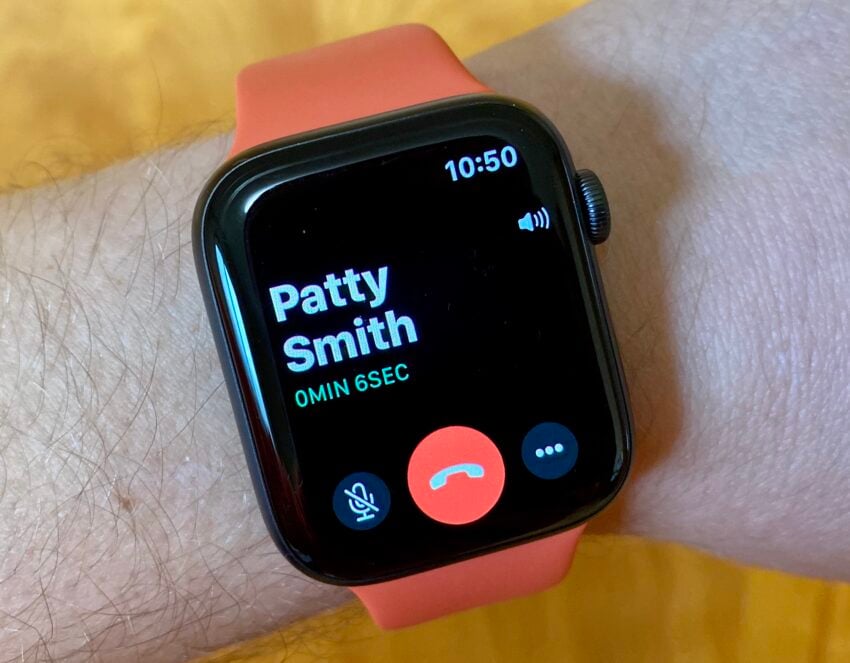 You can answer a call on your Apple Watch using it as a small Bluetooth speakerphone. You only want to use this for shorter calls because the audio quality isn't as good as when you are talking on speakerphone on your iPhone.
The Apple Watch only allows you to answer your calls on Speakerphone, so you won't want to use this all the time. It is very handy when you are working on a project or busy with your hands. Definitely be conscious of where you are taking calls. If you wouldn't talk on speakerphone, you shouldn't talk on your Apple Watch.
If you buy the new Apple Watch with LTE, you can even make calls on the Apple Watch without your iPhone nearby. This requires adding the watch to your plan for $10 a month. You cannot answer a FaceTime video call on the Apple Watch.

This article may contain affiliate links. Click here for more details.