6 Reasons to Buy the Apple Watch 6 & 2 Reasons to Wait
The Apple Watch 6 offers new health features and a faster processor. It starts at $399, but we are seeing Black Friday deals already take up to $50 off the newest Apple Watch. You can get it with an LTE connection if you want to do more without your iPhone. This list will help you decide if you should buy the Apple Watch 6 today, or if you should wait for 2021.
You can buy the Apple Watch 6 at Apple, Amazon, Best Buy, B&H Photo, Walmart, and Target. The LTE model is available at Verizon, AT&T, or T-Mobile.
The Apple Watch Series 6 comes in 40mm and 44mm sizes and you can get it in aluminum or stainless steel with a wide range of band options. Apple lets you choose the band you want, but you can also buy any band you want later to add style to your watch.
The newest model includes some carryover features from the Series 5 model including the Always On Display, compass, fall detection, and ECG support with Afib detection. If you are upgrading from an older model you need to factor those into your decision.
Here is a close look at the important reasons that you should consider buying the Apple Watch 6, and a few reasons to wait.
Reasons to Buy the Apple Watch 6;
Buy for New Health Features
Buy for Faster Processor
Buy if You Own a Series 1 or Older
Buy if You want the new Apple Watch Color
Buy for a Better Display
Buy for Great Deals
Don't Buy the Apple Watch 6 if;
Don't Buy if the Cheaper Model is Better for You
You're Happy With Your Current Model
Read on for more details about each of these reasons so that you can make the best decision for your situation.
Buy for New Health Features
The new Apple Watch 6 includes a Blood Oxygen Sensor, sometimes referred to as a spO2 sensor. This detects the oxygen saturation in your blood, which is important to know if you have asthma, COPD, points to heart health items and it can also be very important to track during physical activity.
This can also prove helpful if you are concerned about COVID 19, as a low spO2 reading can point to the need for medical attention. In short, this sensor can help you stay alert to changes in your blood oxygen levels and let you know if you should seek medical help.
Instead of using a third-party option or a standalone sensor, this is built-in to the Apple Watch 6, and you also have a digital recording of your spO2 readings over time to share with a medical professional.
Buy for Faster Processor
Apple packs in a faster processor in the Apple Watch 6 this year. The Apple Watch 4 and Apple Watch 5 used the same processor, though Apple improved performance in the Series 5.
This year, the Apple Watch 6 uses a new processor that delivers better performance. This means better overall speed when using apps and general tasks. Specifically, Apple says that the new processor is 20% faster than the older model.
Buy if You Own a Series 1 or Older
Are you using an Apple Watch Series 1 or older? If so, you won't get watchOS 7 on your watch. This means no new features and security fixes this year. If you want to enjoy new features, you will need to upgrade to a new Apple Watch.
For users that keep their Apple Watch for years, it is a good idea to go to the Series 6, instead of to the new cheaper Apple Watch announced alongside it. Going to the top end will allow you to use your Apple Watch longer and ultimately provide more value for the next several years.
Buy if You want the new Apple Watch color
Apple finally adds a new Apple Watch color to the table this year. If you want to rock the new color, because you like the look or because you want people to know that you have a new model, then you need to get the Apple Watch Series 6.
Apple includes a beautiful new Blue and a bright red for aluminum colors. There are also two new Stainless colors including Dark Gray Stainless and a new Gold Stainless.
Buy for a Better Display
The new Always On Display is 2.5x brighter so that you can see it better outdoors without turning the watch on. This is a nice upgrade from the earlier models and a handy way to stay on top of the time without lifting your watch and looking.
I enjoy that this feature allows me to see what the time is at a glance, even while in a conversation, just like a normal watch.
Buy if You Find a Great Deal
No products found.
If you are looking for a big deal on the Apple Watch 6, the time is right. We are seeing up to $50 off the Apple Watch 6 at Amazon and various Black Friday deals on the Apple Watch at Walmart, Best Buy and B&H Photo.
When you see a deal with $50 off the Apple Watch 6 during Black Friday, we recommend that you jump on that deal. You won't likely see this type of deal again until February.
Don't Buy if the Cheaper Model is Better for You
Apple announced two new Apple Watch models this year. This is a major change, and it means that you can buy a new Apple Watch for less money and still get cool new features and a model that will last for years.
The Apple Watch SE is a cheaper model that starts at $279 and is available in the same sizes. You can use all the same accessories and Apple Watch bands with it. The cheaper model does not include a spO2 sensor, but you do get some handy features like Fall Detection, ECG support, and many of our other favorite Apple Watch features.
This is a really tempting option and something that you should research before you buy.
You're Happy With Your Current Model
Are you happy with your current Apple Watch? As long as you have the Apple Watch Series 2 or higher you will get a free watchOS 7 upgrade with tons of new features.
If you need to give your current model a boost, you can buy a new battery for many models from iFixit and install the upgrade yourself. You can buy a new Apple Watch band and then you have a totally fresh look.
Keep your current setup going longer will save you some cash and it's more sustainable than upgrading every year.
65 Exciting Things You Can Do With the Apple Watch
Answer Calls on the Apple Watch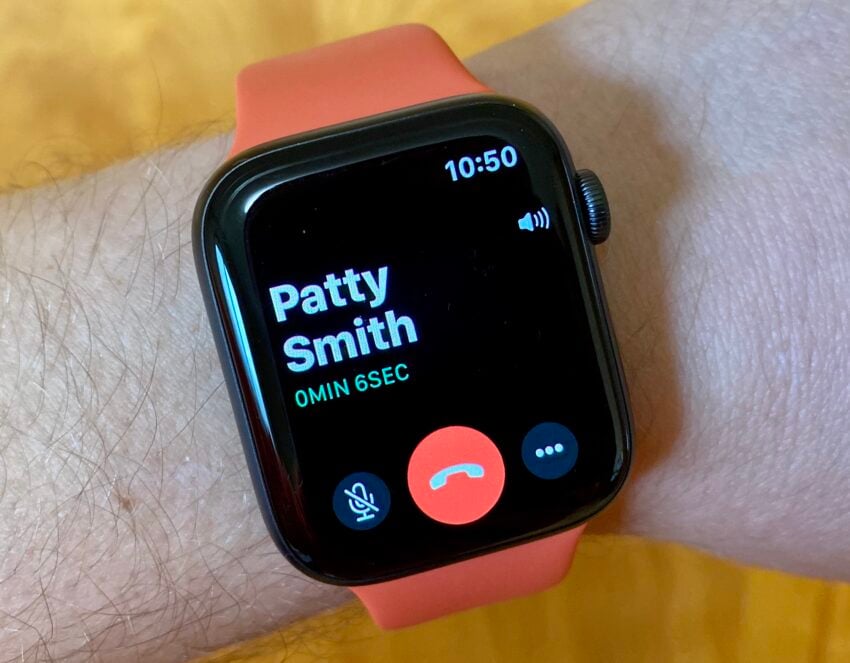 You can answer a call on your Apple Watch using it as a small Bluetooth speakerphone. You only want to use this for shorter calls because the audio quality isn't as good as when you are talking on speakerphone on your iPhone.
The Apple Watch only allows you to answer your calls on Speakerphone, so you won't want to use this all the time. It is very handy when you are working on a project or busy with your hands. Definitely be conscious of where you are taking calls. If you wouldn't talk on speakerphone, you shouldn't talk on your Apple Watch.
If you buy the new Apple Watch with LTE, you can even make calls on the Apple Watch without your iPhone nearby. This requires adding the watch to your plan for $10 a month. You cannot answer a FaceTime video call on the Apple Watch.
Last update on 2023-11-10. This post may contain affiliate links. Click here to read our disclosure policy for more details. Images via Amazon API

As an Amazon Associate I earn from qualifying purchases.