Southern Straps Review: Epic Apple Watch Bands
You can go to an Apple Store and buy a new Apple Watch band, but if you do that you're missing out on the best bands you can buy. Southern Straps Apple Watch bands are available in nylon and leather, and in a variety of colors.
The Southern Straps nylon band is one of my favorite Apple Watch bands and an incredible value at $35. The leather strap is incredibly soft, comfortable and stylish and also a deal at $75.
Southern Straps sells the 10 nylon band designs and two colors of leather bands. When picking out a band, you can choose gold, silver or black hardware to match your Apple Watch finish. All bands are available in 38mm and 42mm sizes.
Branding on the Southern Straps is minimal with the name on the clasp in an understated color and under the band. On the nylon bands there is a small yellow and black logo on the underside of the longer band. You can see this logo slightly while wearing the band, and I like the flair it adds.
[letsreview]
The leather and nylon bands both come with two clasps to keep the end of the band secure. On the nylon band these are metal and one is secured in place while the other is adjustable. On the leather band two leather straps keep the band in place and both move freely so you can get a tighter fit.
I absolutely love the Southern Straps nylon Apple Watch bands. These are high quality nylon and hold up to wear very well. I like that the nylon is firm when you get it, but after a few days of use it softens up to just the right amount and molds to my wrist. The Red, White & Blue band Southern Straps sent over has been my daily driver for a while and even while doing work outdoors it's held up well. There is only a small show of wear on the white part of the nylon where I got the band near some grease. The band holds up well to water and sweat as well.
While some leather bands are stiff, the supple genuine Italian leather on the Southern Straps bands is a welcome change. This band is not as finished as some. Southern Straps describes it as a "single piece of full grain Italian leather which has not been sanded, buffed or snuffed." The end result is a a soft, and almost raw look to the inside and the edges of the band. The outer is soft to the touch, will show wear over time and the black leather has a nice understated sheen that I really like.
The band is bound to the clasp by a folded piece of leather and a waxed cord that adds a little extra style to the part of the watch band that most people will see when you show them your Apple Watch.
Unlike the nylon band, Southern Straps recommends not exposing the leather strap to water. Keep this in mind if you are choosing between the nylon and leather options.











One additional interesting touch is the inclusion of a pegged spring bar to release the straps from the Apple Watch band adapter. This lets you easily remove the band from the Apple Watch connection. Once you do this, you can put it on a different watch, or switch it between a 38mm and a 42mm watch adapter. This is handy if you share bands with a friend or family member who wears a different size watch.
The Southern Straps bands are available direct from Southern Straps for $35 and $75. There is free shipping for orders over $50 and if you follow on Facebook, you will occasionally find coupons.
Check out the best Apple Watch bands you can buy, for more options to spice up your Apple Watch, and click the slides below to learn about all the cool things the Apple Watch can do.
65 Exciting Things You Can Do With the Apple Watch
Answer Calls on the Apple Watch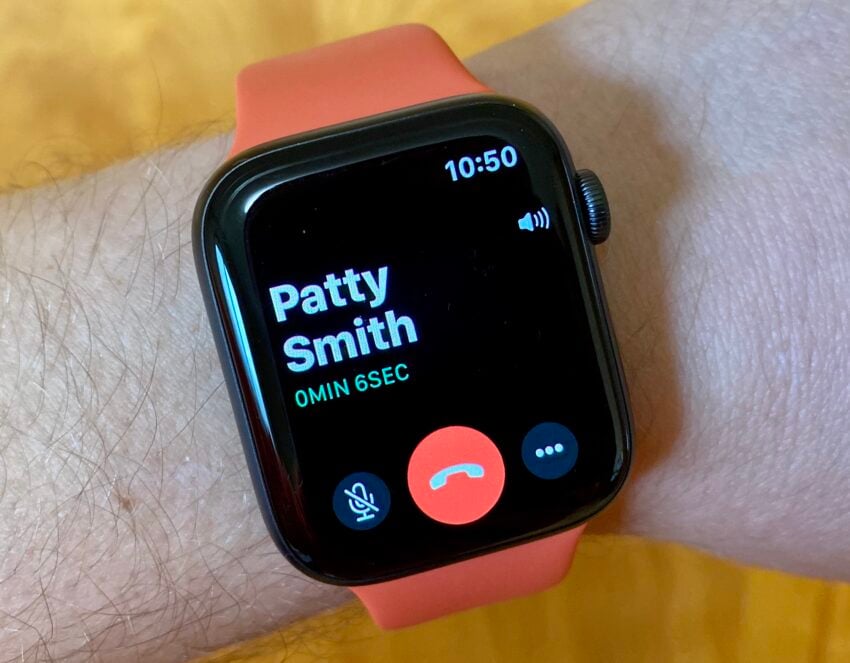 You can answer a call on your Apple Watch using it as a small Bluetooth speakerphone. You only want to use this for shorter calls because the audio quality isn't as good as when you are talking on speakerphone on your iPhone.
The Apple Watch only allows you to answer your calls on Speakerphone, so you won't want to use this all the time. It is very handy when you are working on a project or busy with your hands. Definitely be conscious of where you are taking calls. If you wouldn't talk on speakerphone, you shouldn't talk on your Apple Watch.
If you buy the new Apple Watch with LTE, you can even make calls on the Apple Watch without your iPhone nearby. This requires adding the watch to your plan for $10 a month. You cannot answer a FaceTime video call on the Apple Watch.

As an Amazon Associate I earn from qualifying purchases.