Which Apple Watch Size Should I Buy?
"Which Apple Watch size should I buy?" is the most common question we get from Apple Watch buyers. While the Apple Watch is now several years old, many people are still buying their first Apple Watch.
While Apple sells many Apple Watch models, they only sell two Apple Watch sizes, which remain unchanged from the first time Apple introduced the smart watch way back in 2015. This means you can borrow a friend's Apple Watch to see if it's the right size for your wrist. We'll help you with a short and to the point guide to picking the right size Apple Watch for your wrist.
The right Apple Watch size isn't about being a man or a woman, it comes down to the size of your wrist and a few other factors. The small Apple Watch size is 38mm and the larger is 42mm. In terms of the actual size of the Apple Watch on your wrist this is 38 x 33.3 mm and 42 x 35.9mm. The Apple Watch Series 1 and 2 are 10.5mm thick, while the Series 3 is 11.4mm thick.
The 42mm Apple Watch offers a slightly larger screen, and it's more expensive, but it's not like difference you see when you compare the iPhone 8 to the Phone 8 Plus. With a $30 price difference should be the last thing you think of when you are choosing the best Apple Watch size for your wrist.
Keep in mind that while we can help you pick an Apple Watch size, you can also go into an Apple Store or even to a store like Best Buy or other electronics retailers to try them on and check out the sizes.
Apple Watch Size Guide
You can use an Apple Watch size guide at home to see what the two Apple Watch sizes look like on your wrist. You'll need an iPhone or an iPad and the free Apple App Store app.
Open the Apple App Store App and tap on Apple Watch and then Tap on one of the Apple Watch models. Next Tap on Compare Case sizes and you will see the case sizes for the 38mm and 42mm. You can hold this up next to your wrist to virtually try on the Apple Watch sizes at home. Swipe to see the different size options.
While you cannot see through the screen to your wrist, you can hold this up on your wrist to get a better idea of the Apple Watch size that best fits your wrist. This won't replace actually trying an Apple Watch on at the Store, but it is very handy.
The next best thing you can do is print the Apple Watch size guide from Kirkville, that delivers actual size Apple Watch photos from the App Store that you can cut out and put on your own wrist. Download the PDF and print it at 100%, don't let your computer fit to page or any other scaling, and then cut out the watch face and set it on your wrist.
What's the Right Apple Watch Size?
Is there a perfect watch size for men and a perfect watch size for women? We couldn't find a straight answer about the best watch size for men or the best watch size for women that could help people choose the right Apple Watch size.
A Blog to Watch tells readers to buy the right watch size for your wrist, explaining in more detail what a good rule is for a man's watch,
"First, ensure that the lugs of a watch (those things that hold the strap) don't extend over your wrist when wearing the watch. This can vary a lot because the same watch case size can have a lot of different lug sizes. The opposite is also true. If the lugs are no where near the ends of your wrist then the watch will appear dainty and feminine or child-like, and you don't want that as well"
In a poll on their site most men preferred a watch between 40 and 44 mm in size, which points to the larger Apple Watch size as a good bet. On Ask Men, the Watch Snob says that 39mm is the right size, which points to the smaller 38mm Apple Watch so there really is no perfect answer.
According to JomaShop, the most popular woman's watch sizes are from 26 mm to 36mm. This suggests a look at the smaller 38mm Apple Watch size, but there is also not a clear-cut best watch size.
Apple Watch Band Size Guide
In addition to picking the right Apple Watch size you need to pick the right Apple Watch band size. Apple includes two bands in the Apple Watch Sport box so users can try the medium and large bands on.
Read: The Do's and Don'ts of Apple Watch Etiquette
Once you graduate to the Apple Watch and Apple Watch Edition, or if you want to buy a new Apple Watch band for your Apple Watch Sport, you will need to look at the various sizes Apple offers. To figure this out, you need to measure your wrist circumference and see how it compares to the Apple Watch band sizing guide. It's best to measure in mm, as Apple uses this on the listing.
Apple only offers some bands in sizes for the 38mm watch, and others in the 42mm watch size so you will need to think on that if you have a specific Apple Watch band in mind.
65 Exciting Things You Can Do With the Apple Watch
Answer Calls on the Apple Watch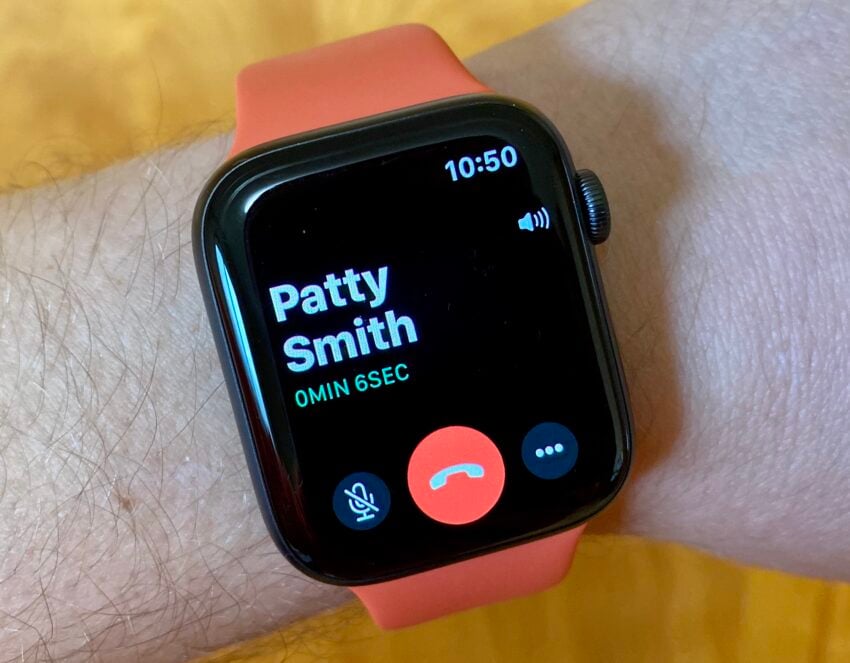 You can answer a call on your Apple Watch using it as a small Bluetooth speakerphone. You only want to use this for shorter calls because the audio quality isn't as good as when you are talking on speakerphone on your iPhone.
The Apple Watch only allows you to answer your calls on Speakerphone, so you won't want to use this all the time. It is very handy when you are working on a project or busy with your hands. Definitely be conscious of where you are taking calls. If you wouldn't talk on speakerphone, you shouldn't talk on your Apple Watch.
If you buy the new Apple Watch with LTE, you can even make calls on the Apple Watch without your iPhone nearby. This requires adding the watch to your plan for $10 a month. You cannot answer a FaceTime video call on the Apple Watch.