Apple Watch 5 Deal Cuts price to $299
You can save $100 on the Apple Watch 5 at Amazon with discounts on the 40mm and 44mm Apple Watch with GPS.
This is a great gift for graduation or Father's Day, and it might be the perfect addition to your at-home workouts. If you've been waiting to buy an Apple Watch, this is a great time to score a huge deal on the latest model.
Here's a look at the cool things the Apple Watch can do, which will show you everything that you can do when you strap an Apple Watch to your wrist.
The Apple Watch 5 is now $299 after an instant discount at Amazon, and you can even pay for it over six months with no interest if you qualify for the Amazon Store Card.
This is a great deal, and with the Apple Watch 6 not coming until late this year, this is still a very good time to buy the Apple Watch Series 5. Apple will announce new watchOS software in June, which will add new features to the Apple Watch 5 later this year.
Huge Apple Watch 5 Deals
This is likely the best deals you will see for Graduation and Father's Day. Amazon shows a standard price on the Apple Watch, but offers a discount of $84.01 on the Apple Watch Series 5 40mm GPS and an $85 discount on the Apple Watch Series 5 GPS 44mm.
I did not buy the Apple Watch 5 with LTE, but in 2020 I've wished that I did. While I am traveling less, I am working out more outside, and I wish I could leave my phone at home and stay connected with just my Apple Watch and AirPods Pro.
65 Exciting Things You Can Do With the Apple Watch
Answer Calls on the Apple Watch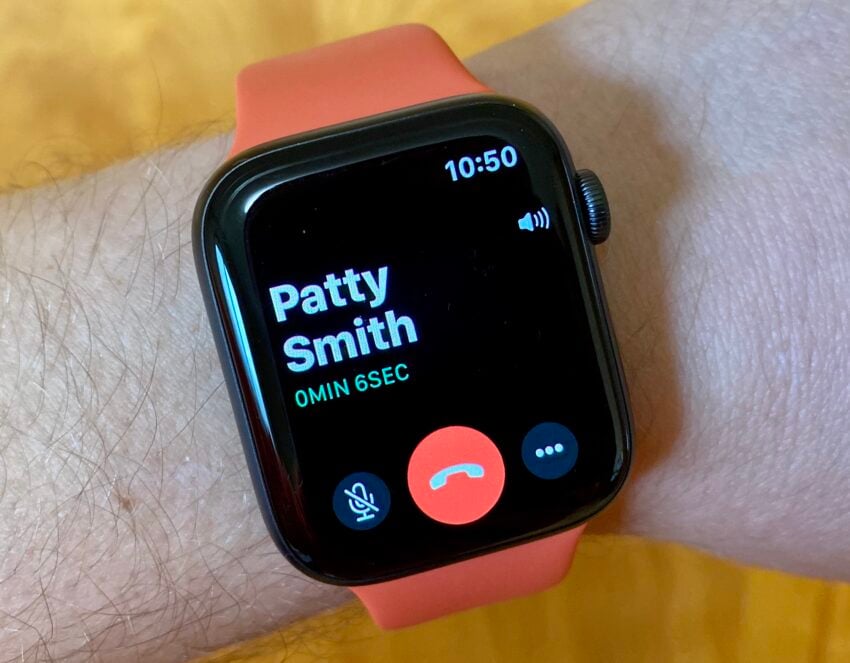 You can answer a call on your Apple Watch using it as a small Bluetooth speakerphone. You only want to use this for shorter calls because the audio quality isn't as good as when you are talking on speakerphone on your iPhone.
The Apple Watch only allows you to answer your calls on Speakerphone, so you won't want to use this all the time. It is very handy when you are working on a project or busy with your hands. Definitely be conscious of where you are taking calls. If you wouldn't talk on speakerphone, you shouldn't talk on your Apple Watch.
If you buy the new Apple Watch with LTE, you can even make calls on the Apple Watch without your iPhone nearby. This requires adding the watch to your plan for $10 a month. You cannot answer a FaceTime video call on the Apple Watch.
Last update on 2022-07-02. This post may contain affiliate links. Click here to read our disclosure policy for more details. Images via Amazon API

As an Amazon Associate I earn from qualifying purchases.