The best Apple Watch skins let you transform the look of your Apple Watch without upgrading or adding any bulk. Apple only offers a limited number of Apple Watch colors, but you can buy an inexpensive skin to dress up the look of your Apple Watch by changing more than just the band.
While there are not as many options as there are for iPhone 7 skins and iPhone 8 skins, but it is a nice way to change the look of your Apple Watch without adding any bulk with a case. It's also a handy way of keeping your watch free from scratches if you find yourself wearing it in a tough environment, but you can't put a case on it.
One of the best parts about these Apple Watch skins is that you will spend less than $10 for most of these options, so even if you decide you want to change colors down the line, you're not out much money. All of these skins come off with no residue, so you can remove it when you get ready to upgrade and be ready to go.
Make sure you order for the Apple Watch model and the Apple Watch size that you own, since there are some slight variations.
SlickWraps Apple Watch Skins
SlickWraps will wrap just about anything, and they offer the widest range of Apple Watch skins and covers. There are six collections that you can choose from and you can also get a screen protector from SlickWraps, but I don't feel the need to put a screen protector on the watch. Here are the collections, some of which are only available on the newest Apple Watch 3;
Carbon
Metal
Wood
Leather
Color
Glitz
Stone – Series 3 Only
Camo – Series 3 Only
Hemp – Series 3 Only
Each of these offers multiple color options and various textures. The Apple Watch skin isn't just a new color, it can change the feel of your Apple Watch, which is something you will want to keep in mind as you select one that you like. The wraps cover the back and edges, as well as the little bit of case that comes up to the front edge. You will need a hairdryer for the installation to get everything curved just right.
There are also stickers for the side button and the digital crown. Check out the Apple Watch Series 3 skins, Apple Watch Series 2 skins and Apple Watch Series 1 skins. You need to buy the skin for your exact model. Each skin is $8.95 and you can add a screen protector combination pack for an extra $4.95. It's important to consider what your Apple Watch bands will look like with your new skin.
BodyGuardz Apple Watch Skin
The BodyGuardz Apple Watch Skins are designed to protect your Apple Watch without covering up the color or changing the texture dramatically. This is a clear skin that protects your watch from scratches without making it thicker.
This is perfect if you wear your Apple Watch while working around machines or if you plan to sell your Apple Watch after a year to upgrade to the new model and you want it looking perfect. This includes a tough screen protector that some users will appreciate in their quest for full body protection.
The Apple Watch Skin full body protection model is $14.95 at BodyGuardz and comes in a version for the Apple Watch Series 3 and Series 2, and one for the original Apple Watch.
dbrand Apple Watch 3 Skin
One of our favorite companies to get skins from is dbrand, and they offer an Apple Watch 3 skin that is very minimal. In fact, it's basically there to cover up the red crown on the Apple Watch 3 with LTE.
This is something that comes with a full skin when you buy from SlickWraps and it is a very small skin. Instead of protecting your Apple Watch from scratches, this will hid the fact that it is LTE enabled if you choose a discrete color, or it will call attention to the crown. It's all up to you.
The skin is $4.95 at dbrand, we wouldn't be surprised to see it fit the older Apple Watch models as well.
65 Exciting Things You Can Do With the Apple Watch
Answer Calls on the Apple Watch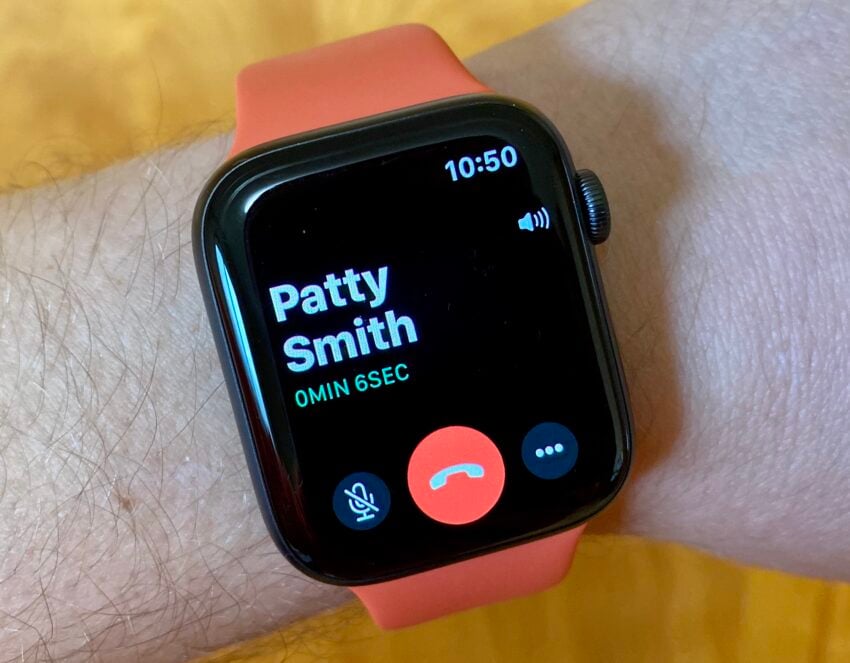 You can answer a call on your Apple Watch using it as a small Bluetooth speakerphone. You only want to use this for shorter calls because the audio quality isn't as good as when you are talking on speakerphone on your iPhone.
The Apple Watch only allows you to answer your calls on Speakerphone, so you won't want to use this all the time. It is very handy when you are working on a project or busy with your hands. Definitely be conscious of where you are taking calls. If you wouldn't talk on speakerphone, you shouldn't talk on your Apple Watch.
If you buy the new Apple Watch with LTE, you can even make calls on the Apple Watch without your iPhone nearby. This requires adding the watch to your plan for $10 a month. You cannot answer a FaceTime video call on the Apple Watch.

As an Amazon Associate I earn from qualifying purchases.