Heres How Long watchOS 4.3 Takes to Finish
The watchOS 4.3 update is here with new Apple Watch features. Unfortunately, we have to wait, because it can take a long time to install watchOS 4.3 on the Apple Watch.
The watchOS 4.3 update is a free download for all Apple Watch owners, even the original Apple Watch, and it will appear as an option after you install iOS 11.3. While the iOS 11.3 update may only take 15 to 20 minutes, the watchOS 4.3 update can take a lot longer to complete.
Even if downloads are fast, you should not try to squeeze in a watchOS 4.3 update if you have anywhere to be in the near future.
How Long Does the watchOS 4.3 Update Take?
Plan on at least an hour to download and install the watchOS 4.3 update to your Apple Watch. This could take longer on the first day of the release and depending on your Internet connection. The Apple Watch update process is slow and frustrating, especially if you are on much older watchOS software.
Before you can install watchOS 4, you need to download it to your iPhone, and then the iPhone transfers it to your Apple Watch where it needs to unzip and install. The Apple Watch needs to be on the charger for this process, and your phone must be on WiFi. You will need at least 50% battery life on your Apple Watch as well.
This table outlines how long the watchOS 4 update will take. This applies to all of the Apple Watch models. The Apple Watch 3 ships with watchOS 4 already installed.
| Task | Time |
| --- | --- |
| Backup Apple Watch (Optional) | 1-30 minutes (Automatic) |
| watchOS 4.3 Download | 5 to 10 minutes |
| watchOS 4.3 Update | 20-60 minutes |
| Total watchOS 4.0 Update Time | 35 minutes to 1.5 hours |
In most cases you should plan on 30-60 minutes to install the watchOS 4.3 update. This time will decrease after the initial rollout is complete, but not by much. The watchOS update process is painfully slow. Even if you only need to download and install, you should count on the Apple Watch being on the charger for at least an hour, and your phone remaining in range. If you start this update, you cannot leave your watch at home and go somewhere with your iPhone.
The best time and place to install watchOS 4.3 is at home when you have plenty of time to wait for the update to finish. Don't attempt at work with only a little bit of time or right before you need to leave home and go somewhere. This installation process will take a while to complete.
65 Exciting Things You Can Do With the Apple Watch
Answer Calls on the Apple Watch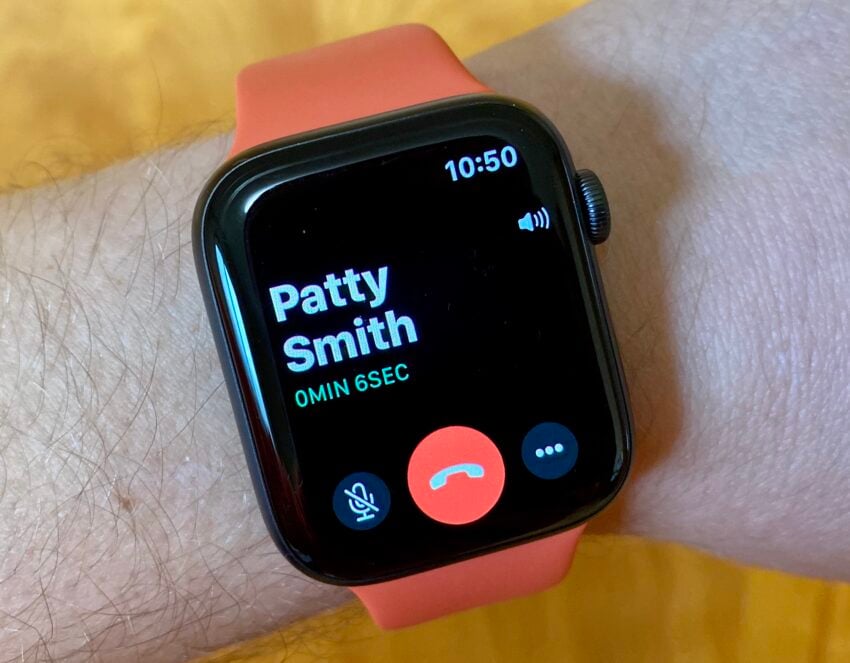 You can answer a call on your Apple Watch using it as a small Bluetooth speakerphone. You only want to use this for shorter calls because the audio quality isn't as good as when you are talking on speakerphone on your iPhone.
The Apple Watch only allows you to answer your calls on Speakerphone, so you won't want to use this all the time. It is very handy when you are working on a project or busy with your hands. Definitely be conscious of where you are taking calls. If you wouldn't talk on speakerphone, you shouldn't talk on your Apple Watch.
If you buy the new Apple Watch with LTE, you can even make calls on the Apple Watch without your iPhone nearby. This requires adding the watch to your plan for $10 a month. You cannot answer a FaceTime video call on the Apple Watch.