Save $100 on the Apple Watch 5 LTE
Save $100 on the Apple Watch 5 LTE at Verizon when you add a new smartwatch to your account and use coupon code SMARTWATCH100.  Click here to see the options available, or keep reading for more information.
Verizon now offers $100 off any smartwatch including the Apple Watch Series 5 with LTE as well as the Apple Watch 4, Apple Watch 3 and  Samsung smartwatches.
This deal is valid when you add a new smartwatch to your plan, so if you are upgrading from an older Apple Watch with LTE, you may not be eligible. You can try to add to a different line on your account and then switch the lines to save.
The Apple Watch 5 with LTE connects to your iPhone, to WiFi, and to cellular even if you don't have your phone with you. It's great for mobile users that want to run without an iPhone or who routinely leave their desk or home without a phone. The Apple Watch shares a phone number with your iPhone, so calls and texts to your main number show up on the watch as well. Here's what the Apple Watch can do without the iPhone.
While the Apple Watch 5 with GPS + LTE is normally costs $499 for the base version, you can get it for $399, which is the same price as the GPS only option.
This deal requires a 2-year contract and device payment plan, so you can't turn off the LTE whenever you want.
Here's more on the reasons to buy the Apple Watch 5, and why you shouldn't buy the new model.
65 Exciting Things You Can Do With the Apple Watch
Answer Calls on the Apple Watch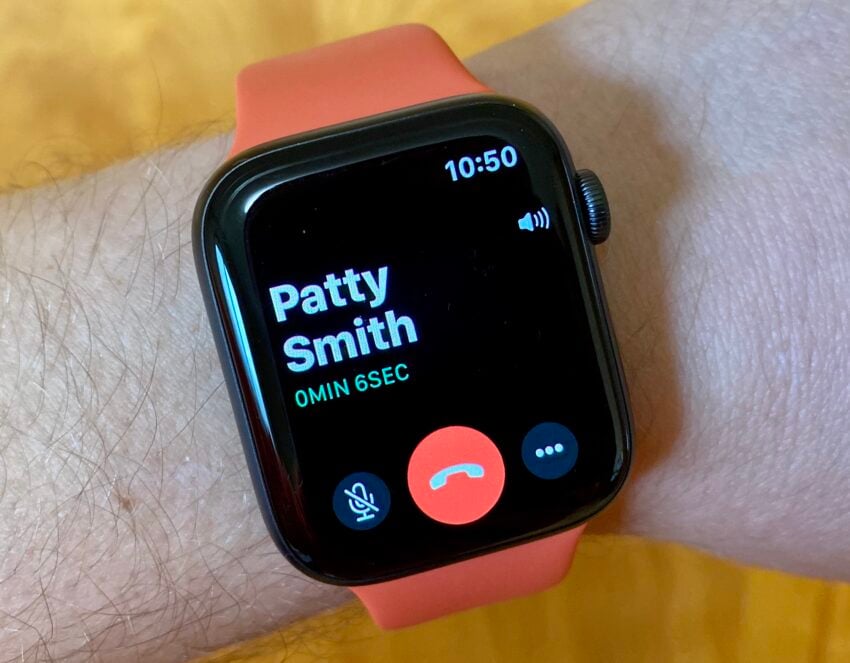 You can answer a call on your Apple Watch using it as a small Bluetooth speakerphone. You only want to use this for shorter calls because the audio quality isn't as good as when you are talking on speakerphone on your iPhone.
The Apple Watch only allows you to answer your calls on Speakerphone, so you won't want to use this all the time. It is very handy when you are working on a project or busy with your hands. Definitely be conscious of where you are taking calls. If you wouldn't talk on speakerphone, you shouldn't talk on your Apple Watch.
If you buy the new Apple Watch with LTE, you can even make calls on the Apple Watch without your iPhone nearby. This requires adding the watch to your plan for $10 a month. You cannot answer a FaceTime video call on the Apple Watch.