watchOS 7 Problems: 5 Things You Need to Know Today
This is an early look at the reports of watchOS 7 problems and what you need to know about any errors or issues associated with these updates.
From long installation times to connectivity issues, this is what you need to know about the current watchOS 7 problems that users are reporting right after installing this update.
Apple just released the watchOS 7.0.1 update with bug fixes. This update includes bug fixes and specifically fixes disabled payment cards in the Wallet.
Some of these issues will disappear after a day or two, while others may require a watchOS 7.0.1 or watchOS 7.1 updates to deliver a fix.
watchOS 7 Problems
There is one major watchOS 7 problem and a number of small issues that we've heard about so far
Slow downloads and missing GPS data on workouts are the biggest issues. Some users are unable to see historical GPS workout data, but that should come back when Apple pushes out a fix for watchOS.
We're keeping on the lookout and will update you when we hear of any of these issues.
Where to Find Feedback
If you are already running watchOS 7, or are just thinking about installing it, you can look for feedback.
This can help you find errors and issues that are linked to apps you use or the features you love.
We have a full guide on the reasons you should install watchOS 7 and the reasons you shouldn't. This is a good place to start, but you can go further to learn more about this update.
We recommend checking out the Apple discussion forums, Twitter, and YouTube to learn what other users are experiencing with watchOS 7.
How to Fix watchOS 7 Problems
You cannot downgrade from watchOS 7 to watchOS 6 to fix problems, but there are some things you can try. Here is more on how to fix watchOS 7 problems.
For slow downloads, restart your router or try a new connection. You may need to ask other users to stop streaming movies or playing games.
If you are experiencing lag, connection issues, or other oddities, after updating, you should try to restart your Apple Watch.
You can press and hold the side button and digital crown to force a restart or you can hold the side button until Power Off appears and then slide to turn your watch off.
The force restart can help you fix a red exclamation mark on your Apple Watch after updating
For more help, look on the Apple discussion forums and reach out to Apple Support on Twitter.
Can You Downgrade from watchOS 7?
If you don't like watchOS 7, you cannot downgrade to watchOS 6. Apple does not offer this as an option for the Apple Watch. Once you install this update, your on it until Apple delivers a newer version of watchOS 7.
You can go to an Apple Store if your watch is completely broken on watchOS 7, but they will replace it if the device is under warranty, not help you downgrade to watchOS 6.
What's next for watchOS 7?
Apple released watchOS 7.0.1 with bug fixes. The next step is likely watchOS 7.1 in October.
We think the new iPhones will launch with iOS 14.1, so we could even see watchOS 7.1 arrive in October with new features and fixes.
We'll update this post when we have more information about the upcoming watchOS 6 updates.
65 Exciting Things You Can Do With the Apple Watch
Answer Calls on the Apple Watch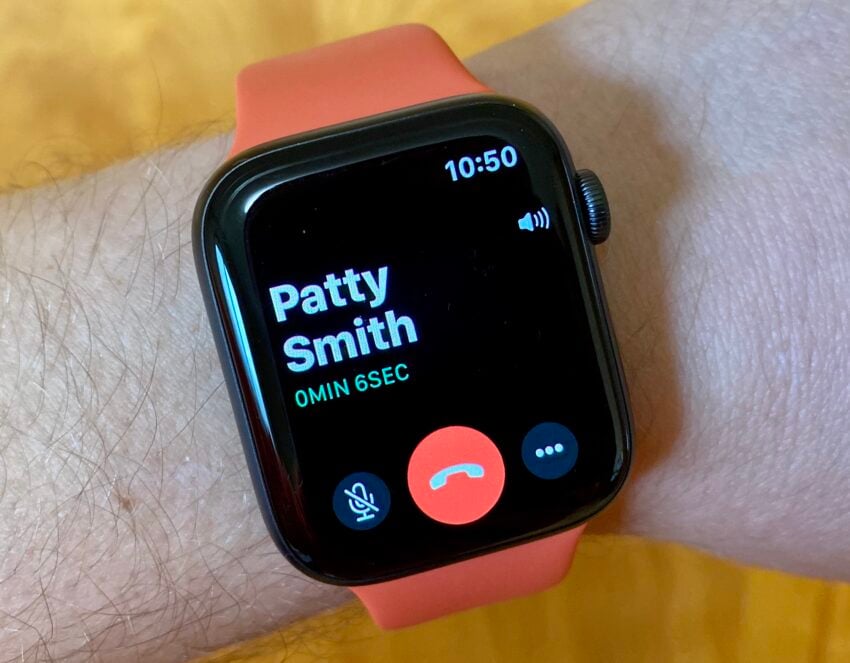 You can answer a call on your Apple Watch using it as a small Bluetooth speakerphone. You only want to use this for shorter calls because the audio quality isn't as good as when you are talking on speakerphone on your iPhone.
The Apple Watch only allows you to answer your calls on Speakerphone, so you won't want to use this all the time. It is very handy when you are working on a project or busy with your hands. Definitely be conscious of where you are taking calls. If you wouldn't talk on speakerphone, you shouldn't talk on your Apple Watch.
If you buy the new Apple Watch with LTE, you can even make calls on the Apple Watch without your iPhone nearby. This requires adding the watch to your plan for $10 a month. You cannot answer a FaceTime video call on the Apple Watch.