17 Common Apple Watch Problems & How to Fix Them
Apple Watch and Apple Watch 4 problems continue to frustrate users in 2018 despite multiple Apple Watch updates and iPhone updates.
Here are common Apple Watch problems and how to fix many of the problems without going to Apple for help.
Small, but annoying, problems are common with new device categories. For most users, these Apple Watch problems are not a major issue but some of these can break the Apple Watch experience for some users and it may require sending the Apple Watch back to Apple for a replacement in extreme cases.
Read: Best Apple Watch Bands
If you run into Apple Watch problems you can fix many of them on your own, even if you have problems with LTE on your new Apple Watch 3. With that in mind here are the Apple Watch problems you need to know about and what you can do about some of these issues and problems.
Fix Apple Watch Problems with Updates
One of the first things you should do if you keep having Apple Watch problems is to check for an update. To do this go to the Watch app on your iPhone and then tap on General.
From there, tap on Software Update. If there is an update, you can put your Apple Watch on the charger and install the update. This will take a while to install, but it can fix many frustrating Apple Watch problems. In fact, that's one of the biggest reasons to install the latest watchOS update.
How to Fix Apple Watch Bluetooth Problems
Some users complain that the Apple Watch Bluetooth connection to the iPhone is not consistent. Or that they have problems using Bluetooth headphones with the Apple Watch while running.
The first thing you should do is turn Bluetooth off and then back on with your iPhone. This can solve this problem quickly, but you may need to re-pair the Apple Watch and your iPhone or look into updating your Apple Watch.
If you can't play music from your Apple Watch to Bluetooth headphones reliably, make sure the music is synced to the Apple Watch and then turn off Bluetooth on your iPhone off so that the music comes directly from the watch.
How to Fix Cannot Send Message on Apple Watch
If you cannot send a message on the Apple Watch, but you can send it as a text, you need to take a few steps to fix iMessage on the Apple Watch.
The first thing to do is try turning your Apple Watch and your iPhone off and then turn them back on. This can solve many text or iMessage problems on the Apple Watch without messing around in the settings.
Check to see if you can send an iMessage on your phone. If you can, let's go to the next step. If not you need to look into your iPhone, not your Apple Watch.
Check to see if you're signed into your Apple ID on your Apple Watch.
Go to the Watch App on your iPhone.
Tap on the My Watch tab.
Tap on General.
Tap on Apple ID.
Make sure you are signed in (You will see your email address).
If you aren't, sign in now and see if you can send a message.
This can fix many iMessage problems on the Apple Watch. If it doesn't you may need to turn iMessage off and then back on, on your iPhone.
On the iPhone tap on Settings.
Tap on Messages.
Tap on Send & Receive.
Tap on Sign Out.
Go to Settings and Messages.
Turn iMessage off and then back on.
Go back to Send & Receive and use your Apple ID for iMessage.
Sign back in.
This will essentially reboot the iMessage syncing between your Apple Watch, iPhone and iMessage. If this fails you may need to contact an Apple Store genius for more help.
How to Fix Apple Watch LTE Problems
If your Apple Watch 3 or 4 with LTE does not get a connection to your carrier, you should try restarting your Apple Watch or toggling Airplane mode on and then back off on your Apple Watch.
Most of the time this will fix the problem. You can test it by turning your iPhone off or putting it in airplane mode and seeing if you can make a call using just the Apple Watch with LTE.
It is also a good idea to install the latest updates as Apple continues to deliver fixes for LTE connectivity in watchOS.
How to Fix Apple Watch No iPhone Connection Problems
Another issue that you may run into after using Airplane mode or turning your Apple Watch back on is a no iPhone connection error.
If that happens there are some things you can try to solve the problem on your own. The first step is to restart the iPhone by holding the side button and then sliding to power off.
You should also restart your iPhone so that it is set coming back online to look for the Apple Watch fresh. Hold the iPhone power button until you see the option to turn it off.
If that does not work you may need to jump to the last section of this guide to fix stubborn Apple Watch problems.
How to Fix Bad Apple Watch Battery Life
Overall the Apple Watch battery life is better than advertised, lasting a full day in our tests, but there are some complaints from users who are experiencing bad Apple Watch battery life. Here are several solutions to fix bad Apple Watch battery life problems.
Limit notifications – Notifications light up the screen push the Taptic feedback and cause you to use the watch. Limit useless notifications and your battery life will improve. Limit these in the Apple Watch app on your iPhone.
Use Bluetooth – When you are not connected to the phone by Bluetooth the phone resorts to WiFi which is not as power friendly.
Turn off heart rate monitoring – Go to Apple Watch app -> Workout -> Power Saving Mode -> On. This will stop using the hear rate sensor during workouts to help the Apple Watch battery last longer.
Reboot – Restart your Apple Watch. This simple solution can fix a lot of problems.
If all else fails you can turn on the Power Reserve mode to make the Apple Watch battery life last longer. Hold the side button and swipe left to right on Power Reserve.
You can open the Apple Watch app -> General -> Usage and scroll down to the bottom of the Apple Watch to see the battery usage and standby times. If these are the same then there is a problem with your Apple Watch and you may need to remove a problem app or start from scratch. You can also see your Power Reserve time on this page.
If you continue to experience bad Apple Watch battery life, you may need to completely reset the Apple Watch and start from scratch. This may fix really bad battery life. If it does not, and you are under warranty, you may want to go to an Apple Store and see if they can do a battery replacement.
How to Fix Bad iPhone Battery Life With Apple Watch
Another common problem is bad iPhone battery life when connected to the Apple Watch. This is more common than complaints about Apple Watch battery life.
Noticed my iPhone's battery was abnormally low, especially for barely having used it today. So now we know why. pic.twitter.com/9sJuPrpH0Q

— Ryan (@ryan) April 26, 2015
When this happens you will see the Apple Watch app listed as one of the highest users of power and your Usage and Standby time will show as the same, similar to the image above.
If this happens you need to restart the iPhone and the Apple Watch and wait for them to reconnect. This should fix the problem for most users. If this does not solve that issue, you will need to pair the Apple Watch with your iPhone again.
If this issue continues, make sure your iPhone and Apple WatchOS software are up to date.
How to Fix Apple Watch Scratches
The Stainless Steel Apple Watch scratches pretty easily along the sides of the metal case. This isn't from abuse or rough treatment. Instead, this is due to the softness of the Stainless Steel.
Reports on Twitter, Instagram and Reddit detailed the scratches shortly after the Apple Watch release. The good news is that this is one Apple Watch problem that you can fix on your own for less than $10. Watch the video above and check out our walkthrough to fix Apple Watch scratches.
How to Fix Apple Watch Problems for Users with Tattoos
Some users with wrist tattoos cannot use the Apple Watch to the fullest. The ink prevents the on-wrist detection for some users with dark wrist tattoos. This is not an issue with all wrist tattoos and this issue does not mean the Apple Watch cannot work on darker skin.
If you experience this problem, you can go to the Apple Watch app -> General -> Wrist Detection Off. This will remove the on body detection so that notifications come through, but this will not allow the Apple Watch to use Apple Pay.
How to Fix Slow Apple Watch Performance
One of the complaints about the Apple Watch performance is that it can slow down when you load a lot of apps on it. If you go to the Apple Watch app on your iPhone, you can limit the apps installed on your Apple Watch and this may fix the problem.
Go to the Apple Watch app -> Scroll down -> tap on an app you don't use -> Tap on the toggle to turn off Show on Apple Watch. This will uninstall the app.
Read: 30 Apple Watch Tips & Tricks
This will not fix apps loading information slowly on the phone, but does help in some cases with general slowdowns. Apple WatchOS updates have helped with the overall performance of the Apple Watch, so once again make sure you update.
How to Fix Apple Watch Charging Problems
If your Apple Watch does not charge when it is on the charger there is most likely not a problem with your charger or the hardware of your watch, but you will need to take steps to fix this problem. On the Apple Support Forums there are several complaints about the Apple Watch not charging. If this happens to you, try the following steps which Apple walked one of the users through:
"Turn off the watch (hold side button (while not on charge) and then swipe to power off like iPhone)
Then Reset the watch
Hold the Digital crown and the side button and the same time until you see the apple logo
Put on charger and see if it charges.
If this does not work do the following:
reboot iPhone
go to apple watch app
in the apple watch app go to > general > reset > erase all content and settings
wait for watch to erase and reboot to language screen
Set up the watch until you see the app bubbles"
I had to restart my Apple Watch twice to get it to charge and about once every 3 months it will tell me this accessory is not supported for charging, when using the cable that came with my Apple Watch. A restart solves this problem. You may want to remove the charger from any stand, and see if that fixes the issue, but most of the time it's just a restart.
If these steps fail, make sure all of the packaging is off of the Apple Watch and the Apple Watch charger. If that fails you likely need to contact Apple for a replacement.
How to Fix Apple Watch Digital Crown Problems
If the Digital Crown on your Apple Watch does not control the watch like you would expect or is difficult to turn you may need to clean it.
Apple recommends taking the watch bands off, turning the Apple Watch off and then run warm water over the Digital Crown for 10 to 15 seconds.
After this is complete allow the watch to dry, turn it back on and see if your issue is resolved. If not you may need to contact Apple for support.
How to Fix Apple Watch Not Tracking Activity
If you cannot get your Apple Watch to track your activity, exercises, running routes or heart rate, you can take some actions on your device to improve tracking. Part of this could be due to a watch that is worn too loose, but it could also be settings that you need to change.
Make sure your Apple Watch is tight enough to record your heart rate. It doesn't need to be strapped super tight, but it should be snug. If the watch wiggles around a lot, it may not be able to track your heart rate or you activity reliably.
Go into the Apple Watch App, tap on My Watch and then on Health and Edit. Make sure your height and weight are correct, as this influences the calories burned and other activity.
You may also need to recalibrate your Apple Watch to set up the tracking system from scratch. To fo this go to the Watch App, My Watch, Privacy, Motion & Fitness, Reset Calibration data. From there you will need to follow directions based on your Apple Watch model to calibrate the tracking.
How to Fix Apple Watch Won't Turn On
We've all been in this situation. You notice that you haven't gotten any alerts in a long time, even for text messages, and then you realize the Apple Watch is turned off on your wrist. Pressing buttons doesn't do anything and you are worried it is broken. Most of the time you can fix this with a few options.
Press the side button to see if that turns it on.
Try charging the Apple Watch.
Press and hold the Digital Crown in and the side button for 10 seconds to force a restart.
When this happens to us it is most often because we are in Power Reserve mode that disables wake on motion or because an app went rogue and drained the Apple Watch battery life.
How to Fix Missing Notifications on Apple Watch
When you don't get the notifications you want on your Apple Watch it can be frustrating and very inconvenient. You can check several settings if you aren't getting the notifications you need to see on your Apple Watch. If you don't get any notifications on your Apple Watch check that:
It isn't on Do Not Disturb.
Your Apple Watch is unlocked (enter your passcode).
Turn Wrist Detection on (so the watch knows it is on your wrist).
Another thing you can do is open the Watch app on your iPhone and go to Notifications. Find the app that is not sending notifications and double check the app settings there.
How to Fix Apple Watch Not Updating
The solution to many Apple Watch problems is to install the latest Apple Watch update, but sometimes watchOS will not install. If this happens you can try several options.
Restart the Apple Watch and the iPhone. Once this completes, try to install the update again.
Delete the Apple Watch update and download it again. Open the Watch app on your iPhone. On the My Watch tab go to General, Usage, Software Update and delete the update file.
If you've waited a very long time between updates you may have a more difficult time installing the Apple Watch update. In this case, you may want to visit an Apple Store for help.
How to Fix Stubborn Apple Watch Problems
Sometimes you will run into an Apple Watch problem that won't go away. You can use the following process to unpair your Apple Watch and iPhone and start over. As part of this process the Apple Watch will backup and you will be able to restore that backup if you want to get back to where you were.
On your iPhone open the Watch app.
Tap on My Watch and tap Apple Watch.
Tap Unpair Apple Watch.
Next, tap to confirm and if you have Activation Lock on, enter your Apple ID password to turn it off.
This will trigger a new backup, which may take a little while. Keep the iPhone and Apple Watch close until this is done. After it completes the Apple Watch will restart and you can point your iPhone at it to start the pairing process again.
65 Exciting Things You Can Do With the Apple Watch
Answer Calls on the Apple Watch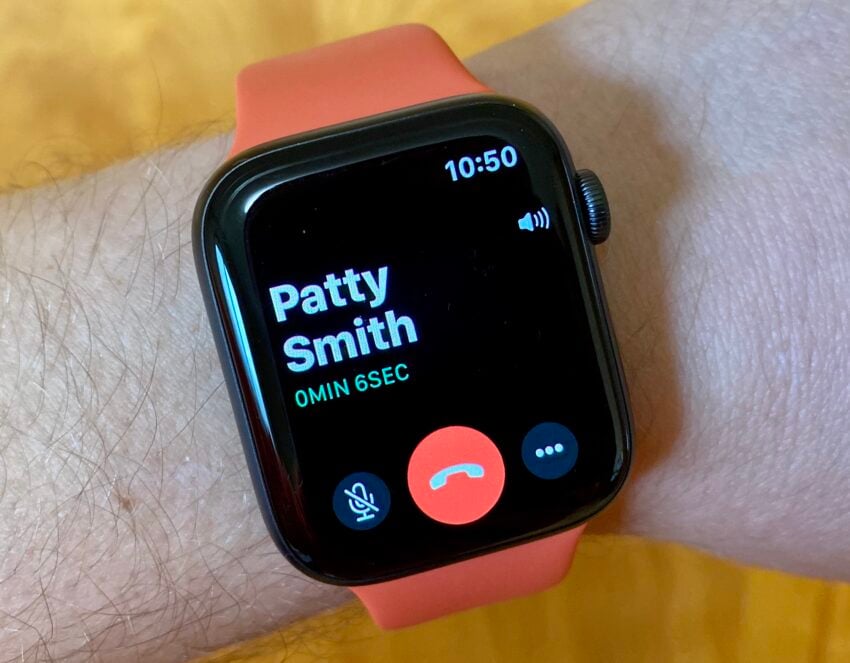 You can answer a call on your Apple Watch using it as a small Bluetooth speakerphone. You only want to use this for shorter calls because the audio quality isn't as good as when you are talking on speakerphone on your iPhone.
The Apple Watch only allows you to answer your calls on Speakerphone, so you won't want to use this all the time. It is very handy when you are working on a project or busy with your hands. Definitely be conscious of where you are taking calls. If you wouldn't talk on speakerphone, you shouldn't talk on your Apple Watch.
If you buy the new Apple Watch with LTE, you can even make calls on the Apple Watch without your iPhone nearby. This requires adding the watch to your plan for $10 a month. You cannot answer a FaceTime video call on the Apple Watch.

As an Amazon Associate I earn from qualifying purchases.