Apple Watch 4 Deals: Take $50 Off Almost Any Model
Now is the time to upgrade to the Apple Watch 4 or pick up an Apple Watch 4 for Mother's Day and Graduation for $50 off. Amazon and Best Buy offer up excellent Apple Watch 4 deals on the GPS and the Cellular models — even on the Nike+ Apple Watch 4.
Apple redesigned the Apple Watch Series 4 last September with a bigger watch face on both models, a louder speaker, new sensors that can detect atrial fibrillation and it also includes fall detection. Both models allow you to track your runs and workouts, and with LTE you can leave your phone at home.
Here's the rundown of the Apple Watch 4 deals at Amazon and Best Buy;
At this price, it's the Apple Watch to buy in 2019, and you still have at least five months before Apple announces a new model. Even then, the Apple Watch 5 will likely feature the same design and you'll get loads of new features with a free watchOS update.
We like the Apple Watch 4 aluminum model because it is lighter, more resilient and you can still use it with any Apple Watch band from the more expensive models. After using the Apple Watch with LTE last year, I skipped it this year. Here's a look at why most users don't need an LTE Apple Watch.
Here's a look at all the exclusive Apple Watch 4 features and a closer look at why you should buy the Apple Watch 4 and a few reasons not to.  You can use the money you save to buy a new Apple Watch 4 band.
65 Exciting Things You Can Do With the Apple Watch
Answer Calls on the Apple Watch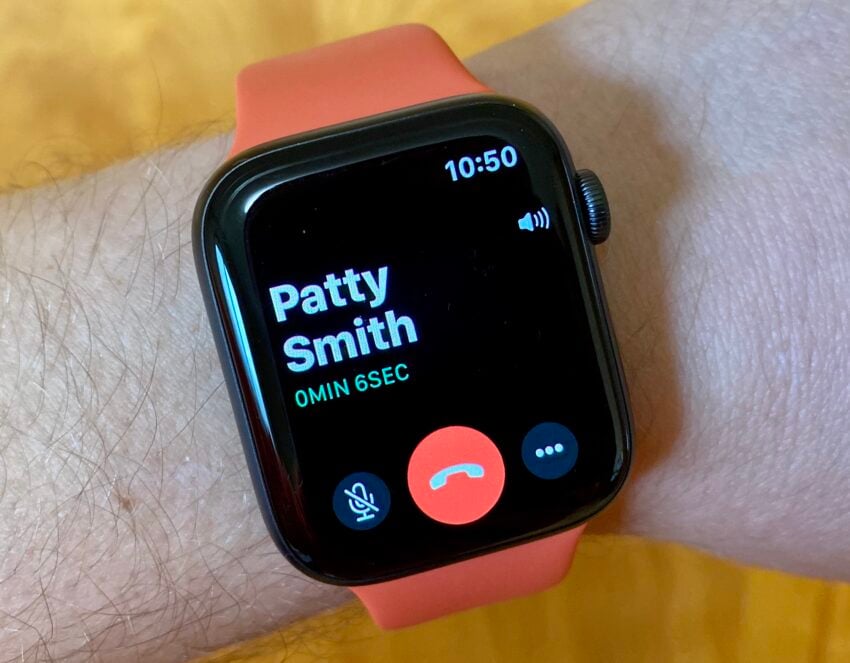 You can answer a call on your Apple Watch using it as a small Bluetooth speakerphone. You only want to use this for shorter calls because the audio quality isn't as good as when you are talking on speakerphone on your iPhone.
The Apple Watch only allows you to answer your calls on Speakerphone, so you won't want to use this all the time. It is very handy when you are working on a project or busy with your hands. Definitely be conscious of where you are taking calls. If you wouldn't talk on speakerphone, you shouldn't talk on your Apple Watch.
If you buy the new Apple Watch with LTE, you can even make calls on the Apple Watch without your iPhone nearby. This requires adding the watch to your plan for $10 a month. You cannot answer a FaceTime video call on the Apple Watch.

This article may contain affiliate links. Click here for more details.