Why The Apple Watch 4 GPS + LTE Isn't Worth Buying
After almost a year using the Apple Watch 3 with LTE, I decided not to buy the Apple Watch 4 GPS+ LTE, opting for the GPS only model. Here's why I decided to go back to the cheaper Apple Watch that requires my iPhone or WiFi to connect to the Internet.
The Apple Watch 4 is available and after you decide on Steel vs Aluminium you'll need to decide if you want to buy the GPS model or the GPS + LTE model. When Apple first offered the Apple Watch with its own connection I jumped at the chance to go mobile, but after a year it wasn't worth the cost. Here's more on which Apple Watch to buy in 2018.
The two biggest reasons I didn't buy the Apple Watch 4 GPS+LTE model this time around are price and features.
The Apple Watch 4 GPS+LTE is Too Expensive
I enjoyed the few times that I left my iPhone at home and just took my Apple Watch out for a dinner or for a workout, but it was never enough to justify the added price.
There is an extra $100 up front cost to buy the Apple Watch 4 with GPS + LTE. This is understandable, but the monthly cost for a companion device that uses an existing pool of minutes, texting and data just doesn't add up for me.
After spending $100 on day one, I ended up spending $10 a month plus taxes and fees, or about $120 for a year. That's a lot of money for something that is still pretty limited on what you can do with it.
For people who need to be reachable at all times and who aren't always around WiFi, it's worthwhile, but for the occasional user it's just too much money for what you can do.
The Apple Watch's ability to connect to a known WiFi network allows me to still use the new Apple Watch 4 without my iPhone in my pocket and I found that I rarely took full advantage of the LTE Apple Watch due to limited features when totally mobile.
Lack of Apple Watch 4 LTE Features
While I appreciate the benefits of the Apple ecosystem when it comes to messages and the way iPhones and Macs work together the Apple Watch is still this odd locked down device that Apple wants to push the envelope of keeping users locked in.
You can stream music on the Apple Watch with LTE, but only from Apple Music. Is there a technical reason for this? Unlikely. It's much more likely that the limitation exists for the same reason you can't control Spotify with Siri; Apple wants you to join Apple Music. Other apps can be useful on LTE, but too often they felt sluggish and ultimately not ready for the small screen.
Read: Things the Apple Watch Can Do Without the iPhone
Without paying Apple another $9.99 a month for an arguably inferior product you can't get the full benefit of the Apple Watch with LTE.
Should I Buy the Apple Watch 4 GPS+LTE?
Do you need to be reachable all the time without your iPhone in your pocket? If so, this is a good investment, but keep in mind that you can still get texts and call notifications when you are on a known WiFi network and use an array of other features without splurging on LTE.
Another good reason to buy the Apple Watch 4 with LTE is because you want to always be able to make a call for help if you go on runs or workouts without your phone. It's also a nice option if you are buying for yourself or an elderly relative who doesn't use WiFi at home. In this case LTE connectivity is a solid investment.
If you are buying the Apple Watch 4 with LTE so that you can work out while you stream music, you need to make sure you are using Apple Music. You cannot stream Pandora or Spotify on the Apple Watch with LTE. The new watchOS 5 update allows these services to let you store a playlist for offline playback, but in that case you won't need LTE to use the feature.
If you decide to buy the Apple Watch 4 GPS + LTE, then check out the best Apple Watch 4 deals which can help you save $50 on a new Apple Watch.
Ultimately most people don't need the LTE Apple Watch and after a year of trying it out, the feature isn't for me. I just can't see myself paying $100 up front, $10 a month and another $9.99 a month if I want to be able to use all the features. It's one of the same reasons the HomePod is a poor value.
65 Exciting Things You Can Do With the Apple Watch
Answer Calls on the Apple Watch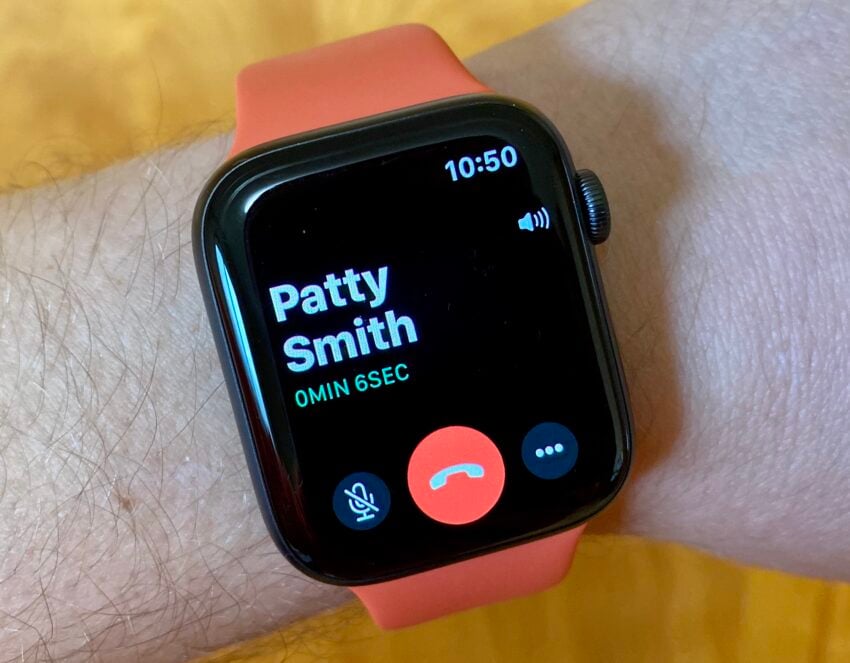 You can answer a call on your Apple Watch using it as a small Bluetooth speakerphone. You only want to use this for shorter calls because the audio quality isn't as good as when you are talking on speakerphone on your iPhone.
The Apple Watch only allows you to answer your calls on Speakerphone, so you won't want to use this all the time. It is very handy when you are working on a project or busy with your hands. Definitely be conscious of where you are taking calls. If you wouldn't talk on speakerphone, you shouldn't talk on your Apple Watch.
If you buy the new Apple Watch with LTE, you can even make calls on the Apple Watch without your iPhone nearby. This requires adding the watch to your plan for $10 a month. You cannot answer a FaceTime video call on the Apple Watch.