Apple's watchOS 4 includes major improvements that will help Apple Watch users improve their health and make their digital lives more convenient. While Apple continues to push the Apple Watch primarily as a fitness device, watchOS 4 includes several creature comforts that will help users get timely, personalized information at a glance.
Apple's watchOS 4 will launch alongside iOS 11 this fall. Developers can download the watchOS 4 to play with the new features and prep their apps for the new software, but there's no public watchOS beta program. Apple announced watchOS 4 at WWDC 2017, alongside iOS 11. You can read more about what's new in iOS 11 here.  If you're new to the Apple Watch, you can read our guide on which Apple Watch to buy and what the Apple Watch can do.
The major new watchOS 4 features are:
Siri  Watch Face
New Fun Watch Faces
Improved Activity App
Improved Workout App
Redesigned Music App
Gymkit
Compatible with Health Accessories
Person-to-Person Payments
watchOS 4: Siri Watch Face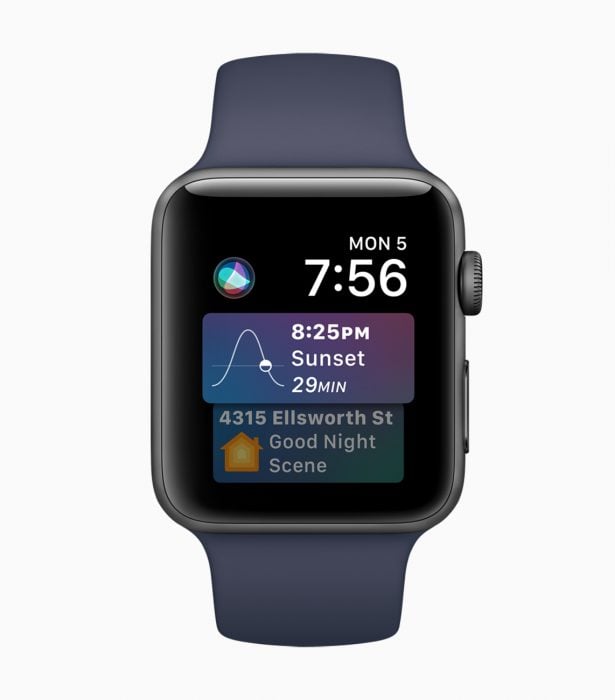 Apple's watchOS 4 predicts what information is most useful and presents it in the new Siri watch face.  watchOS 4 grabs information from apps such as calendar, maps, reminders and activity to update the Siri watch face. In the above example,  Siri watch face is telling a user how long it will take to get to work and what's on the calendar.
In the above example, the Siri watch face is displaying what time the Sun is setting and offering a shortcut to the Home app to activate a user's Good Night Scene, which presumably turns on lights in their home.
Other New watchOS 4 Watch Faces
While the new Siri watch face is focused on helping people get things done and keeping them informed, Apple's packing a few fun watch faces into watchOS 4.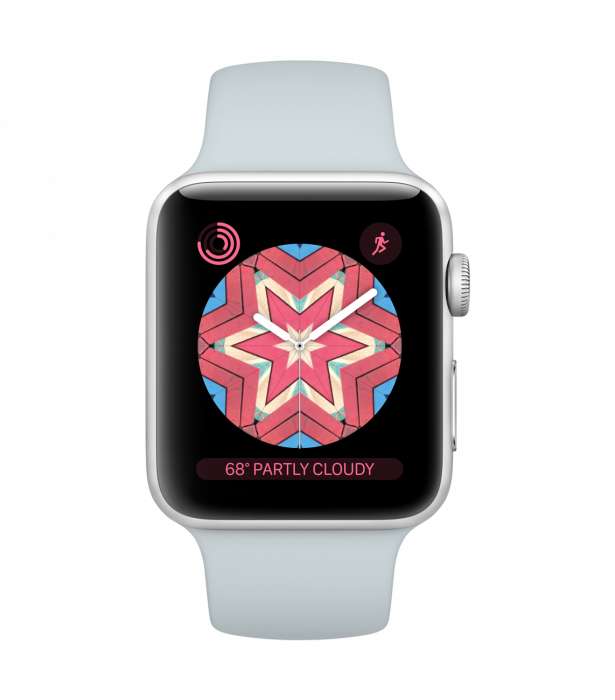 The Kaleidoscope watch face takes any image and uses its colors to create animated patterns. Complications, such as Activity progress, are colored to match your custom Kaleidoscope. 

Apple's also including three new watch faces featuring characters from Pixar's Toy Story franchise. The animated Woody, Jessie and Buzz Lightyear react to taps. The trio join Disney's Micky Mouse and Minnie Mouse in watchOS 4.
watchOS 4 Activity App

The Activity app is perhaps the best reason to own an Apple Watch as it can help users lose weight and stay healthy. The new Activity app offers personalized coaching and tips to help users meet their fitness goals. The video above is an example of an Activity app celebration, which is much more engaging than the simple notifications in watchOS 3.
The new Activity app will help users meet short-term goals by letting them know each morning what they need to do to match previous day's activity levels. The watchOS 4 Activity app will also tell users what they need to do towards the end of the day to close all of their activity rings. For example, the Activity app might suggest a brisk 15-minute walk to close all the rings if you're close to your goals.
watchOS 4 Workout App
Apple's updated watchOS 4 Workout app is smarter and geared towards people who are serious about fitness. It comes with auto-sets for pool swims. It will also be able to track High Intensity Interval Training workouts. The Workouts app will also be able to track back-to-back workouts as users switch between activities such as biking and running.
watchOS 4 Music App

Apple's completely redesigned the Music app for watchOS 4. Users can now scroll through playlists and albums using a visual interface that shows album artwork. In watchOS, the Music app has a lot of text rather than visual information.
GymKit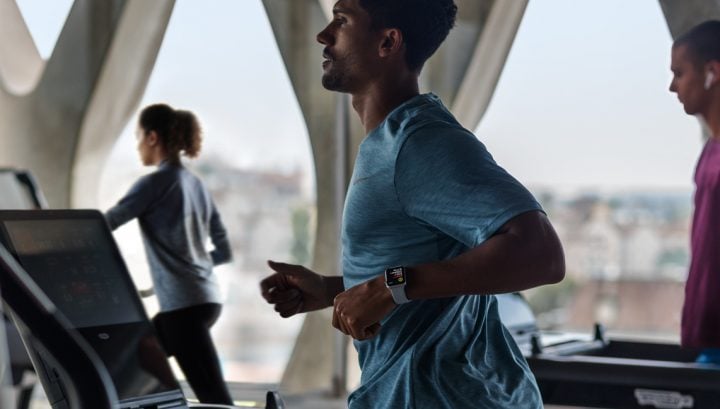 Apple's GymKit allows Apple Watches to pair with gym equipment, including treadmills, weight machines and indoor bikes. While Apple Watch users can record indoor workouts without synching with machines, GymKit will help record more accurate data since machines can record metrics that the Apple Watch cannot on its own. For example, a GymKit compatible spin bike will help record speed and distance.
Apple announced several GymKit partners, including Life Fitness, StairMaster and Schwinn.  While most gym-goers will recognize these brands, don't get too excited yet. There's no word on when or where GymKit-compatible equipment will land.
Person-to-Person Apple Pay

With watchOS 4, Apple Watch users will be able to pay friends and family with the Apple Pay app. Money can be instantly transferred from with the Apple Watch messages app or by using Siri. This will be useful for splitting bills, repaying friends or granting kids allowances. Transferred money is available to spend instantly.
Apple Watch Health and Fitness Accessories
Third-party accessories will be able to connect to the Apple Watch once Apple launches watchOS 4. The accessories will be able to communicate with Apple Watches in real-time via Bluetooth. That means sports equipment will help athletes track training and performance. For example, a smart tennis racket could record how many practice serves a player attempted in a session. watchOS 4 will connect to compatible glucose monitors, allowing diabetics to monitor glucose levels in real-time.
65 Exciting Things You Can Do With the Apple Watch
Answer Calls on the Apple Watch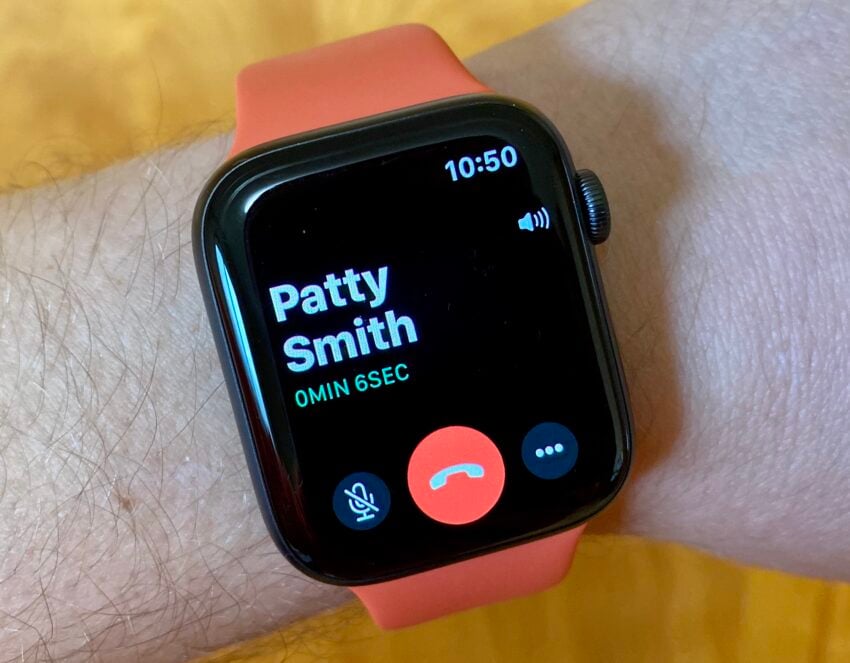 You can answer a call on your Apple Watch using it as a small Bluetooth speakerphone. You only want to use this for shorter calls because the audio quality isn't as good as when you are talking on speakerphone on your iPhone.
The Apple Watch only allows you to answer your calls on Speakerphone, so you won't want to use this all the time. It is very handy when you are working on a project or busy with your hands. Definitely be conscious of where you are taking calls. If you wouldn't talk on speakerphone, you shouldn't talk on your Apple Watch.
If you buy the new Apple Watch with LTE, you can even make calls on the Apple Watch without your iPhone nearby. This requires adding the watch to your plan for $10 a month. You cannot answer a FaceTime video call on the Apple Watch.

As an Amazon Associate I earn from qualifying purchases.