163 PS4 & Xbox One Skyrim Mods You Should Try Right Now
HUNT: Troll Skulls, a Hunters of Unusual and New Trophies Mod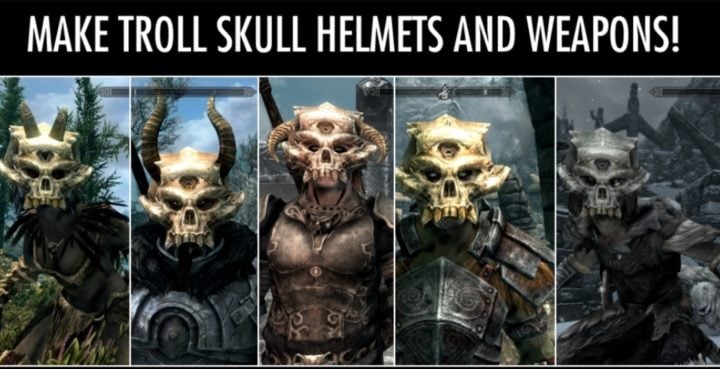 HUNT: Troll Skulls, a Hunters of Unusual and New Trophies mod is from the same developer and like HUNT: Dragon Skulls, it allows you to do some interesting things with the bones of your enemies. In this case, trolls.
With this mod installed the troll skulls you collect from fallen enemies can be used to craft weapons and masks for your character to wear. There are heavy and light masks and the screenshot here will give you a feel for the different variants.
In addition to the weapons and masks, you can also mount the troll skulls on shield racks to display your various kills.
The mod also comes with a few other features including Troll Blood (fast health regeneration, like a troll) and Troll Pelts that can be turned into five leather pieces at the tanning rack.
If you want to get more out of your troll and dragon kills, you'll want these two mods.