Skyrim Special Edition 1.5.97 Update: What's New
After many months, Bethesda's finally released a new Skyrim Special Edition update for Xbox One, PS4, and Windows PC. As expected, the new patch brings content to the game's Creation Club marketplace.
The November Skyrim Special Edition update is a fairly substantial release and it's the first update since the arrival of the 1.5.73 update all the way back in March.
Bethesda hasn't posted an official change log for the update and we don't expect it to.
With that in mind here's everything you need to know about the Skyrim Special Edition 1.5.97 update for the Xbox One, PlayStation 4, and Windows PC.
Skyrim Special Edition 1.5.97 Update Size
The November Skyrim Special Edition update is version 1.5.97 if you're playing the game on Microsoft's Xbox One. If you're playing the game on Sony's PS4 you're going to see a different version number, but the updates are the same.
The Skyrim Special Edition 1.5.97 update requires a nice chunk of space on your storage. If you're playing the game on an Xbox One you're looking at a 2.52GB download. The download size is around the same for the PlayStation 4.
If you haven't played the game in awhile you might see a larger download size because you'll be forced to download the updates you skipped.
The Skyrim Special Edition 1.5.97 patch is a mandatory download for all Skyrim Special Edition players, not just those who want to download the new Creation Club content.
That said, if you'd prefer to skip the download, you can put your console into offline mode and play Skyrim Special Edition offline.
If you're tired of deleting games or game clips when you need to install game updates, here are the best hard drives for Xbox One  and the best hard drives for PS4.
November Skyrim SE Creation Club Content
The Skyrim Special Edition 1.5.97 update brings a fresh batch of Creation Club content with it.
The list includes Saints and Seducers, Dead Man's Dread, Goblins, Hendraheim, The Grey Cowl Returns, and Alternate Armors – Steel and Ebony. Here's what you can expect from these creations: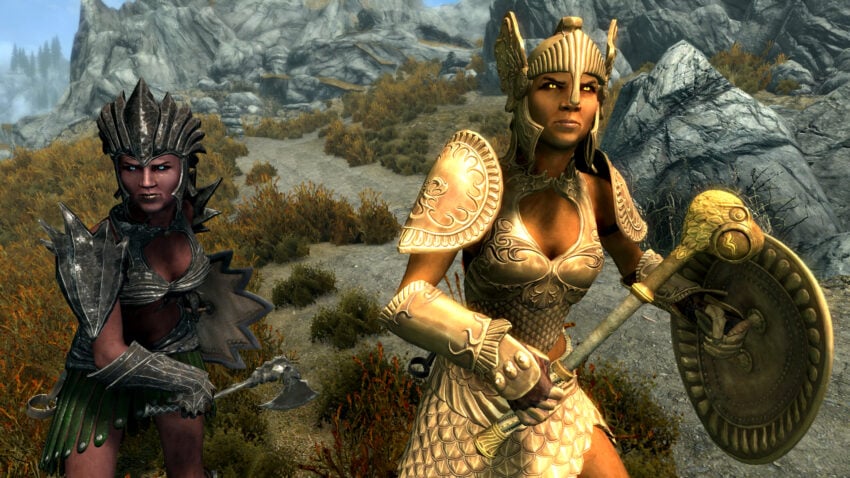 Madness starts with a seed, and from there creeps across the land – from a bandit's tent to a blacksmith's anvil. Yet no one knows the root of this madness, or where madness has taken root. This is our most massive Creation to date, with new summons, enemies, alchemy ingredients, a dungeon, recruitable pets, and several craftable armor and weapon sets from the Shivering Isles!
This Creation starts with a quest to track down a troubling new development in Skyrim and contains several side quests to be discovered.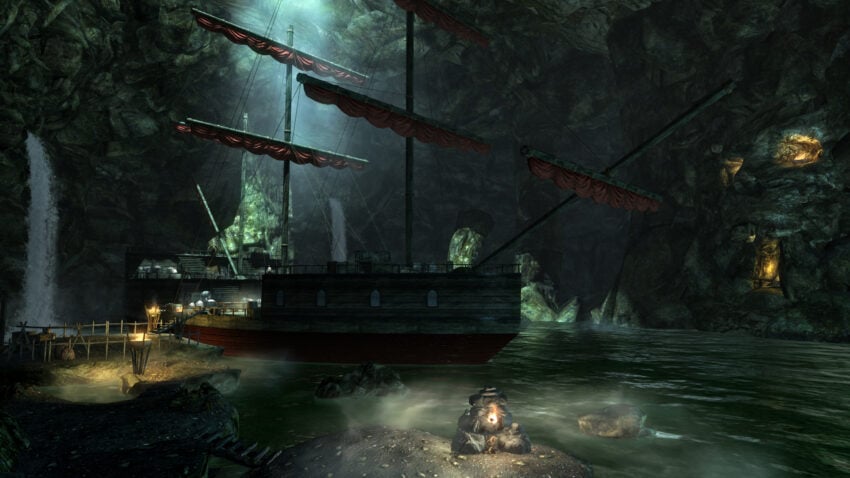 Shanties from across Tamriel sing of Cyrus, the hero of Stros M'Kai, who sailed on long after his story was done. Stories differ, but some say he ventured north, drawn by the tales of Tobias, on the legendary ship Dead Man's Dread.
Find the lost ship, retrieve the treasures of Cyrus, and learn the fate of its crew. The Dead Man's Dread Creation includes two swords, multiple outfits and a custom naval home.
From the caves of the Jerall Mountains along Skyrim's southern border emerge these feisty green creatures, led by a mysterious "Blue God" wielding a Goblin Staff. This Creation includes new encounters, a new plantable alchemy ingredient and a recruitable goblin! Your new goblin companion has their own cosmetic options and possesses a unique summoning artifact only they can wield.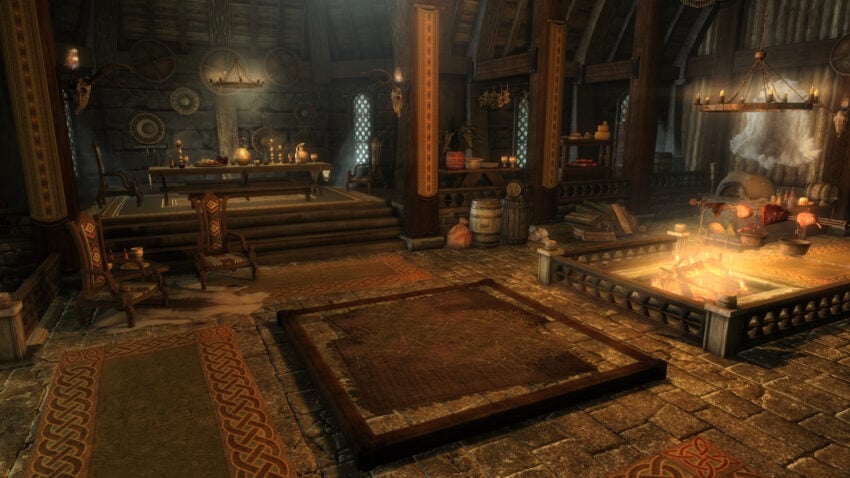 In the mountains of the Reach is a grand Nordic hall, built in a tradition befitting the warriors of old. The walls are decorated in triumph, each piece a memory of its owner's lasting valor. The key to such a home is not bought with coin, but courage in combat. Hendraheim is no exception to this rule.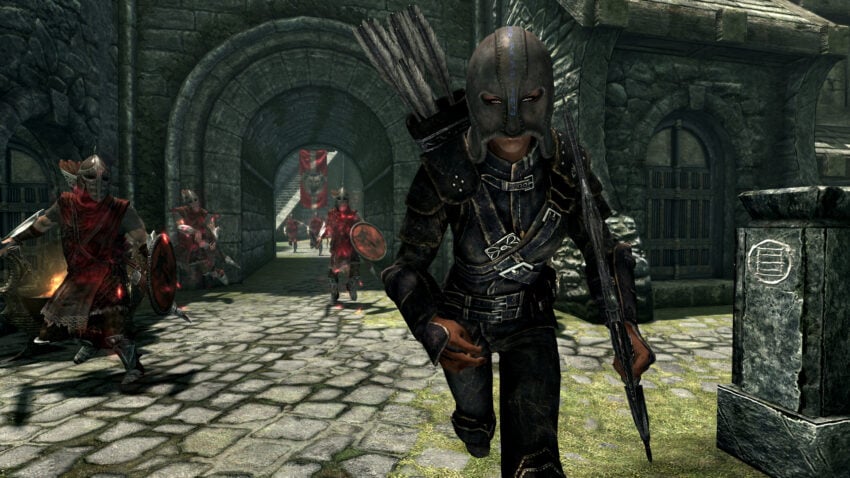 The legend of the Grey Fox is known throughout history, yet the ones who wear the cowl remain nameless, their stories lost to the shadows. To become the next Grey Fox, you must first restore the identity of the cowl's bearer, and only then can your crimes be attributed to the Grey Fox, rather than yourself.
Alternate Armors – Steel and Ebony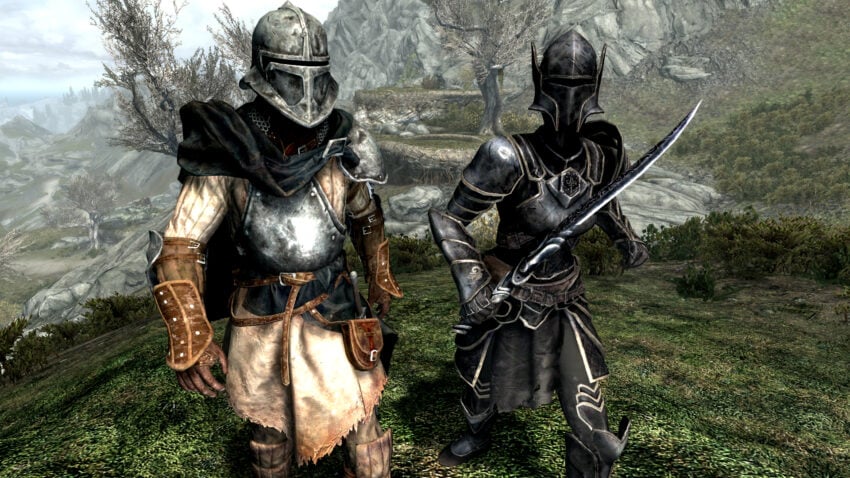 Two separate armor variants come to Skyrim from The Elder Scrolls: Blades!
Skyrim SE Creation Club Deals
There are also some limited time Creation Club deals on the marketplace that are worth a look if you want to add some additional items to your game.
For a limited time you can grab the Staff of Hasedoki (normally 250 Credits) for 150 credits and the Adventurer's Backpack (normally 400 Credits) for 300 Credits.
There's also a Dwarven Armored Mudcrab, usually 50 credits, that's available for free.
Content Updates, Bug Fixes & Problems
According to Bethesda, the 1.5.97 patch brings some art fixes with it.
There's also a chance the new update brings some problems of its own. New versions of the game often bring bugs and performance issues.
If you run into an issue after downloading the 1.5.97 patch, you'll want to take a look at our list of fixes for common Skyrim Special Edition problems.
163 PS4 & Xbox One Skyrim Mods You Should Try Right Now
A Quality Map
One of our favorite Skyrim mods for PC is now available for console.
A Quality World Map by IcePenguin is an essential mod for PC. And now that it's available for console, it's an essential mod for Xbox One. (It's not available for PS4 yet.)
Bethesda's vanilla Skyrim map is decent enough but this mod takes it to the next level with improved textures and detailed roads.
The developer has literally drawn out every single road in the game and needless to say, it's impressive. And useful.
For more info, take a look at the video below.
Trust us, this one is very, very good. Give it a try today.