Skyrim Special Edition 1.5.50 Update: What's New
Bethesda's finally rolling out a brand new Skyrim Special Edition patch to the Xbox One, PS4, and Windows PC and the August patch delivers a fresh batch of Creation Club content.
Its been months since the last Skyrim Special Edition update rolled out. The 1.5.39 update rolled out for consoles and Windows devices back in April and since then the developer's been quiet. Until now that is.
Earlier this month Bethesda promised a new round of Creation Club content and the developer's pushed a new update with said content in tow.
Bethesda hasn't posted the official change log for its new Skyrim Special Edition 1.5.50 patch, but here are a few things we know about the download and the update's contents.
Skyrim Special Edition 1.5.50 Update Size
The August Skyrim Special Edition update is known as 1.5.50 for the Xbox One. If you're playing Skyrim SE on the PlayStation 4 you're going to see a different version number. That said, the contents are the same.
Bethesda's latest patch is much smaller than some of the previous updates, but it still requires a nice chunk of space on your storage. Xbox One users are looking at a 1.3GB download when they fire up the game.
If you haven't played Skyrim in a long time there's a chance you see a much larger download size. This is due to the update's you skipped.
If you don't have a lot of space free on your console or Windows PC, you'll need to make room for this patch. It's a mandatory download for all Skyrim Special Edition players, not just those who want to download and use the new Creation Club content.
If you really want to skip the download, you can put your console into offline mode and play the game offline.
New Skyrim SE Creation Club Content
Bethesda hasn't posted the 1.5.50 update's official change log yet and we based on previous updates, we probably won't get one. That said, the main purpose of the patch is to deliver the Creation Club content the developer teased earlier this month.
The company's released new Creation Club items and all of them, minus one, are currently available to download on the marketplace.
This set of fine jewelry comes with a circlet, amulet, and ring. In addition to merchants carrying normal copies, there is a short quest to get an enchanted version from the man who crafted these wonderful pieces.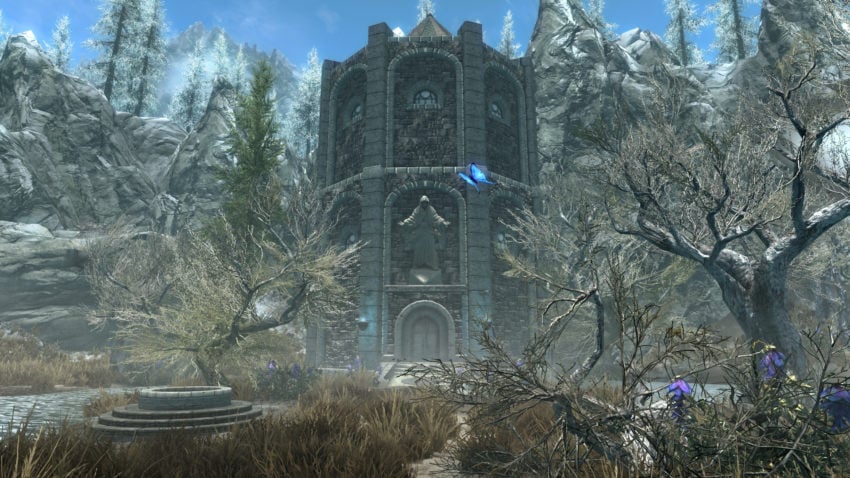 Myrwatch is a remote, but lavishly appointed, new player home deep in the fens of Hjaalmarch. The second floor contains a broad array of displays, allowing collectors to show off many of the unique items found across the land. More magically inclined characters will also find a rare staff enchanter here.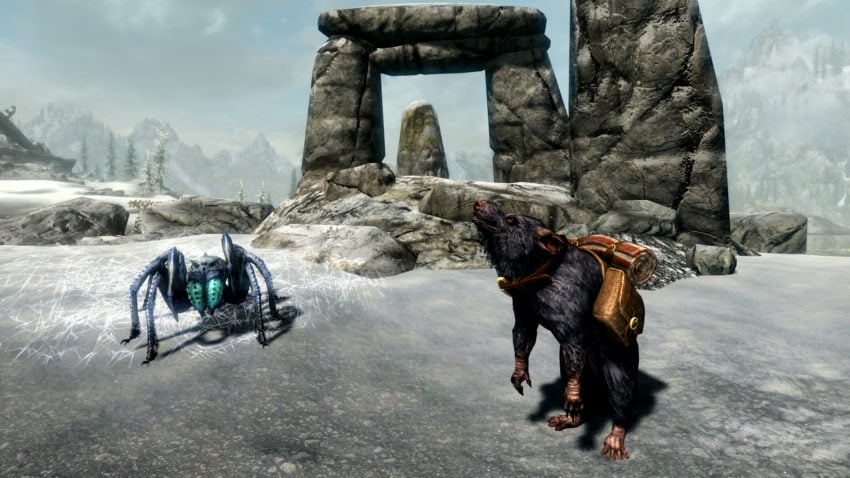 This adds five new pets to Skyrim: a fox, rabbit, goat, skeever, and spider. Each has their own ability, from greatly increased carrying capacity to the ability to spin paralyzing web traps. Some can also be given collars and packs, which can be crafted.
A large collection of classic items come to Skyrim! This includes over 50 alchemical ingredients from the lands of Morrowind, Cyrodiil, and beyond. There are also returning potion effects, expanded crossbow bolts, and a few lost treasures of the Ayleids. None of these are commonly found in the lands of Skyrim, but the traveling Khajiit caravans are likely your best bet to find some.
Unfortunately, Bethesda had to delay one of the promised pieces of content and it's unclear when Wild Horses will make its debut. If you're unfamiliar with Wild Horses, here's what you can expect in a future update.
Wild Horses
Traveling through the wilderness of Skyrim, you can now find wild horses to tame. Grab a map of sightings and a Detect Life spell to aid you in your search, or just set out into the wilderness! Once tamed, there are a selection of saddles you can purchase from stablemasters. The naturalist Soran Hariksen even claims to have seen a unicorn in the deep forests.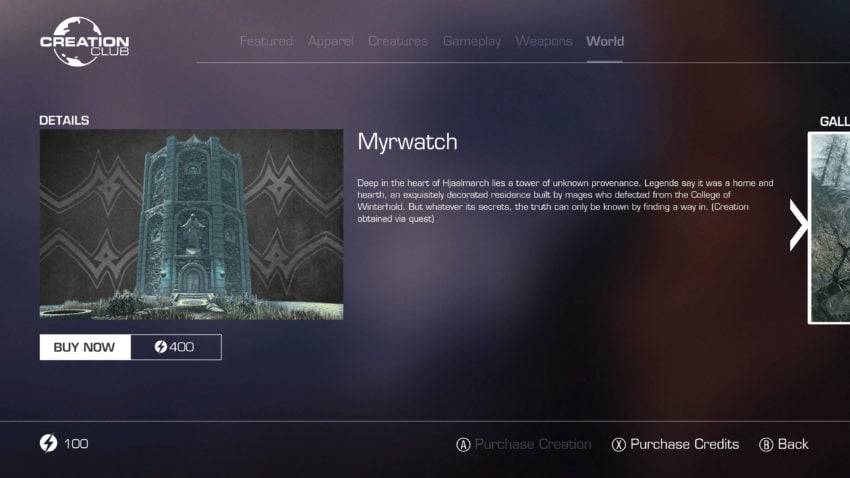 As for the pricing of the new Creation Club content, it's as follows:
Nordic Jewelry: 200 Credits
Myrwatch: 400 Credits
Pets of Skyrim: 300 Credits
Rare Curios: 100 Credits
Be on the lookout for deals in the months ahead.
Skyrim SE Creation Club Deals
There's also a Skyrim SE Creation Club deal and some limited time offers you should be aware of.
For a limited time you can snag the Dwarven Armored Mudcrab, usually 50 credits, for free. As for the limited time deals, there's a Survival Bundle, Community Creator Bundle, a Divine Crusader and Chrysamere Bundle, a Sword, Backpack and Nix-Hound Bundle, and a Sheogorath bundle.
Bug Fixes & Problems
We don't have an official change log for the Skyrim Special Edition 1.5.50 patch which means we don't know if it comes with any bug fixes for ongoing problems with the game.
There's a chance it patches up lingering bugs and performance issues, but there's also a chance it brings some problems of its own.
We don't know when the next Skyrim Special Edition update will roll out. Bethesda's updates have been sporadic so you could be on your own for several weeks.
If you do run into issues with the latest patch make sure you take a look at our list of fixes for common Skyrim Special Edition problems.
163 PS4 & Xbox One Skyrim Mods You Should Try Right Now
A Quality Map
One of our favorite Skyrim mods for PC is now available for console.
A Quality World Map by IcePenguin is an essential mod for PC. And now that it's available for console, it's an essential mod for Xbox One. (It's not available for PS4 yet.)
Bethesda's vanilla Skyrim map is decent enough but this mod takes it to the next level with improved textures and detailed roads.
The developer has literally drawn out every single road in the game and needless to say, it's impressive. And useful.
For more info, take a look at the video below.
Trust us, this one is very, very good. Give it a try today.

As an Amazon Associate I earn from qualifying purchases.