4 Reasons Not to Pre-Order Skyrim VR & 1 Reason You Should
You can pre-order Skyrim VR right now but most of you are probably better off waiting a few more weeks at least.
Fallout 4 isn't the only Bethesda title making the jump to virtual reality. Skyrim VR is heading to shelves in November, a month after the developer releases Fallout 4 VR on the HTC Vive.
We still don't have a concrete Skyrim VR release date but retailers are already taking pre-orders. The game is currently on sale at the Bethesda Store and Amazon.
The prospect of playing Skyrim in virtual reality is extremely exciting and some of you might want to put in a pre-order right now. Retailers shouldn't charge you until the game ships and you can cancel anytime.
That said, there are some reasons to hold off on a Skyrim VR pre-order for a few more days or a few more weeks. Some of you are probably better off avoiding an early order.
If you're on the fence, allow us to take you through some reasons to, and not to, pre-order Skyrim VR ahead of its launch later this year.
Pre-Order If You Love Skyrim & Own PlayStation VR
If you already own Sony's PlayStation VR, you absolutely love Skyrim, and you want to play the game as soon as it's released, think about putting in a pre-order.
This VR version of Skyrim isn't just a piece of the game. It's the full game which means it's loaded up with quests, characters, enemies, loot, and dungeons and ruins to explore.
In addition to the full game, Skyrim VR includes all three DLC expansion packs: Dawnguard, Hearthfire, and Dragonborn. These add additional replay value to a game that requires hundreds of hours to complete.
The PlayStation VR has a nice list of games but Skyrim VR is already one of the platform's most exciting titles.
Wait for More Details
Most of you are probably better off waiting a little bit longer.
Bethesda recently released a trailer that showcases Skyrim VR in action for the first time. It gives potential buyers a taste of the game's combat, enemies, and environments. You can watch it below.
Unfortunately, the trailer is only a minute long and it's light on some of the other important details including crafting and other parts of the game's user interface.
Even if you're very familiar with Skyrim it might be a good idea to wait for Bethesda to confirm more gameplay details.
It's unclear when or if Bethesda plans to reveal additional Skyrim VR details. There's a strong possibility we'll see some new information emerge at Gamescom in late August but that's just a guess.
Wait to Go Hands-on
If you were unable to go hands-on with Skyrim VR at E3 2017 and you're on the fence about a pre-order and/or buying a PlayStation VR, you might want to wait to go hands-on.
Bethesda hasn't confirmed plans to release a Skyrim VR demo ahead of the game's release in November. We could see one but we wouldn't count on it.
Instead, you might have to rely on an in-store demo or a friend with a VR headset and a copy of the game.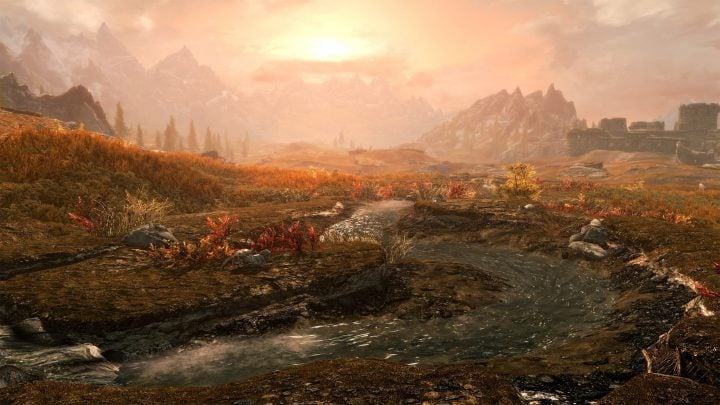 If you're new to virtual reality and/or you want to get a feel for the game mechanics (movement, combat, crafting, dialogue, etc) before you buy, you should wait.
Wait for Skyrim VR Reviews
It might also be a good idea to wait for Skyrim VR reviews.
We saw some feedback emerge from the demo at E3 2017 in Los Angeles but that was a demo. Bethesda still has to put the finishing touches on the game. We wouldn't base your decision to buy the game on these early impressions.
This is an ambitious game that will run you $60 without a deal so it might be a good idea to wait for final reviews to emerge closer to the release date.
The bigger picture should help you make a well-informed decision.
Wait for More Skyrim VR Deals
If you can't or simply don't want to pay $60 for Skyrim VR you can snag it for $47.99 if you have an Amazon Prime account. That's the cheapest price right now though it requires an Amazon Prime account.
If that's not cheap enough, you'll probably need to wait beyond the game's November release date.
We could see some better Skyrim VR deals emerge during Black Friday/Cyber Monday and in the weeks after the holiday shopping season ends.
163 PS4 & Xbox One Skyrim Mods You Should Try Right Now
A Quality Map
One of our favorite Skyrim mods for PC is now available for console.
A Quality World Map by IcePenguin is an essential mod for PC. And now that it's available for console, it's an essential mod for Xbox One. (It's not available for PS4 yet.)
Bethesda's vanilla Skyrim map is decent enough but this mod takes it to the next level with improved textures and detailed roads.
The developer has literally drawn out every single road in the game and needless to say, it's impressive. And useful.
For more info, take a look at the video below.
Trust us, this one is very, very good. Give it a try today.

As an Amazon Associate I earn from qualifying purchases.