Skyrim VR Release Date, Features & Details
The Skyrim VR release date is confirmed and it will be out a few weeks before Fallout 4 VR arrives for the HTC Vive.
Bethesda continues to keep Skyrim alive in new and interesting ways. At E3, the developer announced Skyrim for Nintendo Switch. The company also confirmed a new Creation Club where Bethesda and its partners will supply gamers with new downloadable content.
At its E3 2017 showcase, the company delivered a bit of a surprise. Skyrim is also going virtual and it will be released a few weeks before Fallout 4 VR hits the HTC Vive. Fallout 4 VR was originally supposed to arrive first.
Details are still a bit scarce but today we want to take you through the most important things to know, right now, if you're interested in playing Skyrim in virtual reality.
Skyrim VR for HTC Vive?
Like Fallout 4 VR, Skyrim VR appears to be an exclusive.
While Fallout is heading to the HTC Vive headset, Skyrim VR is heading to the PlayStation VR, Sony's virtual reality solution. The PlayStation VR is currently priced at $400 though retailers like Amazon occasionally offer discounts.
Nothing is confirmed but it looks like Skyrim VR might be a timed exclusive for the PlayStation VR.
According to GameSpot (in the video above), Skyrim VR will be heading to the HTC Vive sometime next year. Bethesda hasn't confirmed the move but it makes sense given that the company's developing Fallout 4 for the HTC Vive.
A release on Oculus Rift hasn't been ruled out either.
Skyrim VR Release Date
Skyrim VR will be released in November ahead of the Fallout 4 VR release date in December.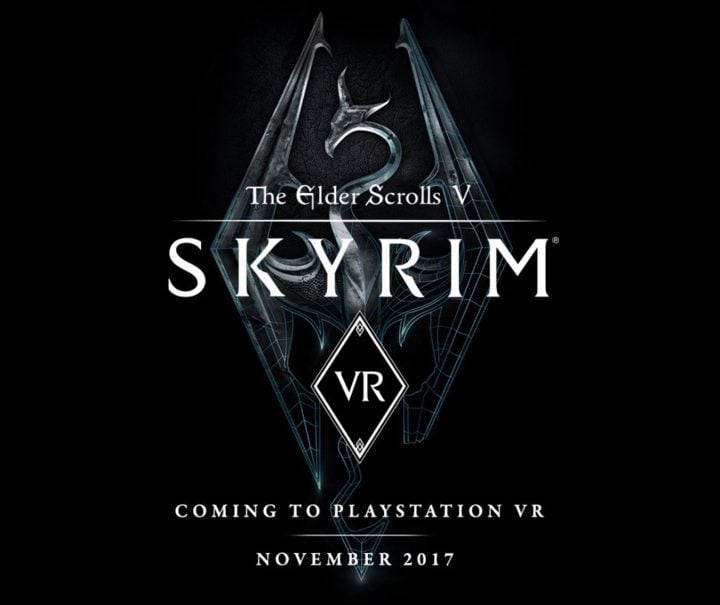 Bethesda's confirmed the Skyrim VR release date for November 17th. This is the official release date for Sony's PlayStation VR.
Skyrim VR Pre-Orders
Skyrim VR is already on sale via Best Buy, Bethesda Store, and Amazon though Bethesda Store pre-orders are limited to shoppers in the United States. In Canada you can pre-order Skyrim VR via EBGames
According to the website, Skyrim VR will go on sale in the United States, United Kingdom, and Canada with Target listed as an upcoming retailer partner.
Skyrim VR Deals
Skyrim VR deals are live at Best Buy and Amazon.
Amazon is currently taking 20% off the $60 price tag which drops the game to just $47.99. The deal is only available to Amazon Prime members though you should be able to take advantage of the offer if you signup for a free Amazon Prime trial.
Best Buy Gamers Club Unlocked members can take the usual 20% off the price of the game. GCU, like Prime, requires a membership.
We expect more Skyrim VR deals to emerge throughout the year so be on the lookout as we approach the game's release date.
Skyrim VR Features
Just like Fallout 4 VR, Skyrim VR is the full version of the game. Here's how Bethesda describes the virtual version of Skyrim:
Skyrim VR reimagines the complete epic fantasy masterpiece with an unparalleled sense of scale, depth, and immersion. From battling ancient dragons to exploring rugged mountains and more, Skyrim VR brings to life a complete open world for you to experience any way you choose.
In addition to the core game, the company says Skyrim VR will include all three DLC expansions: Dawnguard, Hearthfire, and Dragonborn.
The announcement doesn't mention support for mods.
To help hold fans of the series, Bethesda's released a short trailer that showcases Skyrim in action on the PlayStation VR.
The trailer mainly focuses on the game's combat, enemies and environments so we'll have to wait and see how the crafting menus and the game's UI look.
As for the game's controls, you"ll be able to use a DualShock 4 controller or the PlayStation Move controllers to move your character around Skyrim's vast world.
Bethesda says Skyrim VR will be playable during Quakecon. The conference kicks off on August 24th in Dallas and stretches until August 27th.
163 PS4 & Xbox One Skyrim Mods You Should Try Right Now
A Quality Map
One of our favorite Skyrim mods for PC is now available for console.
A Quality World Map by IcePenguin is an essential mod for PC. And now that it's available for console, it's an essential mod for Xbox One. (It's not available for PS4 yet.)
Bethesda's vanilla Skyrim map is decent enough but this mod takes it to the next level with improved textures and detailed roads.
The developer has literally drawn out every single road in the game and needless to say, it's impressive. And useful.
For more info, take a look at the video below.
Trust us, this one is very, very good. Give it a try today.

As an Amazon Associate I earn from qualifying purchases.